I'm trying out these new sponges. I like them because I can load up the ends for filling in the nose on tigers and cheetahs and they have a little handle in the back to help with loading and are a little flatter than the round sponges so you can use your finger to get in crevices...do they look familiar??? Look at picture #3...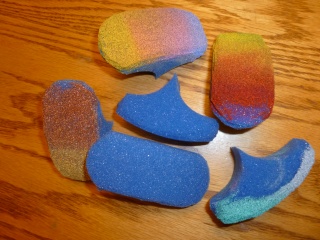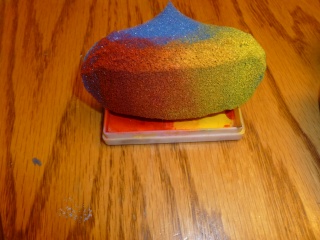 I bought some Snaz sponges while I was at FPBA. They didn't have the black I wanted so I bought the colored ones and I hated to just throw away the "flower" holder so I re-purposed it. I'm actually liking them a lot. They are a little scratchy compared to the green squishy sponges so you can't drag to fill in a face but for pouncing they are fab.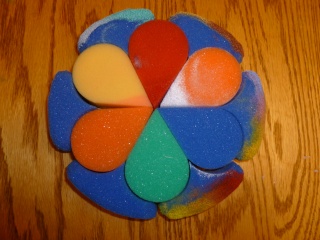 where do you order the black from? Are you still liking these sponges?
I honestly don't know! I know that Gary of Snazaroo said that he brings them to conventions when Kerry Ann is teaching. You can get the colored ones on Silly Farm.

I do like my little homemade sponges because the line is softer. I don't like it when my other sponges leave square marks on butterflies and tigers.

I know that in her "Tips and Tricks" Christina Davison clips the corners of her square sponges in a special way so they are rounded. That way she gets the round edge like a tack sponge but on a high density sponge.



how are they compare to the tack sponges as far as density goes?
I have the old petal sponges & found they were way to big to use. They came in a different set-up. Those look pretty cool!


Similar topics
---
Permissions in this forum:
You
cannot
reply to topics in this forum