I got hired to work a Barbie-themed birthday party for twelve girls (ages ranging for a year to 12 years) and she's asked me to stick to cheek designs so that they can get multiple ones if they'd like. What are your most popular girly cheek designs? I want to make sure I have enough so that everyone has something to choose from.
Also, I'm a big believer in "gender-neutral" designs. Like, I'm all for a boy getting a butterfly or a girl getting a skull. I love it, in fact, but some parents don't react well. Do you think adding a football and a skull on to my board might come off the wrong way to the parents?

Any thoughts, comments, and inspirations (especially photos!) are very much welcome!
Hmmmm - I would assume that at a Barbie themed party you will only have little girls - and I have never had one ask for a football.... although I have had a very select few ask for a girly skull.... so I give them a normal skull with a pink sparkly bow....

I would stick to rainbow based designs ... they are very quick and can do so many variations... rainbow with hearts, rainbows with flowers, rainbow butterfly, rainbow serpents, rainbow with swirls and teardrops - etc etc
They would also love ( i'm assuming) a lot of pink designs considering it's a barbie themed party...... pink and gold.. lots of glitter.

I really don't like it when the client decides what I should offer....... why do they think they will know what the kids want? In all honesty I spend more time explaining why they cant have a full face butterfly... then I do painting them.... soooo frustrating..... also assuming everyone wants something within theme is ignorant. So good luck with this one - hope it ends up with everyone happy including you and the client.
I am soooo on your team with gender-neutral designs. If a little boy gets teased for picking a rainbow or wants glitter, I always tell the other boys loudly that only the TOUGHEST boys get rainbows.

Anyway, little girls usually like unicorns, Hello Kitty, ladybugs, flowers, etc. If you want to add an edgier design that won't make parents mad, I've done skulls with bows before, those come out cute. Also animals are gender-neutral, like bumblebees, little cheek art puppies/cats, etc. A good design is a peace sign, for the interior color you can use a 1-stroke cake in a circle and it ends up looking really awesome. Hope this helped at least a little bit!
you can always use the ' Be what you wanna be' its Barbies new theme thing and shes got all these new outfits. Scientist, artist, doctor, astronaut, football player, etc. Just play on that.
If it's Barbie themed, you might ad a couple things that are "Barbie"... a purse, a high-heel shoe, a shopping bag, a lipstick... also, you can add wings to any easy design to make it a little more fun (like a heart with wings, a peace sign, a unicorn... and tons of glitter

goofydoodler... I'm with Tash. This birthday mom probably thinks she is making it easier on you by asking only for cheek art... Good cheek art is not easy. It usually takes longer and, if it's really good, has more detail and intricate line work... not an easy task on the side of a child's face. If they get a full face design they would not even want another design... you are being asked to work twice as hard for the same price... unless you can whip off awesome cheek art easily. I started strictly with cheek art and did it for years. If the mom wants to make sure they get more than one thing, I say offer to do a small glitter tattoo for each child...for $3.00 each!
the part that sets off alarms in my head is "in case they want more than one?" Sorry, but I charge by the number of kids (therefore number of paintings) and unless they want to pay for twice the number of kids as are actually there, they all get one painting.
Add maybe the Barbie silhouette or a big B, most of them will want the usual stuff. I did a party a little while ago that was a "Paris" theme (mom wanted me to add something "Paris" to my costume

) and the only kid that wanted anything even remotely Paris themed was the birthday girl who got a pink princess crown with a little black Eiffel Tower in the middle and lots of glitter.
Hmmmm ...Barbie theme.....= Pinks and purple + glitter and anything they want. Justbring 10-20 designs to pick from anything and offer it in girlie rainbow colors.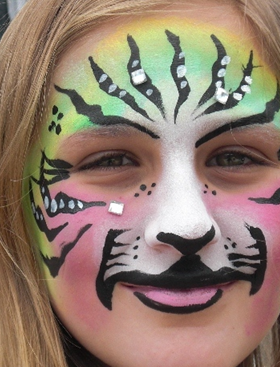 Good
Luck!
Yes, I feel like I'd have to educate the parent on how she's not going to get more for her kids by limiting it to cheek art & therefore they can get more painted on them. I do face art, not rubber stamping different quick designs on them.... This said, here's a few quick designs I do (most are w/ splitcakes).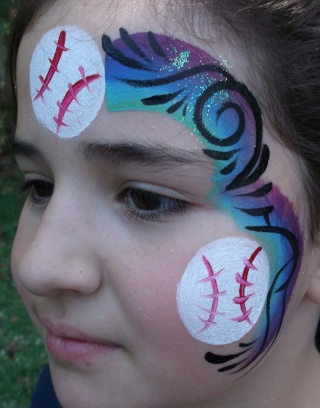 Similar topics
---
Permissions in this forum:
You
cannot
reply to topics in this forum