I have been asked by a private school to assist with make-up for thier upcoming Cirque style stage performance. It is Cirque Morandu (??) and is a JUNGLE theme. They need help with the main character SheerKhan ( a tiger) , a monkey, butterflies, etc... I can do these faces in face paint (wolfe, snaz) but I have never worked with theatrical make up and need to be a quick study asap. There is one other parent volunteer who has designed the costumes and is now up to her neck in sewing 6 costumes and knowns nothing about make up! I have just been called in to help (volunteer of course) but the school might be able to purchase the type/color makeup you suggest.

Here are my questions:
How is stage make up applied? Do I use the same methods with sponges and paint brushes? It does not use water right?
WHat do I need to set it with?
Can I use some of my face paints for this too? The show does include dancing and some acrobatic activities.
What might the forum suggest for making the faces as super simple yet readable from a distance?
Photos would be very welcome too!
Got a good free source of video instruction?

Why do you want to use stage make-up? I use face paints for theatre on a regular basis for animals and fantasy characters - including dancers. Snaz, Kryolan, Wolfe, Grimas... they all hold up very well.

Check out my blog as I do have photos of Shere Khan and other Jungle Book characters I did for the stage.

Make sure you use bold detail... little stuff is pointless and doesn't show.
I've always used my face paints for stage makeup & it's worked just fine. For kids, do not spray them w/ any sort of barrier spray (it can sting the eyes & make them water, ruining the design).
Hey, that is most encouraging about the face paint because I already have it!! I have SNAZ, wolfe mini pallete, DFX Black and White, some Paradise split cakes, some Star blends (I think) in pink, red and blue and silver (sor to metalic ). ONe time I did face paint (indian) on an actor for a local movie and he just sweated like crazy and the director was PO'd! I felt really helpless.
So if I dont need theatrical make up - all the better. Although the school may have Ben Nye 'creame' stuff (?).
These students are all high school aged. I have small spray bottle of Ben Nye (?) SEALER, that the store I bought it from said is mostly alcohol and is spritzed on face (close eyes/dont breathe) on a finished face.
Can I use it before painting too?
Thanks Shannon, I will look at your blog and pics!
I never use barrier sprays or sealers. Ever.

Face paint holds up well to stage work in my experience. It is a short (2 hours or so) period of time that it is required to look good.

And if the kids are that age just tell them NOT to rub if the are sweating, but just to blot carefully and check to see if touch-ups are needed.
Okay, After lots of help from forum pros, private messaging and image searches, plus dress rehearsal tonight here are the faces we painted for the 2012 Rabun Gap Nacoochee School's Cirque Mirutu (I think it means Jungle in an African language)...It is based on the Jungle Book so there is a TIGER (my favorite), wolves, monkeys, butterflies, jackels, a panther, a bear, porcupines and more. The costume mistress, Mary Miller, is brilliant at designing and constructing the outfits ( she is a parent volunteer!) and I just came in to be exta hands for face painting. She really had a solid idea of what she wa after so I follwed her lead. The snake Ka, was her personal best. But the Tiger, Sher Khan, is all mine...Thanks everyone for your help too. Enjoy the pics. There were supposed to be more photos but they did not all upload so may try reposting later.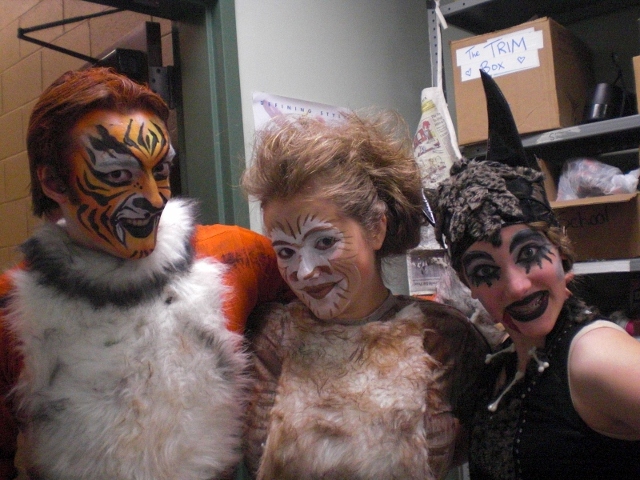 Similar topics
---
Permissions in this forum:
You
cannot
reply to topics in this forum