I got my BAM stencils!!!

Now, my problem. Whet do you do to prevent paint transfer from design to design. I sponge fairly dry, but still end up picking up some paint on the underside of the stencil. This them blotches up the next design I work on. The stencils are way to fragile to risk baby wiping them & bending up the stencil. I love the look I see from them, but am really hoping someone has more experience w/ them...
You need to go even dryer... I had that problem at first, too. Get it as dry as possible and it will work.
I don't have any BAM Stencils, but I've seen some of the FABAtv instructors gently blot their stencils between dry paper towels. Would that work?

I just blot mine with a baby wipe. Lay it on one wipe, lay another on top and
gently wipe and press. And yea it needs to be really dry.
different things I do depending as we all know paint can be fickle.

- use the back side of sponge to tap dry the area it will be placed.
- use a wet unloaded sponge on stencil on top of a paper towel, then fold to blot with paper towel i.e. press between two sheets.
- mist with atomiser then blot as above with paper towel

some of the stencils I can get away with a baby wipe but some it just catches and gets tufts of baby wipe fabrics strands on them. anything i cant baby wipe gets the above treatment.

I have more probs with a blendy paint base - paradise than you tag dfx etc as the tag drys good and fast whereas the paradise is still kind of damp (blendy). I do tend to tap the area dry with the back of the sponge, before laying it down when I use paradise as the base colour.






Last edited by elantaura on Tue Apr 24, 2012 9:31 am; edited 1 time in total (Reason for editing : didn't seem to make sense)
I recently got some myself and I haven't noticed any unwanted transfer.

Every time I use them, I make sure to always use the same side. Since the base colour is already applied and dry (using TAG and Wolfe, so it dries quickly), the side touching it is always clean. Hope that makes sense.

I've had good luck cleaning them gently with baby wipes... the key word is GENTLY haha.
Linda what paint did you use? I read that Rebeca uses white star blend,I don't have it so I never tried, but I image that the transfer would be perfect that way.
I clean them with paper towel after use.,
I'm using mainly Paradise, so that explains a lot. I have Starblends, but only pull them out for humid days. I did pretty well last night w/ the stencils. Yes, baby wipes stink & leave a lot of fibers behind. I ended up spritzing them between clients w/ my spray bottle & blotting them on the black towel I use on the table part of my kit. It worked well, but I didn't have a lot of space to work w/ because I have... TOO MANY SPLITS on the same towel... LOL! Still here's a bit of playtime on the job from last night.
Mom asked for a very minimal design since the kids were going home to shower.
Needs improvement, but I love the effect.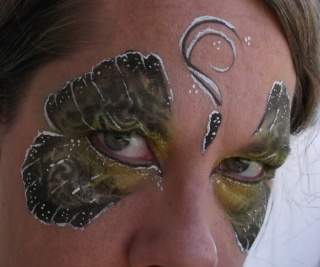 I like them bot really liking the last one! and Linda its not too many splits its just.. well.. you clearly need a bigger towel

I like to use starblends when I use stencils as well. The stencils clean up easier and I never have a transfer issue.

Tilly - Formerly Punky




Number of posts

: 1186


Age

: 27


Location

: LaPorte, IN


Registration date :

2010-04-03





Similar topics
---
Permissions in this forum:
You
cannot
reply to topics in this forum