Distributor in the Czech Republic (Europe), argue that mehron metallic powder mixed with just enough water.
Shall not be imported to us mixing liquid :-(
Does anyone have experience with just mixing only with water? It has the same effect?
I would not unnecessarily invest my money.
I want to use the color for full bodypainting (not just only for the facepainting, lip gloss, eye shadows, etc)
Thank you for all of your advice and excuse my english


seekorka




Number of posts

: 109


Location

: Czech Republic / Europe


Registration date :

2012-07-03



Hiya,

I will contact Mehron and get their take on this. Thanks!

-Metina

_________________
Face Paint Forum Shop
www.FacePaintForumShop.com
TAG, Diamond FX, Wolfe, Global, Kryvaline, Paradise and other Face Painting Supplies
Shipping from $3.99
Washington DC Metro--But Serving the World!
Thank you Metina.

I think that the supplier of mixing liquid ever know. In addition, claims that the goods are Mehron, but without labeling bottles and sell it under the Eulenspiegel. Which I do not understand.
Paints offers quality and ok, shipping is speed. But this is really weird.

He claims that the photo is for illustration only, and I do not buy any fake maybe.
http: http://shop.kreativnisvet.cz/B2C/Metalicky-pudr-Zlaty-14-g.html?listtype=search&searchparam=metalick%C3%BD%20pudr

seekorka




Number of posts

: 109


Location

: Czech Republic / Europe


Registration date :

2012-07-03



Mehron metallic powders can be mixed with water if being applied by brush or sponge. It can also be mixed with a silver face/body paint to add shimmer. When mixed with water, It may not have the lasting power of being combined with mixing liquid though. I also would not use the powder in your airbrush when mixed with water. I would be afraid it would clog (but other more experienced airbrushers may have more insight on that).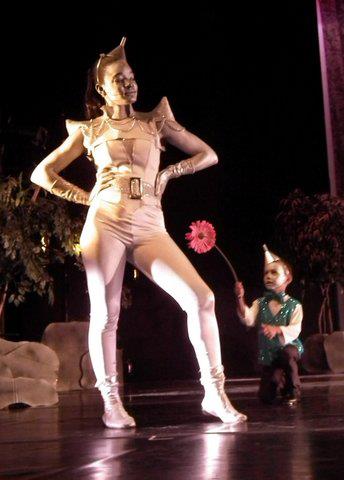 Here, the tin woman's arms and neck were done with metallic powder and mixing liquid. Her face was done with wolfe fx silver with mehron powder (and water) mixed in. You can't see the metallic sheen as easily in the photograph as you could see in person, but she really looked like she had silver leafing all over her body and face. The little boy's face was done with wolfe fx silver with mehron powder and water. I did it this way because a chemical in the mixing liquid was reacting with the chemicals in the girl's hair (at her hair line) and it was stinging her a little. To avoid any future discomfort, I opted to do her face with the paint with the powder mixed in. I didn't want to use the mixing liquid on the little boy because I thought it might be too strong of a chemical for his 5 year old skin.
Hi Becky, thanks for your advice and information.
I really understand the Internet that can be applied only with the mixing liquid. Combination with water, I have not found anywhere.
Thank you for reassurance, so I'll try and try to order according to your advice.

Do you have any experience as to yield a powder bottle? Sufficient for the whole body, or even more?

seekorka




Number of posts

: 109


Location

: Czech Republic / Europe


Registration date :

2012-07-03



I was able to do everything not covered by the above costume 5 times (4 nights of photo shoots, 1 performance) and only used about 1/3 of the powder bottle. I used about 3/4 of the small mixing liquid bottle.
I have the mehron powders and even 11 of the the special gem powders.
and I find with water they flake not initially but it happens.

if you have to I would recomend mixing them with the closest colour paint . the colour dosn't come out as intense as just the liquid but it is more vivid than water and flakes much less.

Now another little thing I have learned is... it works good and vivid with the eyeliner sealer from American body art. hold up well too.
The real trick when mixing with water is to do so slowly to avoid the mixture clumping up. In this fashion the powder really can clump up and become unusable. Go slow and mix well. Mixing with water make the powder paint more easy to smudge. Rub a finger over it and you'll see the powder paint. The mixing liquid make it set fast.
I use Mehron's silver metallic powder with Kyolan's metallic silver paint and it makes for the most intense silver coverage

That was a tip I received from Lucie Brouillard


Similar topics
---
Permissions in this forum:
You
cannot
reply to topics in this forum