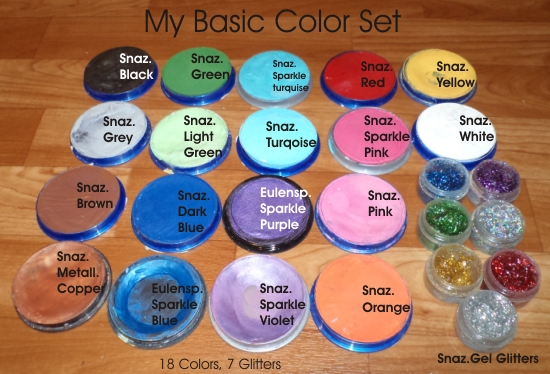 My Basic Color Set
Snazaroo: Black, Grey, Brown, Metall. Copper, Green, Light Green, Dark Blue
Sparkle Turquise, Turquise, Sparkle Violet, Red, Sparkle Pink, Pink, Orange, Yellow, White
Eulenpiegel: Sparkle Blue, Sparkle Purple (this two was so beautifull!!)
Snazaroo Gel Glitter: Purple, Blue, Green, Red, Gold, Silver, Holographic
Eulenspiegel sparkle Blue and purple metallic color was better than the same colors of Snazaroo. Better covers the skin. Significant colors difference.
Hardly washable from skin: Snazaroo Red, Green
Hardly washable from skin: Eulenspiegel Sparkle Blue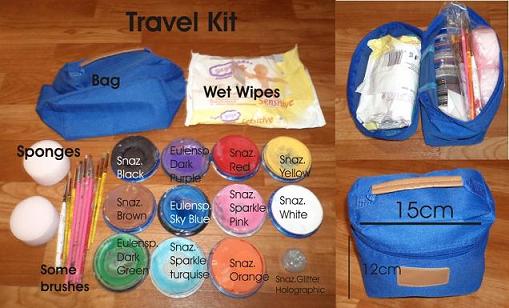 Travel kit (in Car)
Snazaroo: Black, Brown, Sparkle Turquise, Red, Sparkle Pink, Orange, Yellow, White
Eulenpiegel: Dark Green, Sky Blue, Dark Purple
Snazaroo Gel Glitter: Silver, Holographic
Some brushes, wet wipes, Sponges, and little bag (15x12cm)
Hardly washable from skin: Snazaroo Red, Green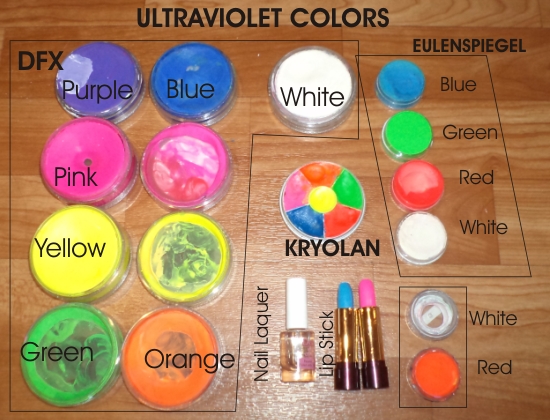 Ultraviolet Colors
Diamond FX: Purple, Blue, Pink, Yellow, Green, Orange, White
Kryolan cake
Eulenspiegel: Blue, Green, Red, White
Another: Nail Laquer (so good), Lip sticks
Diamond FX: beautifull colors, so shiny in black light!
But after first use is hard like stone (blue, white, purple)

Pink, Yellow, Green and Orange is OK and little bit creamy.
Kryolan Is so bad… Oily/Greasy. I can not wash brushes. And so much expensive (shippind from USA). Hardly washable from skin.
Eulenspiegel: beautifull colors, so shiny in black light (not blue). Still creamy.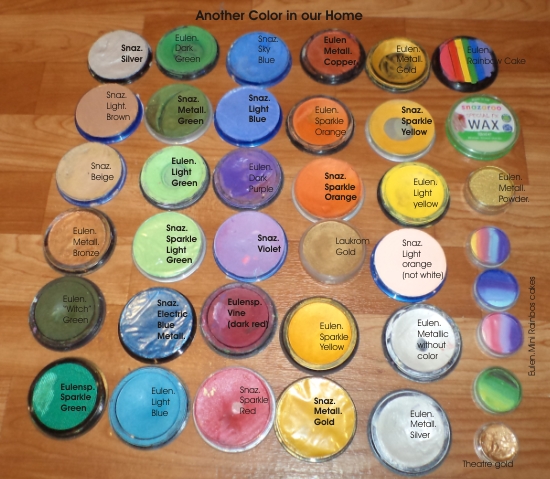 Another colors in our home:
Snazaroo: Silver, Light Brown, Beige, Metall. Green, Sparkle Light Green, Electric Blue Metallic, Sky Blue, Light Blue (wicked color), Violet, Sparkle Red, Sparkle Orange, Metall. Gold, Sparkle Yellow, Light Orange (on pics looks like white..), Wax
Eulenspiegel: Metall. Bronze, "Witch" Green, Sparkle Green, Dark Green, Light Green, Light Blue, Dark Purple, Vine, MEtallic Copper, Sparkle Orange, Sparkle Yellow, Metallic Gold, Metallic without color - transparent, Metallic Silver, Rainbow Cake
Mini Rainbow Cakes
Laukrom: Gold – BAD BAD.. Really bad, like stone…and so expensive!
Theatre gold – so little but so good!
Snazaroo silver, sparkle orange a sparkle yellow was better covers than Eulen. Silver.
Hardly washable from skin: Snazaroo Metallic Green, Electric Blue, sparkle Red
Hardly washable from skin: Eulenspiegel Witch gree, Dark Green, Light Blue (yes..), Dark Purple, Vine, Rainbow cakes all…
"VIP" Brushes
Loew-Cornel, Mehron, Funky Foxes, Royal Soft Grip, Volfe FX (not Folfe, my mistake on pics) Kryolan (so good, I can not find it anywhere) and Eulenspiegel.
All of them was so good!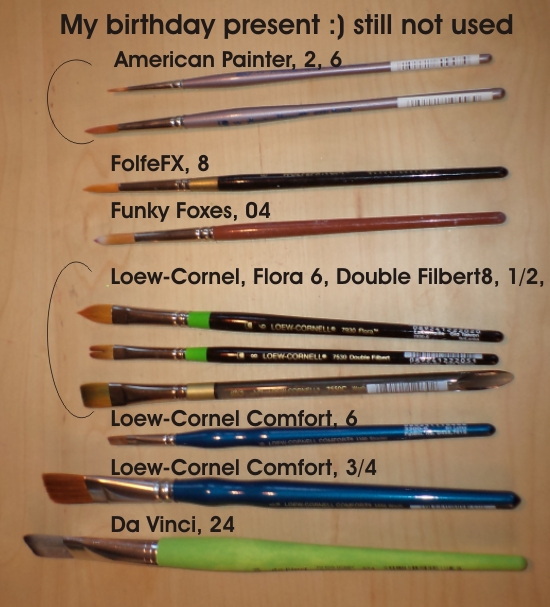 My birthday present

From my Fiancé Lukas (he paint too, I learn him before 3 year).
They are still unused on any event. I tried them only in home.
Some are so big for me. And I still can not find use for flora and filbert ...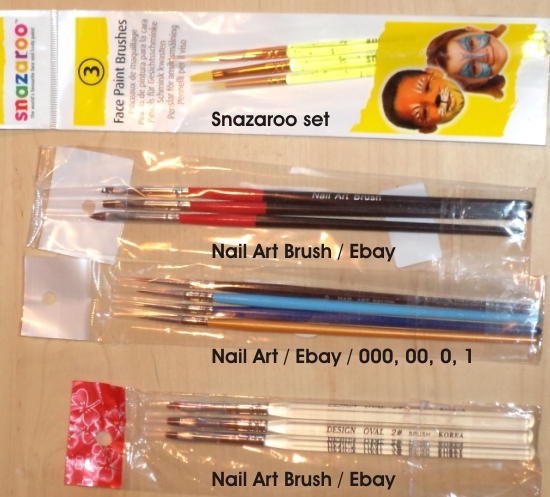 Another Brushes
I like them, good and cheap. Ebay and Snazaroo.
Thinny, slant and other shape.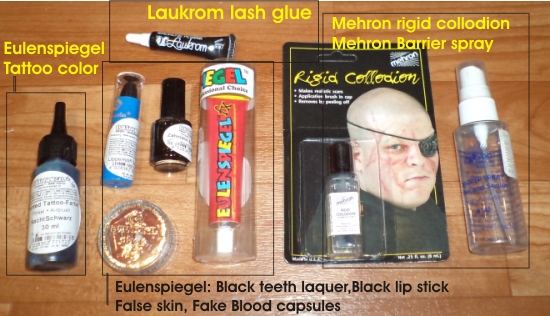 FX
Mehron barier spray – so good for bodypainting.
Mehron Rigid Collodion (still unused)
Eulenspiegel: Fake skin, black teeth laquer, black lipstick, fake blood capsules, tattoo color – maybe 8 days hold on skin
Laukrom eyelash glue – good
Tools
Nipple covers for bodypainting, sponges by snazaroo and Eulenspiegel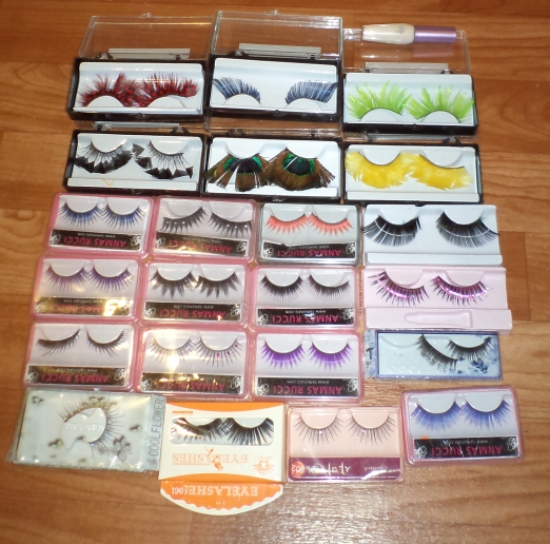 Eye lashes
From Ebay, beutiful feather and pin up, for bodypainting presentation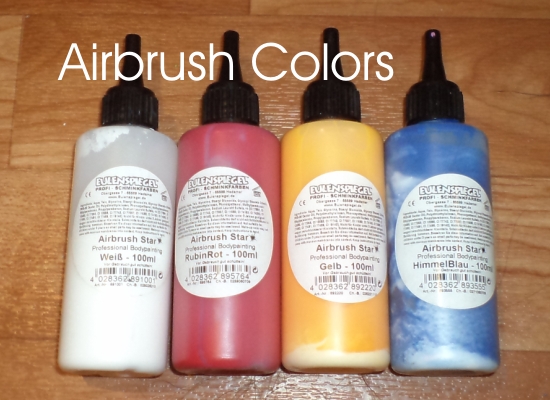 Airbrush colors
Eulenspiegel – so sparse … not good.
Hair glitter spray – for bodypainting, on hair or body
Metallic powder.
I was told it will be Mehron, but sadly it is not Mehron. Supplier said that is the same product…
Im sad… But its nice on skin.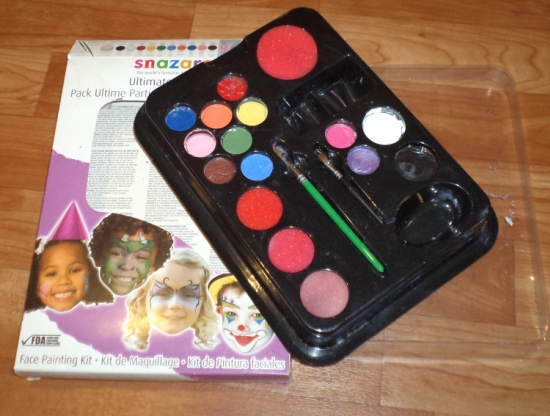 Snazaroo Ultimate Color Kit
2 "big" colors, 8 little colors, 2 sparkle little colors, 4 sponges, 2 brushes
2 glitters (I use them in my kit)
A do not use the kit, it's a gift from photographer/friend – so little colors for using.
Rather, as a reserve colors.
And Lukas Airbrush tattoo set in another day. I havent pics of it now.
Last edited by seekorka on Fri Jul 20, 2012 6:36 pm; edited 1 time in total

seekorka




Number of posts

: 109


Location

: Czech Republic / Europe


Registration date :

2012-07-03



Wow that's a lot of stuff.

Thanks for sharing your pictures.
Nice, you have lots of stuff....I like the hair glitter spray alot, i will look for that. Thanks for sharing
Wow nice set! I also have a cuple of snaz glitter gel...how do you use urs? i tried to use em by sticking my finger in it and tappin over paint but if i tap to hard it takes the paint off and messes it up..
Hi, thanks for the compliment.
I use glitters with brush / fan brush as in the photo.
Paint must be dry! Not wet or damp.
Otherwise, it is mixed and makes smudge/splodge.
Gently apply a brush. Not making moves.
A colleague used with the other end of the brush and makes glitter dots.
If you used it with your finger, isnt it unsanitary? If you wash your hands aftter each child so probably yes. But otherwise I would not do with finger.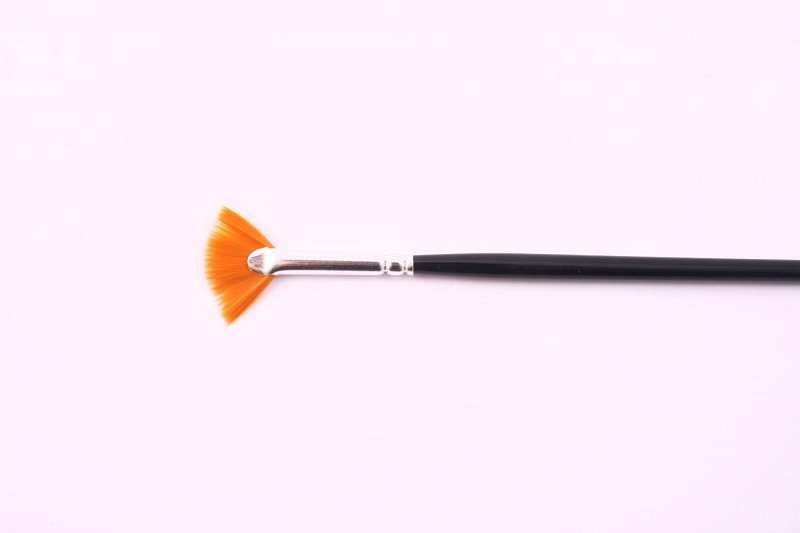 seekorka




Number of posts

: 109


Location

: Czech Republic / Europe


Registration date :

2012-07-03



I dont like my hands dirty with paint and use a baby wipe after each child, sometimes I will use 2 after painting then again after the glitter...
I use wipes too, its perfect and fast help for me


seekorka




Number of posts

: 109


Location

: Czech Republic / Europe


Registration date :

2012-07-03



I apply the glitter gel either with a small brush, or with the tip of a finger - in a party setting, I'm guessing I'd use a disinfectant wipe on my hands before using it on a different child, in order to stay sanitary. Like Seekorka says, though, you have to make absolutely sure the paint's dry first. Then you only need a little of the gel to go a long way, and it's a pretty effect.
Seekorka - I've noticed the Eulenspiegel paints on a few sites over here in Europe, and wondered what your opinion of them is? Some of the rainbow cakes look very, very pretty.

I'm also expecting delivery of a set of 12 Royal Soft Grip brushes tomorrow, so I'm glad you seem to like the one you have.
That's a fabulous stash of face painting kit you have! Soooo many pretty things. Congrats on being an obvious addict!


Kammy




Number of posts

: 1408


Age

: 45


Location

: Edinburgh, Scotland


Registration date :

2012-09-04



For many years I paint just with snazaroo colors.
2011 meeting with the seller Eulenspiegel colors.
He had many colors, colors with better cap. Beautiful shade. Many glitters, brushes. A large assortment of anythings.
And wholesale prices - good for me. (Snazaroo 18 ml = 90Kč / $ 3.5, Eulenspiegel 110Kč/5USD = 20 ml). RRP Snazaroo in czech rep is 140kc/7USD, 200kc/10USD.

So I buy basic colors-10 pcs. All ok.
Metallic was best of ever! White and black also good - better than Snazaroo.
So I buy more colors. For me, my partner and another painter. Maybe 40-50 pcs.
Black was terrible, does not cover all!! ... Pastel colors harder to cover. They can not be combined snazaroo + euenspiegel. The problem with water, each color a different amount of water.
Not make snazaroo + Eulenspiegel rainbow cake - snazaroo consumption higher.
I returned all of Eulenspiegel black color. Really bad ... Seller apologized. He told that was problem with product manufacturer.
I returned tatto color too. (naughty word)
And I returned some of brushes - because hair falling out of brushes -it is not good ...

And I returned to Snazaroo colors.

So I only really like Eulenspiegel metallic colors!
Great covers. Beautiful shades! good coating. Perlglanz green/smaragd, perlglanz blue, perl.violet, gold, cooper. I love them!

And snazaroo classic colors + black and white.
But not sparkle and metallic - Pink, light green, turquise, yellow - bad covers: (

I can send you some samples of metallic color on the skin. Metallic green is really beautiful! I save it and for long time I use flowers only snazaroo green. But with eulenspiegel perlglanz green it was the huge effect! Beautiful shine.




seekorka




Number of posts

: 109


Location

: Czech Republic / Europe


Registration date :

2012-07-03



Thanks for the review, Seekorka - I really appreciate the knowledge.

I'm enjoying the Superstar metallic gold and silver right now. The silver has beautiful coverage and it's really metallic. The gold is a little less opaque, but still easily buildable. My little boy is currently painted as a golden-nosed kitten.

I'll definitely keep the Eulenspiegel metallics in mind when I'm buying more. Incidentally, I just got Superstar's "Line Black" and I think it's a lot better than the Snazaroo black. More opaque, easier to do linework with - and my linework is terrible, so I need that...
Thanks again for the information!
Kammy x

Kammy




Number of posts

: 1408


Age

: 45


Location

: Edinburgh, Scotland


Registration date :

2012-09-04





Similar topics
---
Permissions in this forum:
You
cannot
reply to topics in this forum