I finally found some thin scrap book cases! I found then at Joann's fabric and craft store. They are $9.99. The only thing I didnít like was how they case has a depressions in the top in bottom (you can see what Iím talking about in the picture on of the case). So I got a table place mat for .50cents at Wal-Mart and cut them to size and then velcroed the corners down and it makes the bottom more even so the paints sit flat. My diamond FX 45gm containers donít fit but I only have a few of them so itís okay. I also found a great container for my paint brushes at Joannís. It has three sections and then it comes with little dividers to slide in to make some squares. I says it was for beads but then in another part of the store the container was the exact same one but with a different label selling it for knitting needles lol. The one Iím using for my brushes was $5.99.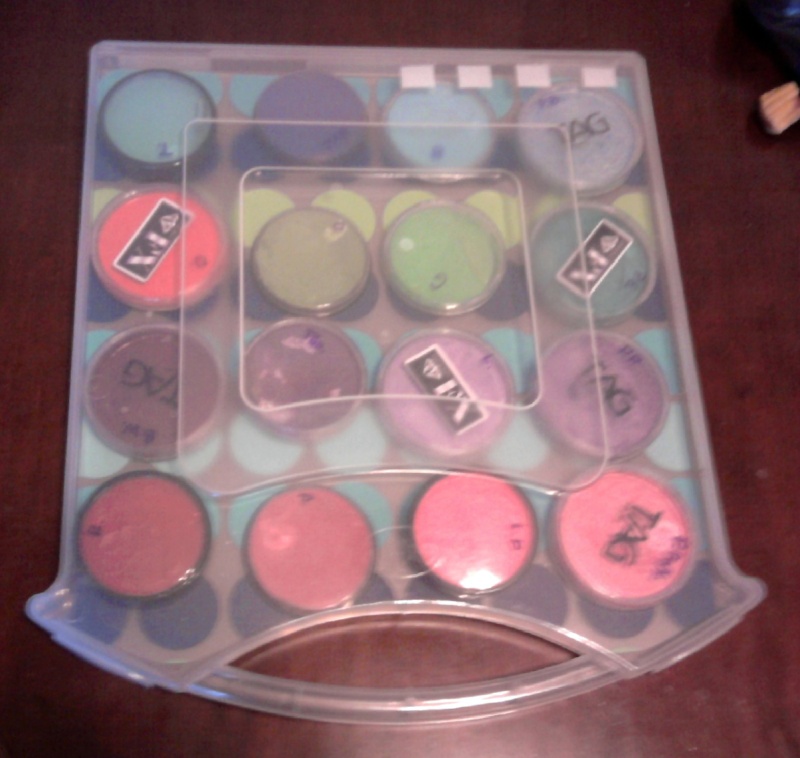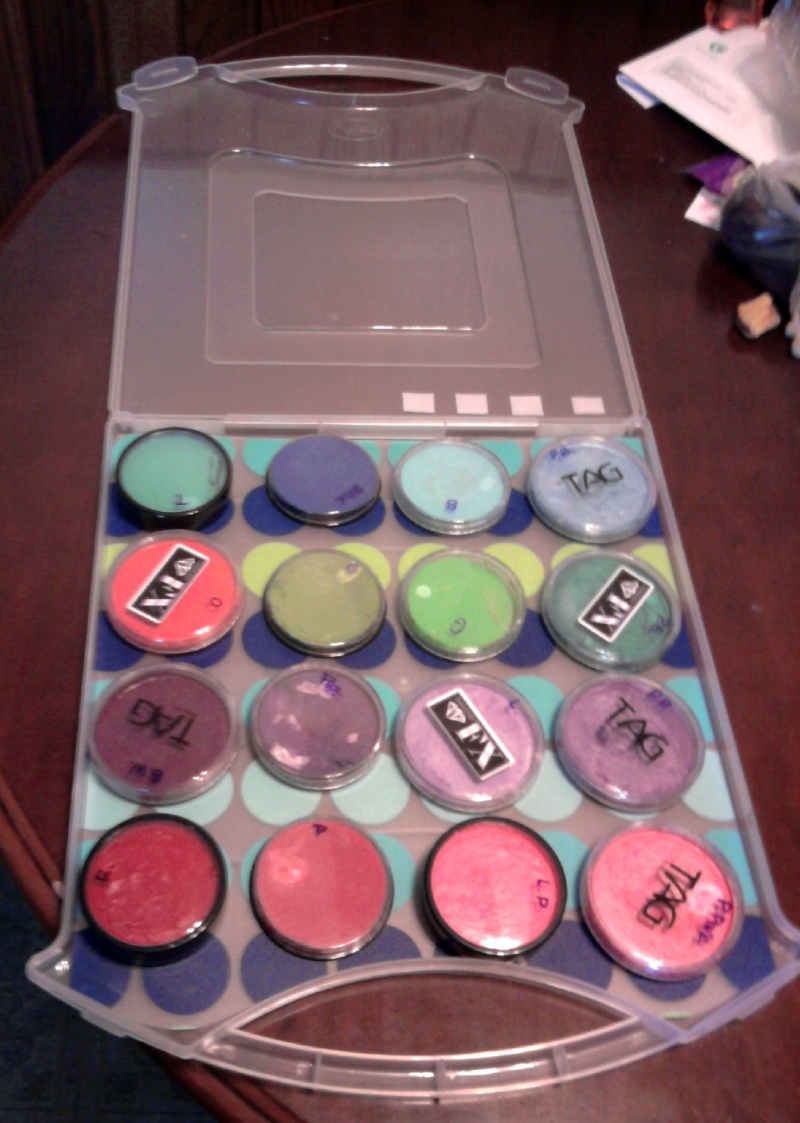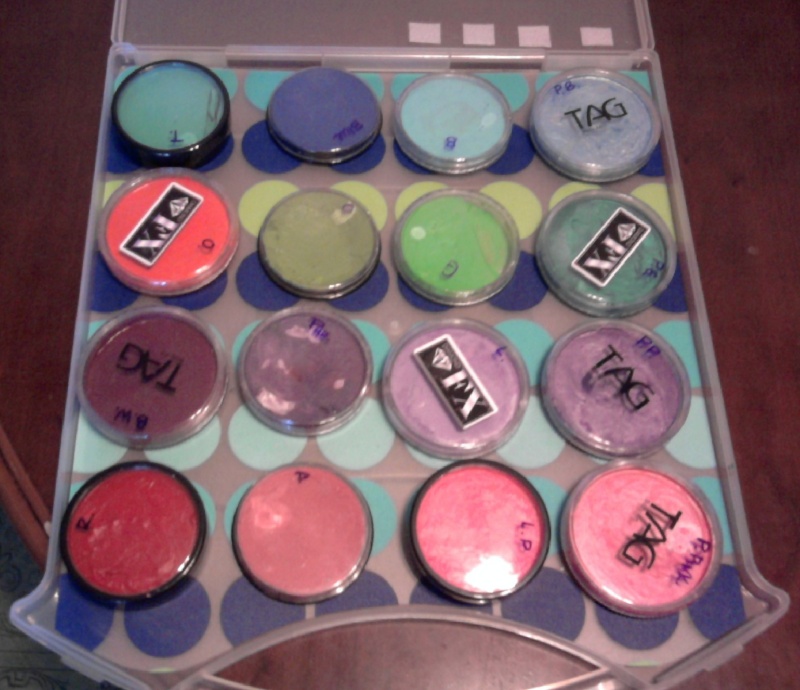 02Skeith




Number of posts

: 28


Age

: 28


Registration date :

2012-06-27



I like the brush one for sure.
In walmart they sell the very same for the paints but the difference is the holder, it is plastic and retractible so it won't take too much space when you store and the price is $5.99.
Velcro dots on the bottoms of the paints would help to keep them in place when you load your brush.

I don't know how much extra room there is, but my pallet from silly farm has just enough to keep a piece of paper towel in place to keep colors from dripping onto others on the trip home, since I keep my lids off.

mattybfunnie




Number of posts

: 23


Registration date :

2011-01-03



I do plan using velcro dots, i started on the other case that has my split cakes and they ran out so i need to get more. And there will be room for a towel. I could not find any at walmart i checked there a few times before i found these ones at Joanns.

02Skeith




Number of posts

: 28


Age

: 28


Registration date :

2012-06-27



Nice. I like your idea of the cut place mat. Here's some of mine. .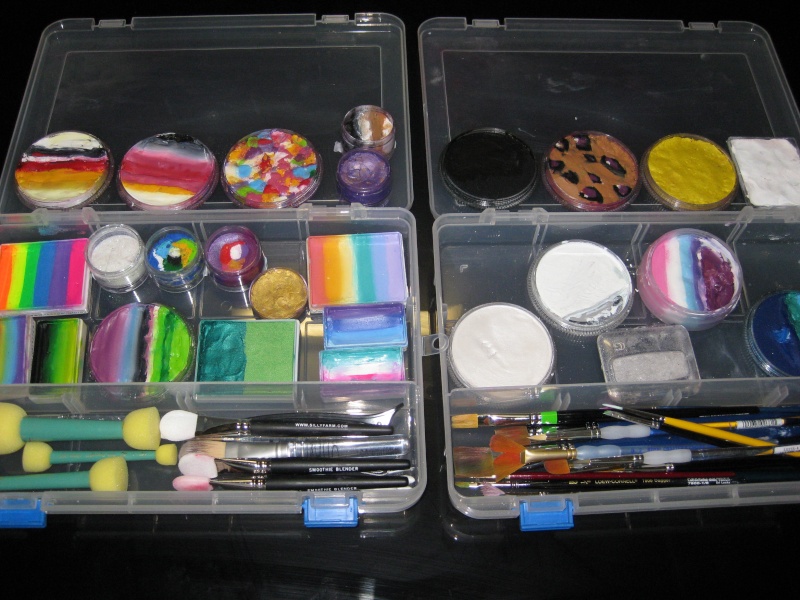 I picked them up in the hardware section, I like how i can keep brushes, etc all in the same case

I figured out that the 45gram containers do fit with the lids off and the bottom part off too. but if the bottom part is off then the velcro has nowhere to stick. I think the place mat will be great because if I ever want to change the velcro i think it will be easier to replace the place mat, than remove the velcro from the bottom of the case.

02Skeith




Number of posts

: 28


Age

: 28


Registration date :

2012-06-27



Where did you find the velcro dots? I was planning on doing mine magnetic but it seems like its going to be too expensive right now
I actually decided not to use dots because I didnít want to have to try to line up the little dots all the time. So I used strips of velcro across and then cut squares to stick to the paint containers, and that way I can also cram as many of containers in a row as I want. I got all my velcro at Kmart

02Skeith




Number of posts

: 28


Age

: 28


Registration date :

2012-06-27





Similar topics
---
Permissions in this forum:
You
cannot
reply to topics in this forum