Hey all!
I'm sure several of you have had this dilemma before, so I wanted to share my solution with you!

I have those little 16gm sized FAB cakes and no place to keep them... I also have a large Wolfe palette with the foam inserts. I did not buy the palette with paint in it, so I have 3 empty spaces where I can put paint into. What was my solution? I got the idea the night of Brian Wolfe's Paint-a-thon. I was watching Nick Wolfe paint, and he had a palette of full sized Wolfe split cakes that he put together- genius! What a great way to save space! So I decided to try it out myself-
I took some empty Wolfe-sized 30gm cakes, and split my FAB paint into the cakes! Why not, hm? It took a little over half of the FAB cakes to fill half of the Wolfe cake. I also had some tiny containers of Kryolan Interferenze Opal, and Narce- so I used those too!
Here are my new split cakes! They are a little rough looking, as I have never made a split cake in my life.

lol We have-

LEFT
- FAB London Sky Shimmer with FAB Purple Shimmer

MIDDLE
- 3/4 Kryolan Interferenze Opal with 1/4 Kryolan Interferenze Narce

RIGHT
- FAB Silver with FAB Copper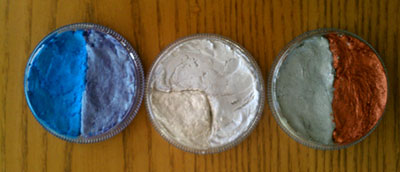 Similar topics
---
Permissions in this forum:
You
cannot
reply to topics in this forum