I bought the Ben Nye Lumiere palette. A splurge for me but I figured I have a few gigs lined up this fall already and am getting a party here and there, too. So I'll make up for it. I mean, I spend that much on paint easily already, why not try some powders and see what I can do? They came Saturday and I already did one face with them (besides my own and my arm). I liked it - the Azalea is awesome! Gold is pretty too and I think that will be nice for my butterfly.

Fast forward to today and I went to the dollar store looking for other stuff and found some super colorful eye shadows with glitter and all. Very similar colors (although I didn't find anything to match Azalea yet). Bought some and tried them on my face and arm and dang if they aren't quite pigmented too. Not much powder in them but I wonder how much will I use them? I'm telling myself if there are more summers like this one perhaps a lot. I do also want to get some starblends to use with the lumieres in the hot hot heat.

But, now feeling like maybe I wasted my money a bit? IDK I'm sure I'll end up keeping the palette and hope I use it a lot. I've seen rather mixed reviews here on them - people love them or say they are too expensive.

ACK buyer's remorse. Talk me back into confidence pls (or any thoughts on this product ...)
sorry can't help you much... I have thought they aren't worth the money (waaay too expensive) you can always stick them in the swap shop though. <3

SuzySparkles




Number of posts

: 2778


Age

: 39


Location

: Wisconsin / Milwaukee


Registration date :

2009-11-09



Yah....I bought them as well and just cannot bother to use them. My TAG paints are pigmented enough and I don;t need them to be honest.
I was super stoked when I ordered them....and so not worth the money.
Some people love them.
I was thinking of putting mine in the swap shop.
Sorry....it sucks when we feel like we wasted money.

I just used min a lot at my last couple of gigs. I might feel the same if I'd found a good alternative for so cheap but I tried the coastal scents eye shadows and they weren't even close.
You'll have to drag up the threads about them. Linda and Kat use them for full faces. This last gig I used the gold to set and brighten Wonder Woman gold (also make it easier to paint the star over it), I use the white and blue mixed for Ironman's LED eyes. I used them as a background for one-stroke eye designs, I put them over paint when I paint eyelids to add extra dimension and set the paint so it's not sticky and doesn't crease. I love using the light green as a background for blossom branches. I use the silver to brighten silver paint designs like Thor....etc. I probably should get a little braver with them because I think the blue would made a great Capt. America.
I think you have to get in the habit like Marcela Murad does. She always does cheeks, always does eye shadow...and usually starts the bases of her designs with powders.
I'm attaching a butterfly I made with Ben Nye. You can't really tell that it's not paint. I actually love the softness of the colors and the sheen and make it easy to make a little cheek art into a complete mask design.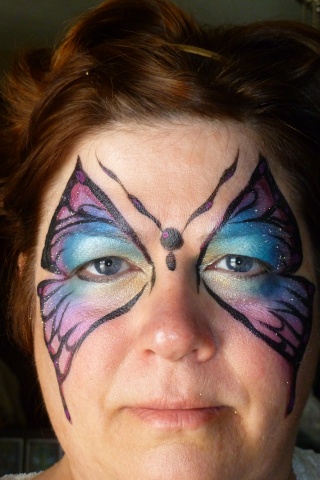 Right Denise, I think the blue would be great for Capt America too! I really liked using for a base for the eye design I did. Again the Azalea is soooo pretty. I also just tonight tried softly swiping with my finger and brushing on my wrist and then over with the soft gold and it was a lovely blush color! I already get that with my FAB Glitter Glam but it is a heavier feel since it's paint. I tried doing a butterfly on myself and I did also like the powder around my eye as opposed to the paint. I'll probably keep them if nothing more than to wear myself but I do think I'll get on to them especially if I make it a habit.
Maybe my question was - are the $1 eyeshadows just as good (barring the fact that there may not be similar colors out there).
I remind myself it was a TREAT to myself to get them as I have started my business up and been getting gigs.
Denise your designs have been my main impetus to getting into these...

I enjoy your work!
I like Ben Nyes. They are perfect for eye designs, great for enhancing other colors like gold, silver, etc. I like using azalea-blue combo for kitties. I also put azalea and purples on top of the face paint on the lips like Marcela does. I did Wolverine mask with Ben Nyes and it took me no time. I also like how nicely they blend with each other and that you don't have to wait for them to dry to paint something on top of them.

Lovely butterfly, Denise!
I should have titled this post "Am I becoming a Tackle Tart?"


I think it's a legitimate question, especially if you are saving other face painters money...that's always a good reason. If you find other eye shadows that are half the money and just as good you should post about it. I actually was wondering about buying another old style Ben Nye because the newer ones actually have less product.
Dawnie/Squiggle was the one that bit the bullet and bought the Shining Feather Scrub basin and then we all started making them. Many of us make our own splits and glitter gel.
Don't worry about posting concerns or complaining...that's what we're here for.
D.
Hehe - good point. I am actually going to do this. I have my Ben Nye and one of the dollar store palettes in my kit right now. This one actually has a nice black and pretty turquoise and sage green that the Ben Nye didn't have in the palette (but you could buy seperately). I plan to test on myself FIRST and do one eye with Nye and the other with Dollar and see what kind of mileage I get from each.


Similar topics
---
Permissions in this forum:
You
cannot
reply to topics in this forum