ok so i thought i was happy with my new case! but everytime i see some one with all the pretty colors in the jewelry cases i realize im not! but i do not own or plan on buying a fatmax or plano thingy...unless i have a downpour of bookings within the next weeek! is there anything that would hold them that i could use or should i just move on?!?!

Which case do you have? Perhaps it's workable.
I have a scrapbook box!

I think we all continually change and upgrade our set-ups...I always browse Goodwill & Craigslist when I have an idea, but can't do it new...I've gotten some fantastic finds, my last being a super duper black make-up kit that still had the tags on for $3.50 from Salvation Army.(I haven't yet decided what to use it for.) The things I absolutely have to have I can afford to purchase new. (With coupons, discounts, etc.). Saw a fat-max on CL this week for $10...
Rolling scrapbook case like LJY's kept me going a long time til my stuff overflowed to FatMax proportions.

martha




Number of posts

: 1951


Age

: 58


Location

: Searcy, AR


Registration date :

2011-05-22



cool..ive been thinking about getting one just havnt seen one yet..like they all went into hidding...smh...
I just use a red plastic toolbox from Ace Hardware. Holds everything I need....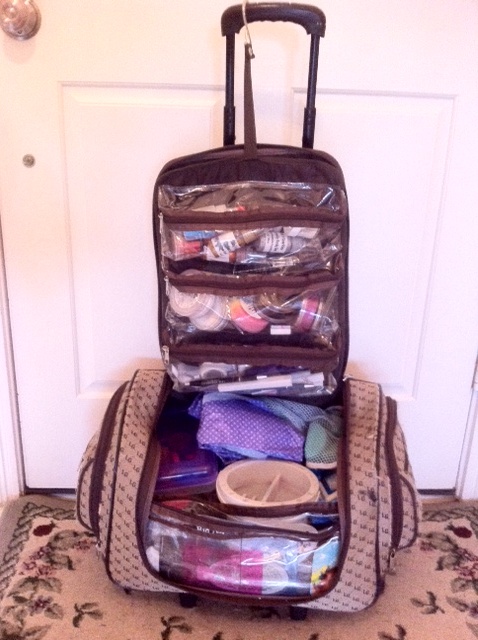 About 7 years ago, I bought this bag by Lori Greiner from QVC. It's like Lisa Joy Young's scrapbook bag but has more compartments.The price is about $10 ($71 +10 S&H) more now BUT the wheels turn 360 degrees now, too. Looking @ the pic of my bag:
1- Open the telescoping handle, unzip the middle, lift open & hang the hook on the handle. (Although the zippered compartments can be unsnapped & removed, I leave them in place. There are 3 clear, zippered compartments.
~Top has all my FP glitter, Suzy's glittergels/ middle holds all my 90 & 45gm cakes ,SF rainbows & ABC's& are the ONLY ones w/covers/lowest holds scissors, 3 legs for brush holder, tape, Marker, pen, bandaids, tic-tacs.
2-zippered section on each side: left holds 2 water bottles, pump hand sanitizer, spray bottle for water, top & bottom of brush holder./Right side holds: mirror,holder for business cards, soft plastic container for Q-tips, bobby pins & tiny hair clips(all $!.00 store). outside of BOTH side compartments is small zippered section perfect for business cards.
3- main compartment has- bottom to top: 2 "laptops' full of round cakes & splits, a few laminated signs/hard plastic case has all my 18Gm FABs, a soft case has my starblends & smoothie blenders,round water well, brushes, sponges,tablecloth & wipes, small photo books,1boy, 1girl. If doing glitter tats, they fit, too.
I wear a back pack that has tip jar, personal items & kitchen sized trash bags. Depending on the job, I bring my small table in & only use one laptop or my larger table & use two. Painting after sunset, I have clip-on lite for baseball cap & lantern ($20 @ BJ's) Got in the habit of placing trashbag in my backpack under the table. My dirty wipes & sponges all go there & I take em home to separate.(hint from LJY). If outside or longer event, I bring a pail & 1 Gal of water. Used sponges & dirty water go there thru the event. Also bring 2 chairs only if needed. Sometimes, I use a trifold board instead of books. Stopped taping pics & now use a sticky "clay" that can be switched easily!
You can view the newer version of the bag & info by looking up QVC Deluxe weekender bag w/telescoping handle by Lori Greiner.
...or see it here: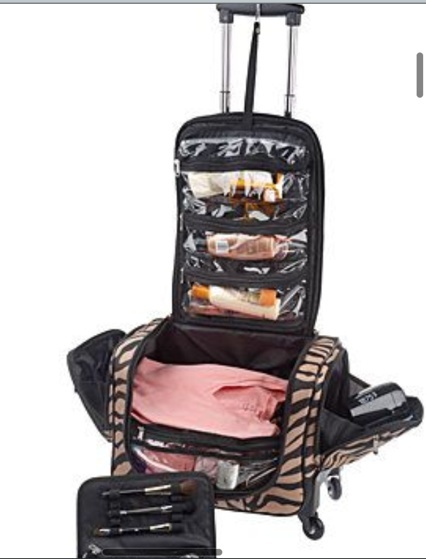 Hope this helps...'cause I fit A LOT in that bag.
BTW, Anniel, that was a great tip, looking in Goodwill etc. Thanks!
I used a scrapbook case also, I still have it lying around too. I recently switched to a duffel bag because I wanted to store my paint cases horizontal. You can fit a crap-load of stuff in those things.

Why don't you get the jewellery trays and the wooden case things they fit in, and attach some sort of belt around them to prevent them from sliding around? I hope that makes sense... I'm thinking about it too, I just hope shipping to Canada isn't crazy expensive...
I've changed my storage stuff at least once a year for the 4 years I've been clowning... I was using a laptop case and was very happy with it for a long time.... then my paints weren't fitting in it anymore, even with splits to let me carry more colours at once. So my latest is this one:
It's a little tool box that has two levels and I just keep all my paints in their original containers.
I have my "not quite a fat max" toolbox that I use for big events that holds my big FP kit and my Glitter Tattoos, but for shorter events, I use a regular backpack from Target! I put 2 laptop cases of paints/starblends a gallon size ziplock with a few select rainbow and arty cakes, my water cups (metal drinking tumblers), brush box, purell, baby wipes, a little vial of glitter, business cards, a squished down gallon sized ziplock with my sponges, and I'm pretty much good to go! I print out a smaller selection of designs to use on 8.5x11" paper and laminate it and slip that in the bag too. I carry my water bucket, trashcan, gallon jug of fresh water (all nested) in 1 hand and if I NEED my chair or table they go in my other hand or I make 2 trips. I started doing the consolidated kit when I did the Oz makeup for the dance company back in June. It's served me well several times since then!

My airbrush kit JUST fits in my scrapbook case, but I need a new one because the handle doesn't extend all the way up anymore. :-(

---
Permissions in this forum:
You
cannot
reply to topics in this forum