Hi all, as I'm new to this whole face painting thing, I'm not too clued up about all the different brushes yet, so please forgive me if this question has been asked somewhere else already. I did search the forum but couldn't find any results.
I have seen LC regular round brushes available, as well as brushes referred to as 'round stroke'. I mailed LC about it, but didn't get a reply so I'm hoping someone (anyone?) here will be able to tell me the difference between these two kinds of brush. I have just purchased the LC7000 series acrylic handle brushes but am curious about the round stroke. Thanks guys, hope someone can help me out!


Willoughby




Number of posts

: 103


Registration date :

2012-09-07



Willoughby, if you have the 7000C brushes, you have the cream of the crop in the LC brushes as far as I am concerned.
I don't know of any difference between a "round" and a "round stroke" brush. There are differences between "round" and "ultra round" with the latter being fatter. All kinds of brushes coming on the market lately but it's the practice with a decent brush that makes all the diffence.
Anyone feel free to correct me if I misspeak.

martha




Number of posts

: 1951


Age

: 58


Location

: Searcy, AR


Registration date :

2011-05-22



I have never heard of round stoke either, but, I can tell you that I love the LC 7000 acrylic handle brushes! You will not be disapointed. I have 2's 4's and a whole set of flat. And the best part, well, besides the bristles, is the handle never peels.

ok now I am doing this to show a difference and deliberatley rushing it to sort of show you how it all goes in a hurry as I could get a nice result with each if I take my time...
Bear in mind that the Round brush I am using and the 7000 are old. The round brushes (I have 2) has been my practice brush and used at just about every party. they are very used
the 7000c is about a month old. The ultra brush is over a year old too but i don't use it that much.
I really like both the ones you mentioned.
now I painted this last night and did it quick (drag and drop)
now I stuffed the ultra brush shell thing but I dont use it for that and misplaced because of it. I find I don't get nice round ends on the tear drops as often as with other brushes - but it is good in a cascade. the other issue it has and I have spoke to others about this too is it splits as you swirl. if you look close you can see the paint going up
below it is an old standard 7000 (it was I think my first brush- ever) so it has been used alot and not doing as well these days . but it is still a dose a decent swirl and has a fuller boddied drop good - it is still a good brush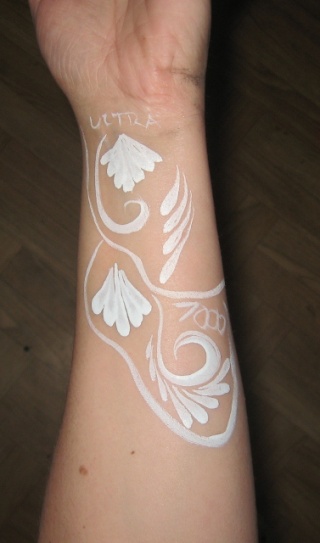 now for my two favorites and remember I rushed this on purpose.
now the 7000c is awesome and I love it but it dose not have the fuller bodyied bristles the round dose.
it has a nicer tappered point though but as you round a swirl a tear drop it looses a little form in a rush.
the round stroke is also known as 7040 and the
comma
brush becase it makes nice comma stokes they are naturally fuller bodied as they round a corner.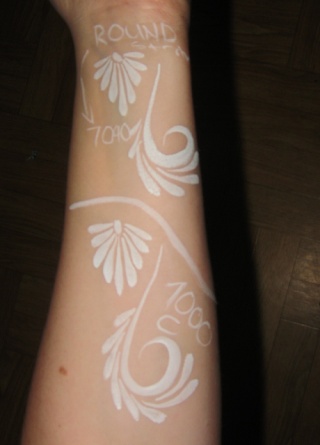 now I suck at drop and drag - I use it but not my fav way of doing things. but for the sake of this I am doing it.
(yes I did twist and lift - and I stuffed the first round brush one, this is not the brushes fault all on me) now I love the 7000c it is dear to me .the round is a bit fuller bodyied but that 7000c gives nice tappered point - I think it is the best for drop and drag.
The ultra is so pointy you can see the shape in the drop - it clearly sucks at this and my poor old old 7000 plods along.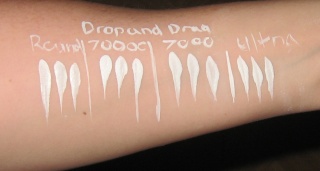 now I this dosn't do the ultra justice - as I know that it rocks at this and can do a super long thin line better than the others including thin to thick.
but this is how it came out the 7000c dose great in the picture and life The round as it is fuller bodied dose a slightly widder/thicker line than the rest its point is not as tappered as either. but it is thicker than both at the fat part.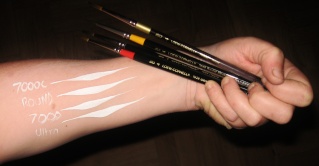 so all this said my current favs are the 7000c and the round
I like the Ultra for long fine strait lines - as in doing a robot as it is going to be good at that I have used it on tear drop masks as it is quick and effortless at the drag and drop but they are ones I am going to outline (to hide stuff) If i need a cascade I also would grab this.
The ultra however is a brush i usually leave behind.
the 7000 is great but mine is old and they now have the 7000c. so it is a reserve brush now for when a germ bomb gets my brush and I have to retire one.
The Round brush and the 7000c both come with me they are my 2 favs and depending upon what I am doing depends what I pick.
I hope this helps
and I am one painter prefer drag and drop and brushes are unique to the person.
I consider myself a newbie although I started two years ago because I don't get to practice everyday, sometimes months go by before I get a chance to paint.
I've always used generic brushes and just recently was able to purchased a few LC brushes. I was happy to see that some of the problem in my technique was the crappy brushes I was using.
Thanks for posting the side by side comparison pics, makes me feel better to know that yes, good quality tools are important.

I like the Lowe acrylic handle brushes because I find they are all quite the same and I cannot stand it when my beautiful brushes peel it drives me crazy.
Thank you everyone for the prompt replies, especially you Elantaura! I so appreciate you taking the time and effort to do that for me, and you really explained things well

I am going to see how I like the 7000C's, perhaps I'll get the round stroke a little later on down the line. Thanks again for all the info


Willoughby




Number of posts

: 103


Registration date :

2012-09-07



thanks for this -- great resource!


amylady222




Number of posts

: 1176


Age

: 38


Location

: San Luis Valley, Colorado


Registration date :

2012-08-04





Similar topics
---
Permissions in this forum:
You
cannot
reply to topics in this forum