so exited!!
Last week I've offered the teacher of my oldest daughter to do a bellypaint, she's now 31weeks ahead. She's was thinking it over last weekend, I dind't want to force/push her, because I think it pretty private.
Today she came to me and asked about the offer. On wednesday the kids are going to learn the wordt "buik" (Belly) so the thought it would be a fun thing if we can do the painting the day before and she can show it on wednesday to the class.
I've already found out that I can use hairspray for keeping it overnight (she's doesn't sleep on her tummy).

And now I'm designing a couple of belly's she can choose between. It needs to be something that I capable of painting, and I want the word buik in there. The designing already is fun, than I need a little practice (on my leg, on my daughters back lol)

But also a little scared, maybe it will look terrible...
Im sure it will look wonderful! I did my first one a couple days ago and I was nervous but it didn't turn out too bad! The easiest thing to do is if you like to draw, draw out the difficult part of the designs and cut it out and use it as stencil when you paint it on the belly and then just fill the rest in

Good luck with it! I hope we get to see pictures

Good luck!! Sounds like so much fun! I'm doing my first belly next week too. Hopefully you get some nice pictures, it'll be good to see what you come up with!
Oke, here's the result...
The mum was really happy!!!
She didn't really knew what to espect, but it was fun!! For her, for me and for the baby!
When I look at the picture I see a couple things I should do different... and I think I forgot the irisses of the "baby"?
It took me 1,5 hrs to make it, not bad I think!
And now hoping that it stays nice till tomorow!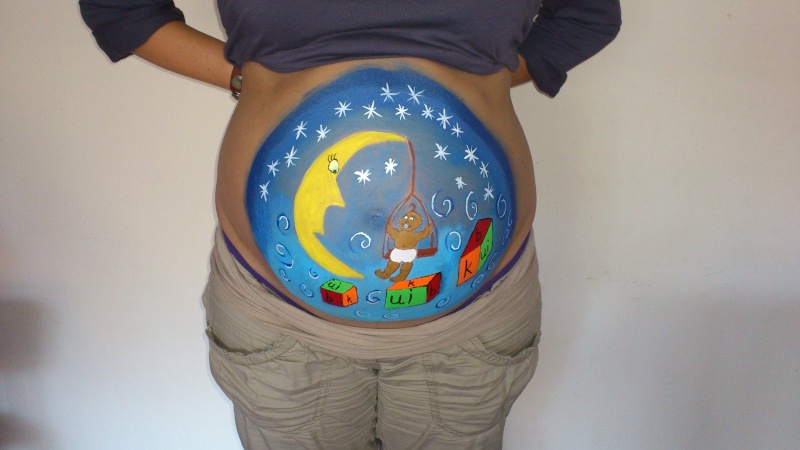 First belly done, you did great!
Of course you see things you could do better next time, we all do!
It's all about having fun and growing your skills, isn't it?!
How was the belly the day after? How did the children react?


Similar topics
---
Permissions in this forum:
You
cannot
reply to topics in this forum