What I have and why:
6 sponges (DFX?)- I like Fantasy or the ones in Metina's shop more...personal preference. These 6 are unused, didn't want to give any used ones lol.
2 Glimmer glues - no tat gigs yet, have 6 glues...4 should suffice for now!
27 empty glitter containers from glimmer (the kind with the screw on lid)...I emptied them into a plastic organizer thing. Split cakes maybe? I don't have enough paints to cut the ones I have up, and don't have anything to put in them. I can wash them or leave the traces of glitter so you can see the various colors in case you wanted to order new glitters (hard to tell what it looks like in pics).
2 Empty octagon bead storage containers- don't need them. You can see them on another trade post I made awhile back...
Usborne Book of Face Painting Step by Step book. Also posted in another thread and also stil available.
Bunches of Moxie Girlz sticker sheets and pins, good for giveaways. - I have TOOOOOOOOOOOOOO many!!!! Great for girls...they are like the Bratz doll replacement (more clothed and emphazize positivity and artistic style and such, lol). The sticker sheets are a bit larger than a postcard and have 5 different stickers with pics of the dolls and sayings like "Be true, be you" and "What a doll!", and the pins are tiny, and have one doll face on them, and say "What a doll!") - I have a ton so if you want anything else chances are you'll end up with a couple of these. Let me know if you want a lot of them as giveaways and what you think would be fair trade.
Wish list- product of equal value, let me know what you want and what you want to trade. Specific items- Liquid Bling, special FX stuff, paint (lol), Fantasy sponges, Shannon's book, paint, stencils (like the pink power type I guess...awareness ribbon in particular, or if you could cut me a spork one haha! Or peace sign type stuff. I don't know, just let me know. New toys make me smile!

Take a group pic and post. I am thinking about the 27 containers, but need to see the size. A pic says a 1,000 words.

-Metina

_________________
Face Paint Forum Shop
www.FacePaintForumShop.com
TAG, Diamond FX, Wolfe, Global, Kryvaline, Paradise and other Face Painting Supplies
Shipping from $3.99
Washington DC Metro--But Serving the World!
Interested in the 6 sponges, 2 glimmer glues, and 6 empty containers. Would you be willing to sell if so, how much with shipping to california 92704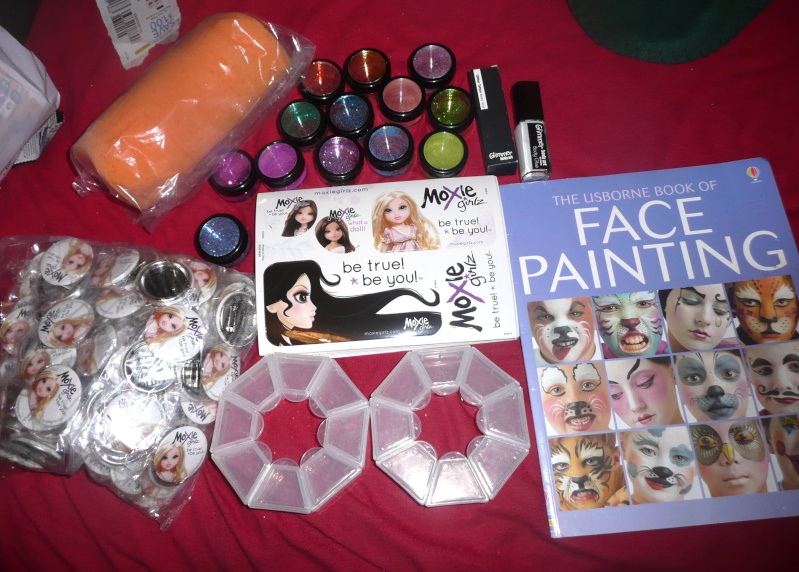 There's the picture. Glues have been claimed via pm, as well as some of the stickers and maybe some pins (still plenty more though, lol). The glitter containers are the ones that say they hold .26 oz of glitter. All of them are not pictured but I figured no matter how many I posted, the size wouldn't change, lol. Metina, you wrote first I guess so you have claim if you want the containers. They are all in new condition, as I just opened and emptied them directly into the empty palette thing. I was going to place an order with the shop anyway so I'd be interested in getting credit toward that if possible. OC if you are still interested in just the sponges, they retail for $18 for the 12-pack, but I'd do $1/each plus shipping if you want them (that's what I paid). PM me if you like!
Did Metina take all the glitter jars???

If not, can I take 10 of them?


Similar topics
---
Permissions in this forum:
You
cannot
reply to topics in this forum