Hey anyone in the Miami or Coral Gables area? They are selling a pair of really cute Director Chairs for $20 the pair! Wish I would of seen it sooner, I already got mine. Hope this helps anyone!

http://miami.craigslist.org/mdc/gms/3311390814.html

Taly




Number of posts

: 38


Registration date:

2012-08-22



Are director's chairs more comfortable than regular chairs?? Forgive my naievity....what is the benefit of them for facepainting? (by the way, I love the color/design of those chairs...really cool!)
They're better for your back....
I have serious back problems, and my doctor suggested putting the kids in a high chair and standing up to paint faces...
If not, I would have to stop painting....

I was skeptical at first, but bought a ez-up tall director's chair, and I love it! My back holds out great, and kids can climb on the chair without my help. When they're done I just take their hands in mine, and let them jump off, so I never have to lift a kid.
Oh, and I don't know about these wooden chairs, but the ez-up one I gave is very lightweight, so I can get everything I need on a job in one run...
So you stand the entire time??? I never realized painters did that...I just assumed you sit! lol shows what I know (and DON"T know!!) Thanks for the info!
I stood to face paint every day, six hours a day, for 18 days straight at the Canadian National Exhibition.
I have a disc that is trying to herniate in my back.
My back was fabulous during the whole event.
I put a pillow on the director's chair, and the child is pushed more forward toward me. I can also get the child to lay down if they are too twitchy.
My back thanks me for standing instead of sitting and hunching forward.
xoxox
I'm a sitter. I use something just like this with a pillow for my back: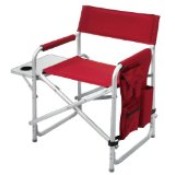 I use the exact same chair for my customer, too. I have a booster cushion if it's a particularly small child.
I have back problems, but never with this chair and the pillow behind me. It's when I have to pack up all my crap that my back will get irritated.

Similar topics
---
Permissions in this forum:
You
cannot
reply to topics in this forum