How do u do fur.. like on the outlines of cats, cuties monster etc?? Mine always look wrg then I try cover it up and then it loks ok buy messy.

Very fine brush and short strokes not ziz zags. Your strokes should be erratic.
I use a pig hair (???) brush... a simple craft brush. Bought it to try something else but happened to be perfect for fur!
With a rake brush. I did a video on how to make your own and it has some examples in there:

https://www.youtube.com/watch?v=DugZGNdcGHk&feature=share&list=UUsYN71ZP3-7cny_UIBUbCpQ
I use this Loews Cornell 246 Rake Brush, it also has a number 2 on it. It's fantastic for fur that takes a second to paint. At the edges of cat faces, etc., I usually use it with black, then do it also with white. It's so fast to make fur (and fun) it's amazing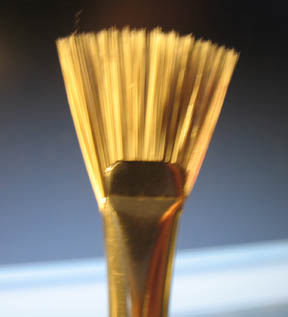 ---
Permissions in this forum:
You
cannot
reply to topics in this forum