Im fairly new to the forum and finally can post about something and get some suggestions, yay! So, I got involved in a petting farm "barnyard day" where vendors could pay $30 bucks and set up a table. With $20 in tips and $2, $4, $6 faces ( I know, too cheap but I was afraid) and $180 later, I felt like I could do this again, and the owner offered to have a regular spot for me each weekend, yay!
My first weekend was great, I did $2, $4, and $6 faces again, and by myself. I did about 60 children a day and made more tips. I had issues with my tip jar, water cup (plastic) and paintbrushes (in the popsicle maker holder) tipping over in the wind. I had to put my water cup in my apron, which actually helped out a little.
I had issues with my banner with it being windy, and bought zip ties and grommet holes so that fixed that issue. I also used some ceramic ice cream cups for my water. I also learned that I needed to put my $6 faces in the front versus the end, so as soon as people came in to look at the boards, they were more likely to pick those.
This weekend I upped my prices to $4, $6, $8 and did about an hour less of work and made out the same! I was soo surprised!
One big question I have for when you dont have help- how can you ease the process of using the credit card payments (when I had a helper, he only used it 3 times), and how do you ask to take pictures of the faces youve painted?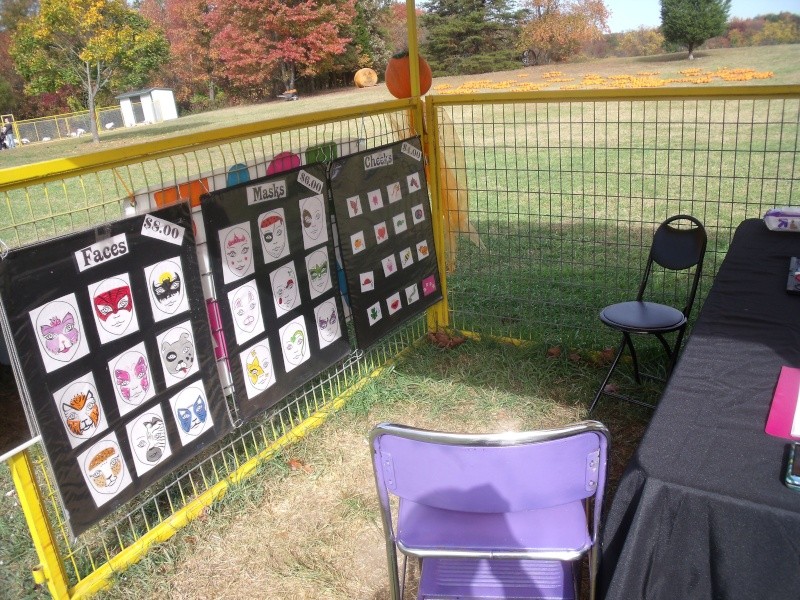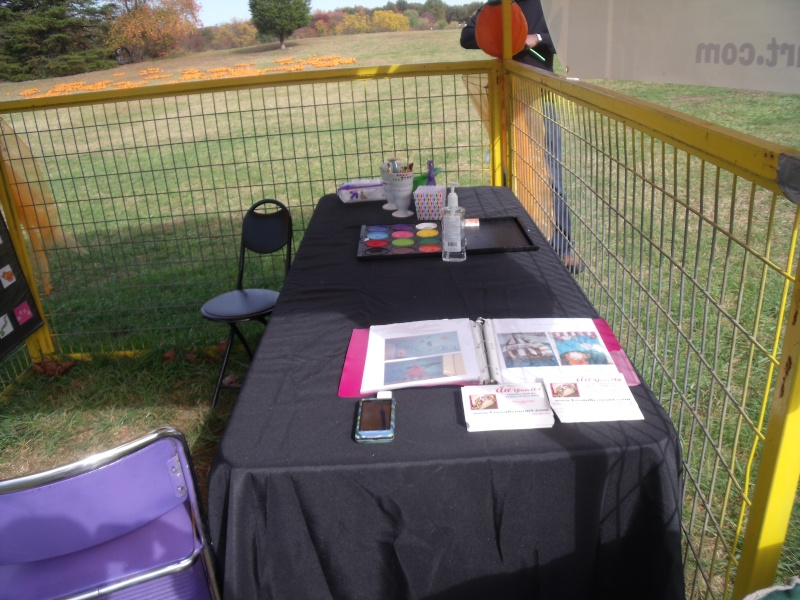 Welcome to the forum and to the exciting world of face painting!
Your set up looks very nice! I love how neat and tidy it is. Your designs are great, too!
I usually have a helper who takes money, but if I didn't I'd just have to use the credit card reader myself. It's a trade-off, having a helper to make you faster, and having to pay him, or not having a helper and being slower. It pretty much washes out.
As for pictures, I am usually too busy to remember to take any, but if I do remember, I just say, "Your face came out so nice, can I take a picture for my website?" I've never had anyone turn me down, but I have a friend who has. (parent was a police officer, and he didn't let people post pics of his kids anywhere)
So excited for you, LoveAllYourArt!



I'm glad you were able to work out some of bugs too so that you can have an easier time of it. I have no experience to help on the credit card with fp'g, so can't offer you anything there, sorry.
Your set up looks so nice! Like rthling said...neat and tidy! I know I have just too much 'stuff!' Your design board is Very nice too! Glad you got the courage to raise your rates, good for you. You really must have impressed the owner so that they now want you as a regular.
I'm still marveling at your sunshine back there! We're in the pouring rain lately.
Keep up the good work!

Valerie A




Number of posts

: 1035


Location

: Near Eugene Oregon


Registration date :

2012-07-18



Thanks rthling! I used the card reader today and collected money, your right, its a trade off and it was actually easier than I thought.
Thanks Valerie!! It has been sunny here the last couple of weekends, so Im crossing my fingers for a few more. I think once I get more experienced, my space will be more full, especially once I get my hands on some splitcakes!

Now as soon as I can get some courage to ask for some pictures I will feel alot better!
What I hate about taking pictures myself is getting paint all over my camera

I could take them with my phone camera but my dSLR takes so much nicer ones.
What kinds of things do you paint for 'childrens wall art?'

Valerie A




Number of posts

: 1035


Location

: Near Eugene Oregon


Registration date :

2012-07-18



Big congrats on your first PPF gig - it's great that you have a regular spot there!

Your setup looks great. Very professional, clean and bright, and it advertises your business very well with those big banners.
Go you!


Kammy




Number of posts

: 1408


Age

: 45


Location

: Edinburgh, Scotland


Registration date :

2012-09-04



Thanks Kammy! Thanks to vistaprint its been so cheap to advertise. @ Valerie yes I think I may just have to use my phone to get some quick shots. I do characters such as spongebob, themes like baseball, children of the world, and names just to name some things for wall art- on canvas, and murals.
I am glad you did good. I did an event this past weekend at a huge haunted maze. I didnt take a helper, I never do. and I did really good too. I know how good it feels when you are able to raise your prices and customers respond well to it. Im very glad for you.

ARTSY LADY




Number of posts

: 191


Age

: 28


Location

: PEORIA, AZ


Registration date :

2012-06-02



Thanks Artsy lady, good for you too! Im glad it still works out with no helpers, I was afraid but had no choice!


Similar topics
---
Permissions in this forum:
You
cannot
reply to topics in this forum