I've recently started standing while face painting. I had been sitting and painting out of my fat max. I tried standing and using the max and it didn't work. So I bought my self a TALL 4 ft table and am now trying to figure out how, or if I can, use the max to transport all my paints.
One of the biggest problems I'm running in to are all the small bits, like bottles of suzy's sparkles, sponges, jewels, etc. In the fat max they all sat in the middle compartment. But if I'm working on a table everything needs to come out of the max so the sponges need a bucket or something and the sparkles need something too. And now, instead of taking up the tiny little space in the middle compartment of the max, they will take up more room. And I'm not sure how to handle that.
I did get a new stanley tool box, it's really two tool boxes stacked, but it's looking like it's not going to be enough room. ARRG.
I am thinking about cutting out some of the dividers in the middle part, HMMMMMMMMM.
Any ideas or help? Happy to take photos too.
I broke up with Maxine over the summer - left her for a camp kitchen (I guess I'm a two-timing face paint ho) that I used for all my fairs. But Maxine took me back after the af-fairs and now I have decorated her with fancy-schmancy fun duct tape and I am proud to step out with her again.

But don't tell her that I plan to use both her and Campy again this summer...

I fit everything in Maxine, except my water jugs and water bin. I use a Tidy Cats 35 pound lidded bucket for those. I duct taped the bucket to match Maxine. What's great about the Tidy Cats bucket is that the lid flips open on one half. I flip it open to put my dirty sponges and pour my dirty water into it when I need to change my water bin. It has a handle, too.

Welcome to the world of the standers. The problems that plague us are legion,but if we want to have a back when we retire, we must persevere.

I load my kit into a Crop N' Style Navigator (I think that's the one...I know it's a step down from the XL) and I carry my sponge box in a separate totebag that also houses any dodads that don't usually accompany my kit. I'm pretty happy with it because I can get a LOT of stuff in the bag and the surface is really strurdy so I just drape handles of my tote over the telescoping handle and tote it all as one unit. I've employed little zippered bags (like cosmetic bags to keep the little things on good behaviour inside my CNS bag and I've never had a problem. If I have time, I'll take pictures of the packed bag later today.
The newest FatMax is taller than the old FatMax.
Seriously, pondering about all this is harshing my mellow.
How I am pondering stuffing everything in my stanley workstation: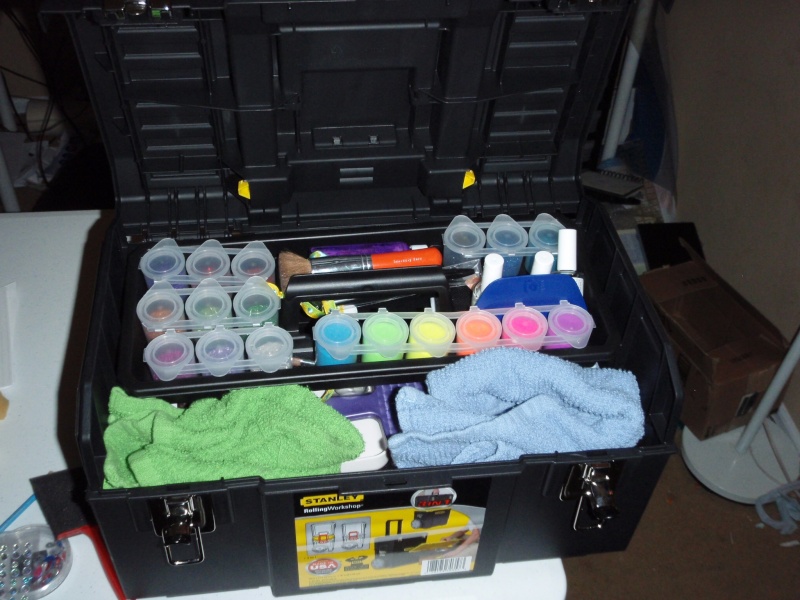 Paints in 4 jewelry trays. Wipes, towels (I wipe my hands and brushes on those), mirror and glitter for glitter tattoos on top. No room for a box of alcohol wipes though.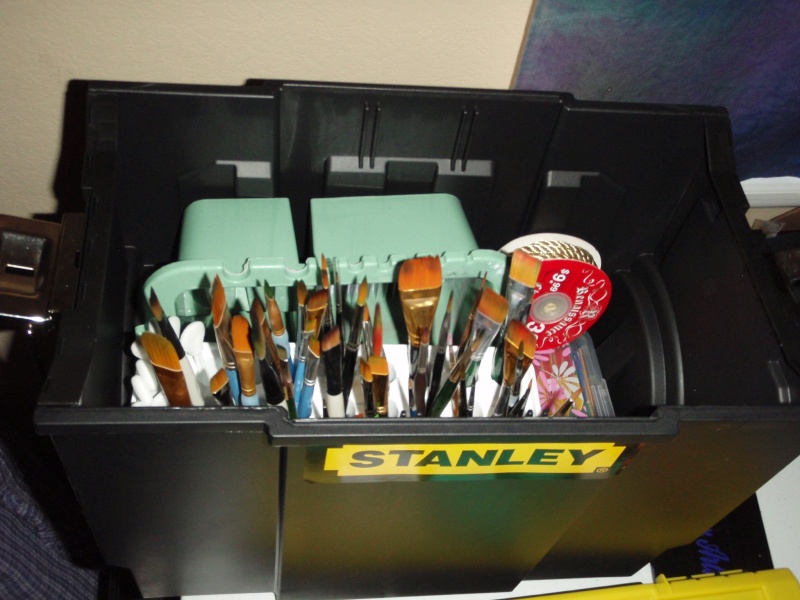 Box of glitter tattoos and brushes. Though not all the brushes are gonna fit, I may have to cut down handles. Green brush cleaner in there too.
The lonely pile of sponges needed a home. The lonely suzy's sparkles are in my sewing room- I was trying to make a soft bag for them. I was thinking of doing something similar with the sponges- some sort of soft bag that can be smushed into a corner but would sit up on the table so they would be close at hand for use. Less worried about after use, I have a mesh bag I can hang off the table.
Oh and under the sponges is this really cool and deep tray- I've got some hair tinsel supplies in there (I use micro rings for the tinsel) and I wonder if I could get some gems in there. But then I'd have to find room for that tray on the table, ARGG!! THERE GOES MY MELLOW!!
oh, and I was going to add that I was contemplating cutting out one of the 'barriers' in the middle section of the fat max, wondering if it would give me more room for some sort of sponge holder thing. Not the yellow part, that part slips out. But that middle black part going front to back. I'm sure I could cut it out.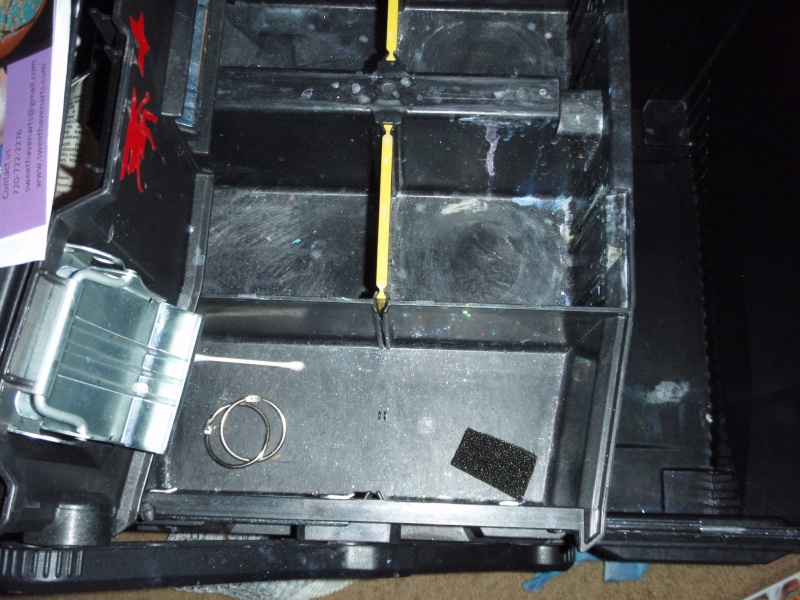 ????
Harsh Mellow?
Grab some chocolate and make S'mores!

I keep my sponges in a zippered plastic bag (that curtains and such are packaged in) and then you can squish the heck out of them into a little tiny area and they will pop right back up.

I hang a jewelry organizer on Maxine and I put lots of little things in the pouches.
Ok, someone is going to laugh at me, but I hadn't even thought of plastic bags. Yea. I need a face palm icon.
I can fit everything but my sponges into my gun case....sponges hang on a black net bag on my chair one bag for clean, one for used). Case goes on the client provided table, unlatch, open, fill water & I'm good to go! Fold up step stool, sponges & chair pack into manufacturer bag for chair.

---
Permissions in this forum:
You
cannot
reply to topics in this forum