I recently bought a fat max and no longer need this, it was great for hauling my supplies to birthday parties! Case Logic rolling tote...It is small enough to carry but it also has a handle and smooth rolling wheels for when your toting more. I will take $25 +shipping for this. It is super clean and all the zippers, etc. work great. Handle is not fully extended in photo. PM me if you have any other questions about it. I also have a very nice Swiss Gear backpack in purple if anyone is interested in that.

Erica, are you going to take your FatMax to bday parties? I just got mine and love it but is big and heavy, was wondering if would be too big and bulky taking into people's homes? And was going to keep my rolling tote for bdays but now that I am sitting here thinking about it, it wont take up any more room than a table would

Good Gravy wish I could make up my mind and get my system down

and fast too because have a crazy weekend coming up. The only problem I actually have with it is my vehicle, I drive a pickup and too afraid to put in the back back, so I fold down my seat in backseat and have to lift it up and in there

killer on the back.
Last edited by BeyondFrazzled on Tue Dec 04, 2012 8:41 pm; edited 1 time in total (Reason for editing : typos and lack of proofreading)
Yes, I plan on using the fatmax for ALL my events...I am working on making a foam table for the top of it using foam board and printed duct tape. I am just going to have to keep some wipes in my pocket for the wheels. I don't want to wheel dirt through peoples homes.

I drive an Explorer so yea it is a pain to lift lol. I always have my 11yr old with me to help though. She's as big as I am...
I bring along a roll of paper towel to wipe the FatMax wheels really well but use a computer laptop case and a liftable rolling trolley for birthday parties if it's in someone's home. If I get a chance, I'll post some pics later so you can see what I mean okay? I drive a 1/2 ton too so I hear ya on the back-killing comment.

Gr8ful




Number of posts

: 452


Age

: 57


Location

: Saskatchewan


Registration date :

2011-02-08



OH YES! That would be awesome thanks Gr8ful!
The rolling tote breaks down to a thin laptop type square for storage. The handle comes up like the FatMax but is more sturdy. I got it for around $18 CAD @ Xcess Cargo.
This is the tote folded:
This is some of the contents: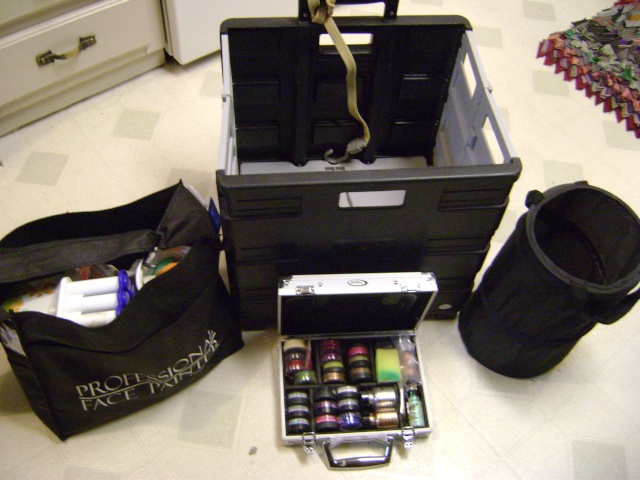 And this is the laptop bag stuffed with my paints, brushes, gems etc:

I also stuff my foldup chair against the handle and strap it all in with a bungee cord. It works great and it is manageable to lift in and out of the 1/2 ton as well as up stairs and into homes.
I hope this makes sense and helps you out some.

Gr8ful




Number of posts

: 452


Age

: 57


Location

: Saskatchewan


Registration date :

2011-02-08



I should also add that I use a DS case (video system) for my glitter. That's the silver box on the floor in front of the tote. It works REALLY well and doesn't spread the glitter amongst my paints.


Gr8ful




Number of posts

: 452


Age

: 57


Location

: Saskatchewan


Registration date :

2011-02-08



That looks great

I started with a rolling scrapbook case and a folding table. But the setting up the table and UNPACKING and ORGANIZING of all my stuff on the table was or is taking so much valuable time

and I tend to be OCD about the organization of it all. That's why I liked Squiggles set up so much, or if I could just find the perfect fit I would be sooo happy! I have even looked at the artist's on the go table, but they are so expensive, I could just unfold and start painting


---
Permissions in this forum:
You
cannot
reply to topics in this forum