I feel like the evil doctor that made Frankenstein

Meet my baby.
The most PERFECT split cake pallet in the word.

Click on this one to see full picture because the last row of splits is cut off in the regular forum view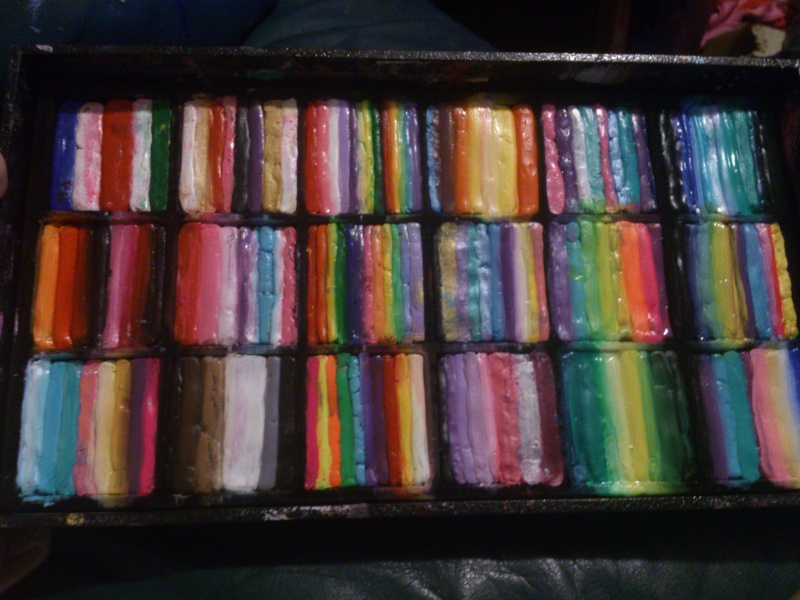 for reference, here is a 1 inch brush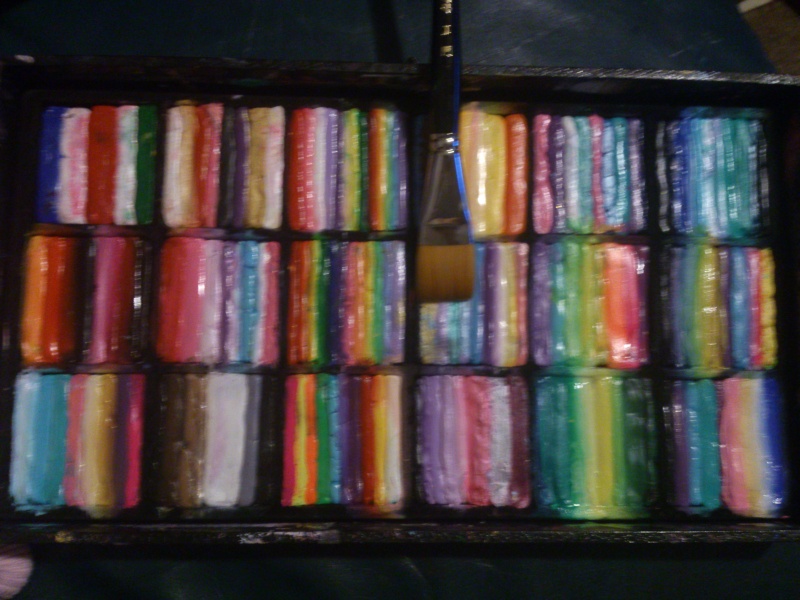 The container is an 18 slot plastic jewelry tray http://nilecorp.com/products.asp?sku=PT18
Each Compartment size-2'' x 2 1/8''
tray size-14 1/8''L x 7 5/8''W x 1/2''H, 1.0mm thick
each of the containers hold 2 one strokes and about 70g-80g of paint if filled to the top.
Some of the containers I filled with 1/2 inch one stokes. For example, top row, 3rd slot (left to right). Here you have 1/2 one stokes Rose, Orchid, Leaf, mini Rainbow.
Each compartment gives you more than enough room to load our brush and the option to load different color combinations.
Last edited by MelindaT0813 on Wed Feb 06, 2013 10:33 am; edited 1 time in total
Wow, you worked hard on that. Looks amazing.. I wouldn't know where to start..I would have a hard time choosing a combo...lol...
DROOL! Is it for sale? lol

I can, but you won't like the price! There are the equivalent of 36 individual one 1 inch, one strokes. They have as much or more paint as their $10-12 counterparts. So if $360 sounds like a good price let me know lol. Somehow I don't think I'll have any takers lol
I just orderd a 12 basic color 32 gm TAG palette so I would have solids again then you post this makes me want to go all Frakenstein too... lol. I have rainbows and splits but ooohhh ahhhhh love it
Yes its fabulous. Is it all types of brands, which did you find the most easiest to cut and shape. I just get overwhelmed but I would also love to get all my paints into splits as well. I never use solid colors, that is so last year


SummerFun




Number of posts

: 23


Registration date :

2012-09-23



Lol these were all Wolfe paints. They are my favorite for splits. You really could use whatever paint you fancy best

If one didnt have a jewelry box, what is best cover the trays with. I use a suitcase on wheels so I need to cover the trays so I can lay other things on top of them or that it doesnt "paint" and smear paint all inside suitcase when closed!

SummerFun




Number of posts

: 23


Registration date :

2012-09-23



MelindaT0813 wrote:
Can also be held inside a Metal Clasp Lid Display Tray http://nilecorp.com/products.asp?sku=83-2B


Similar topics
---
Permissions in this forum:
You
cannot
reply to topics in this forum