It seems that whenever I try to put white on top of black (no matter how long I give the black to dry), they smear together and make a sort of gray color.
Does anyone else have this problem?
Should I just put the white first and then go around it with black?
Or is there some method so it doesn't keep happening, because it really frustrates me

(I use Diamond FX paint, by the way)
When I use Wolfe White over Wolfe Black, I do not have that problem.
I think the secret is not in the waiting until the black dries as much as loading your white brush. Swish back and forth, back and forth, creating a chisel edge to your brush while loading the white. You will feel when the white gets ameliorated with the water. It does not drip off your brush. You should be able to make dots, starbursts, swirls, scrolls, teardrops and lines with a lot less bleeding of the black into the white. There is no rule that says that you cannot go over your white lines again at the very end to make that white "POP".

Happy Painting!
Thanks ladies!
I had my first paid gig at my little sisters' friend's birthday party today and this really helped since I had a few designs with white-on-black.
For some reason, this one was the most popular

[img]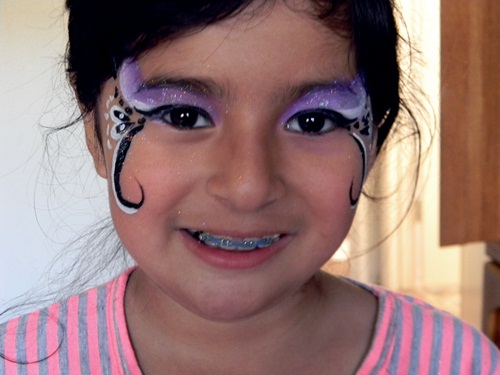 [/img]
Very cute Mary, usually its the simplest designs that are most popular imo. And after one kid chooses it they all want the same thing lol.
Love that design - it looks so sweet on her! White on top of anything is my main issue I'm working on now. For me I don't think my brush is too wet - maybe I don't have enough paint on the brush? My colors don't run, I'm just not happy with the covereage I get when I see how nice and stark white some of you other painters are getting!
That is a cute design! Yep, once you have one little girl pick something, at some parties, most of the rest will pick it too! I want what Mallory had...OK, who was Mallory?

Loading well is the key, and go back over it with a light touch if you need to! I have this problem with green, it always seems to bleed through eventually!
Thank you ladies!

I got bored one day and started painting on my sisters out of random, and that design was made. They loved it, so I decided to take a picture and use it from then on haha. Same thing happened last night, I painted a green mask on them, flowers along the edges of the green mask, and a fairy next to each eye. They wore it to school today and said people loved it. Free advertisement with the kids taking my work to school

haha

---
Permissions in this forum:
You
cannot
reply to topics in this forum