I tried wearing these for a party and I was uncomfortable in them.Not because how they felt (they are super light) but because they made me really stand out, I decided I prefer to blend in lol. I am asking $70 for these which is just the cost of the materials I bought to make them...it is a set of 2 handmade cyberfalls. They are very full and long.They are made with elastic so they can easily be tied onto ponytails.Just to be clear I am NOT making and selling these,I just happen to not want the 1 set I intended to use.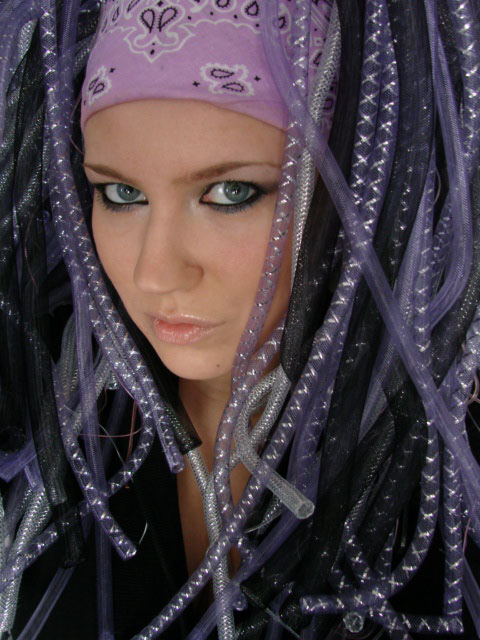 I also have some cute steampunk goggles that I bought to use with my cyberlox that I won't be needing. They have matching purple cupcakes lenses! They unscrew so the lenses can be swapped out and they are fully adjustable to fit anyone. I will take $20 for these...or just $80 if you want the falls to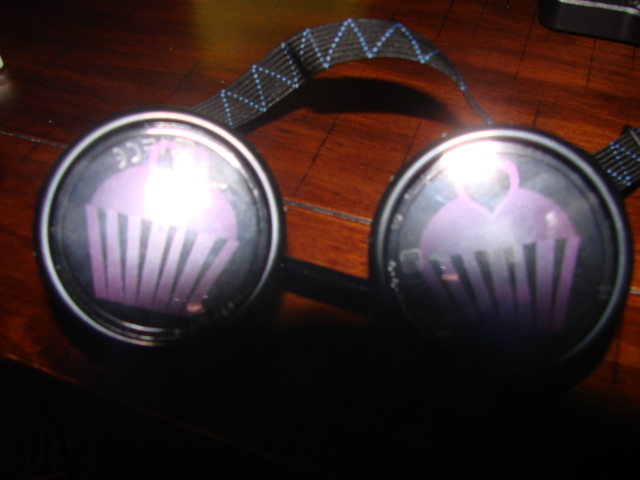 $60 for everything! They are just sitting around taking up space that could be used for more paints....

You got a deal. Send me your email address?
***SOLD***
Thanks Doe! Life is hectic today but i will ship tomorrow...

I think your daughter will be very happy. They are much prettier and sparklier in person!
Totes excited. THANKS Erica - always a pleasure to do business with you!
and Erica...you were sooooo stinkin' cute in them..i hate you are selling them!!! lol.. I used to wear hats and people looked...at 1st i felt funny...then realize most people would like to wear hats and like my hats...(I don't go out as much now so...) any way... you looked adorable in them... and am sure Doe's daughter will look super cute in them to and love them!!!!!

Thanks, Erica!
She does, indeed, love them!
awwwwww... she is adorable. Erica is going to be so happy you got these!!!!

Awe, what a cutie.

Oh, wow! They look great on her, glad she likes them Doe. All her friends are going to want some...



Similar topics
---
Permissions in this forum:
You
cannot
reply to topics in this forum