While working our our bathroom remodel project, my husband got a glass/tile splinter in his thumb. When he tried to pull it out, part broke off and he wasn't able to get all of it out. He had hoped that it would eventually work its way out so he just kind of ignored it for awhile. After two weeks, his thumb was all puffy and sore and the sliver of glass/tile was still stuck so deep that he couldn't get it out.

So I googled splinter removal and read about using 1/4 teaspoon of baking soda and a couple of drops of water to make a paste. Put the paste on the splinter area and cover with a bandage. Check after 24 hours and repeat if necessary.

We thought this was pretty cheap, painless and there was nothing to loose. The next step we figured was an expensive trip to the clinic for them to surgically remove it.

So we put the baking soda paste on his thumb at bedtime and covered it. The next morning, he checked on it and the shard of glass was just sticking up out of his thumb. I plucked it out with a tweezers and it was 3/8" long! It just came right out. Today his thumb is almost back to normal.

This was so cool, I thought I would share. Painless and nearly free and worked amazingly well.

Kris5115




Number of posts

: 747


Location

: Twin Cities, MN


Registration date :

2012-04-10



Wow! Never heard of that. Thank you.


yipes...thanks for sharing that great advice.

Here is a picture of the splinter (between the dime and the ruler).  Again, it was so cool how it went from completely buried to sticking up enough to grab it.  Wish I had know this painless technique sooner.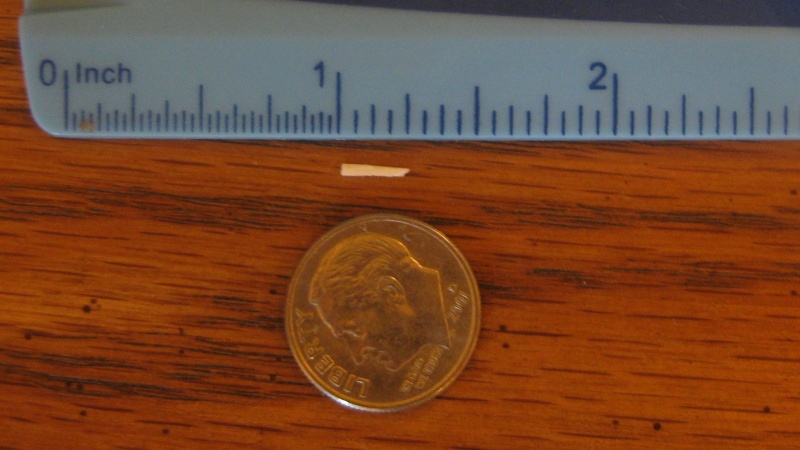 " />

Kris5115




Number of posts

: 747


Location

: Twin Cities, MN


Registration date :

2012-04-10



TY for this info. I'll return the favor. Any bee sting, hornet , yellow-jacket etc. can be treated this way. Mix a very small amount of a crushed aspirin & water to make a paste. Use a spoon to both crush & mix, since it will be absorbed thru your fingertips & you need the small amt. of medicine on the child/adult who was stung. Place it directly on the sting. I've had hysterically screaming children stop crying almost immediately. Remember, if it's a small child, I'd use a tiny bit of a baby aspirin (81mg). You only need a small amt of granules mixed w/water for anyone. At a family vacation, I had several young kids step on a hornets nest. Everyone came running in the house screaming. I grabbed the first aid kit, treated all of them & had 75% of the baby aspirin left, uncrushed.
Thanks ladies.
my hubby is forever getting tiny bits of steel shavings lodged in his fingers, will try this on him next time


silversky




Number of posts

: 328


Location

: Australia


Registration date :

2013-01-18





Similar topics
---
Permissions in this forum:
You
cannot
reply to topics in this forum