I just got hired to paint at a corporate event at the local zoo. I have plenty of animal designs, but they want fast for a large number of people. All my animals like that are more time consuming than they need. I tried Google but they are all pretty complicated too. Does anyone have any really quick, but still impressive zoo animals that they could share? I have a tiger eye, snake, and spider and dolphin that are fast, but I need a quick lion, zebra (not painted over the mouth) elephant, monkey and any other zoo type animals. Also, if anyone has ever done a zoo event, what are the most requested animals so I am not surprised by something I did not think of. I'm thinking of whipping out the starblends to help with speed on this one!


Thanks!
I agree that Starblends will be your best friend. Are you a member of the Starblends group on FB? There are so many awesome artist there and lots of inspiration.

PrairiePainter




Number of posts

: 326


Location

: Rural Minnesota USA


Registration date :

2013-02-25



Elephant from a nursery school, inspired by
Perry Noia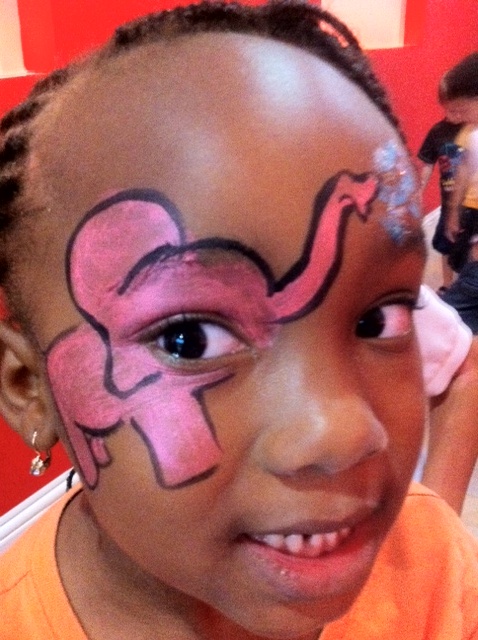 Did a bunch of animals for a music video we made @ church. If you ever heard "...If I were a butterfly" you'd understand. LOL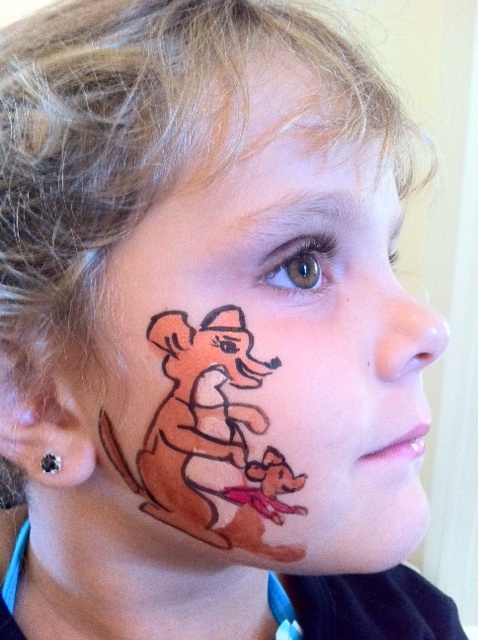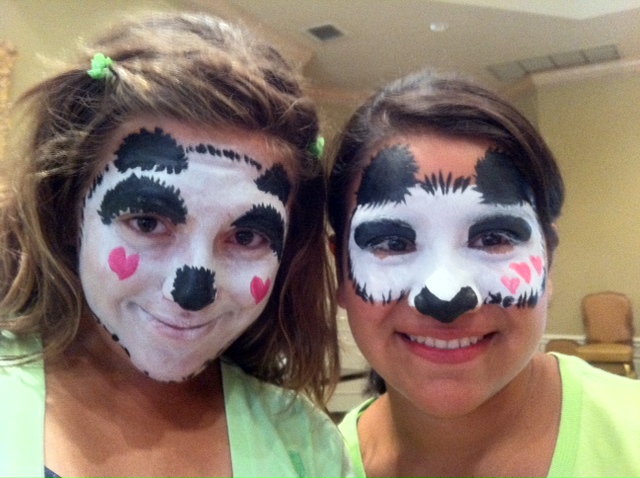 We needed a crock for the video, but were leaving church & going to a venue that included the "Gator Boys"...so I did this on my grandson!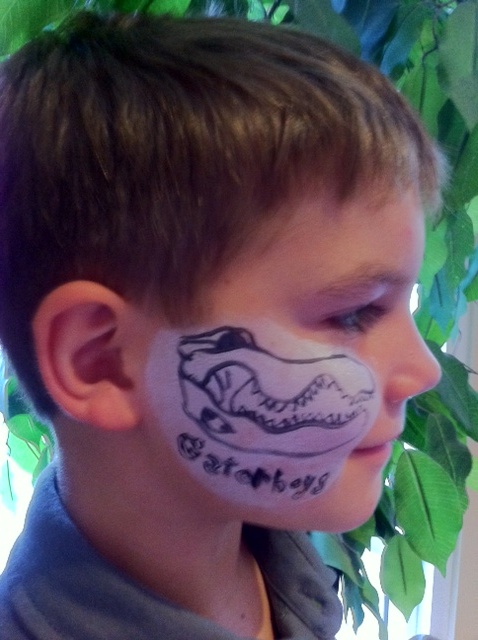 You prob. know how to do tigers/lions/cheetahs, but having painted all day @ a zoo, kids still want their usual favs. Are you restricted to zoo animals?
The coolest quick thing I've seen someone do for a regular zoo gig was cuffs in different animal prints. It's a 6" cuff and then you would just use stencils to add the print and then fringe it out. You could do the same with an eye design...base out a wing shape and then add stenciling and finish with some tribals.
Paws would be cool too. I do one-stroke animals where you just do some ears in the right shape, a little fringe under the eye and a muzzle. I think most kids want to BE an animal and so the barest indication makes them pretty happy. I use Teddy Bear for cheetahs, frangapani for tigers and then you could use any color for jaguars. I'm thinking you could do zebra with magpie, giraffes with frangipani, lions with teddy bear and frangipani combined, hmmmm. I might have to come up with some of these.

My biggest issue is the blending them in. You've got to have the light color ready to do to blend them at the inside edges.
Love the cuff & paw idea, Denise. In addition to our furry friends...here's one we did last spring. I called it "Reptile hand". If you notice the fingernails, you'll realize it's popular in many colors for both boys & girls.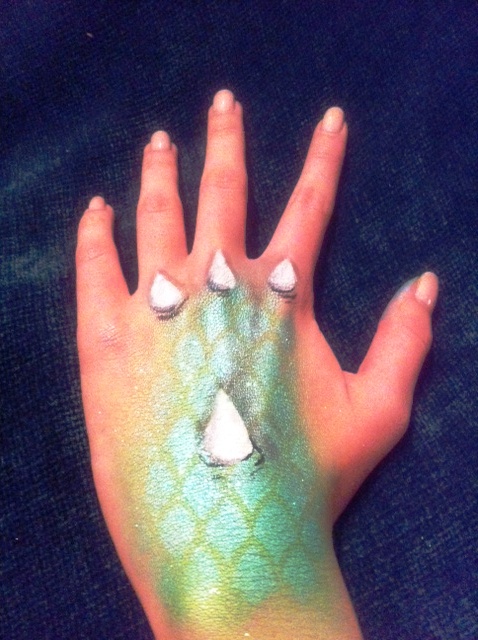 This one was a base of FAB ocean shimmer & stencil of TAG Pearl Teal. It could be orange/yellow, green/yellow, orange/brown, red/black. etc, etc. REALLY FAST!
cute paws!inspired me to do my own...I don't have reptile print, maybe something furry or spotted!

Also, as an artist, I will just draw the weird request right on the face.


For lion, do a white line under eyes, and a pink nose and white chin.
For tiger,do the stripes and muzzle
For cheetahs, connect that eye line to the muzzle.


I use the same yellow base, and choose color by request, as long as I have these features, you can tell what it is.


nikkili26




Number of posts

: 1032


Age

: 32


Location

: Manchester, CT


Registration date :

2013-05-19



Thanks for the ideas. they are all great! I love the paw idea and the half panda is super cute. I'm not limited to zoo animals, but wanted some included. I'm sure everyone will want neon rainbow butterfly and Spiderman just like always...but I'm hoping to get to paint something different. Just practiced a one stroke seahorse that came out pretty cool and a forehead monkey that needs lots more practice.

---
Permissions in this forum:
You
cannot
reply to topics in this forum