Yep, his name is Chester and he is the love of my life and the biggest pain in my butt ever! He is part Maine Coon, so he is HUGE and can't meow, funniest combination, he just squeaks and makes weird ... crazy noises (like a female cat in heat).
Here are a few visuals... he likes to be taken very seriously, but he has a very cheeky side, he is 11 years old now and was recently diagnosed with diabetes, he is just back to feeling like himself again...
Very serious... sophisticated Chester

Cuddle bug softy Chester

It would take me too long to explain the complexity of this crazy cat, but one on going theme in his life is that he becomes fixated and obsessed with particular objects, and these objects have changed over the years and they ALWAYS become one of the most common used 'things' I am using at the time... A few examples
I used to smoke - he was obsessed with lighters, I could NOT leave one anywhere without him finding it, playing with it and losing it.
I went through a phase where I drank a drink from Tim Hortons constantly (Ice Capp) I would have like three a day, they had a straw... he became obsessed with straws, I couldn't put my drink down and leave it without coming back to a strawless beverage...
I went through a phase where I kept a water bottle (Dasani) with me at all times, I couldn't leave the house without it and its lid... so yep! He got fixated on the lids...  every time I had to leave the house in a rush I first had to go on a wild goose chase to find the lid I had stupidly left OFF the bottle...
So now... His obsession is my sponges, ARGH!
I try so hard to remember that he has OCD and make sure that they are all securely put away before I even leave a room but... sometimes I guess I get careless.
I was just up in my room watching a show when I hear  'BROOOOWGHHH... mmmmMMMMMARGHmmmmm.... Prrrrooowwwttt...' And here comes Chester, sponge in mouth, bringing me his present... hahaha
I came downstairs to investigate, where had I left out sponges? Where did he find it? wtf? Turns out I had a bag down in the basement, on a desk, in a milk crate IN A PAPER BAG!
It is a big enough challenge keeping the cat hair out of everything, the last thing I need is for him to be putting my sponges in his mouth and batting them across the floor for me, lol, needless to say, each one he gets has to be retired...
Anyway, just thought I would share my crazy kitty story, I laughed pretty hard when he dropped the dead sponge at my feet and wanted his praise..

~Danny

DannyB




Number of posts

: 121


Location

: Nova Scotia, Canada


Registration date :

2013-07-26



That's pretty funny, lol. He must locate them by the smell.
I have 4 cats.  That is because I am the crazy, middle-aged cat lady.
 Scamp weighs about 19 or 20 pounds - which is equivalent to about 3 tons in "cat pounds."   Poor scamp recently had a sex change operation... not because he had a gender identity issue, but rather a blockage issue.  It was an expensive surgery but He is doing fine.  He has always played fetch his whole life and it's the funniest thing to watch.  Our dog is a Cockapoo and it's not his style to play catch.  But Scamp loves it.  He finds the weirdest things to play fetch with. He brings them in his mouth to me, meowing the entire time, and drops them in front of me then waits for me to throw it.  One time he somehow managed to swat a pushpin off of the bulletin board and brought it in to me to play fetch with!

He used to be interested in my sponges once in awhile and would find one and bring it to me.  But now, ever since I dyed my sponges black, he has been completely obsessed with them. When I first dyed them he went completely crazy in the head.  I would come home and find dozens of sponges on the floor that he had gotten a hold of.  I would catch him pawing through the dish drainer, looking for freshly washed sponges.  I've caught him trying to open the zippered bags I store them in and I've also caught him in he bottom of my Fat Max scrounging around for a sponge.  It's really difficult to get all the little kitty hairs off of them because those darn hairs like to bury themselves inside the sponge.   I have to hide them in drawers now (not my drawers, the dresser drawers).  I allowed him to keep two.  He carries them all over the house.  And meows as he carries them.  I call them his SpongeBabies.  My mother thinks the black sponges look like a mouse to him.  But I just tell her that he gets obsesses with playing fetch.  It used to be a bright day-glo green stuffed alien head that my son won from a little kiddie game at the fair - he'd carry that thing in his mouth everywhere!  But we lost AlienBaby somehow.  However Scamp is purrrfectly happy and content with his Spongebabies.  As a matter of fact, he's bringing one to me this very moment!
Lol Rhonda
I knew I couldn't be the only one!


DannyB




Number of posts

: 121


Location

: Nova Scotia, Canada


Registration date :

2013-07-26



Ha! That is too funny. We will be adding a cat to our mix in the next couple of weeks - a friend is moving to Alberta and can't take her cat with her.

The animals we have now (dog & cat) could care less about my supplies, but I have no idea how this new one will react.

You guys have me scared! LOL.

AmandaD




Number of posts

: 35


Age

: 39


Location

: Brookfield, NS, CANADA


Registration date :

2013-08-02



Danny, your cat looks like my cat. Mine is also Maine Coon mix and he is app 18 lbs. This is his favorite position to lie in to get a little loving lol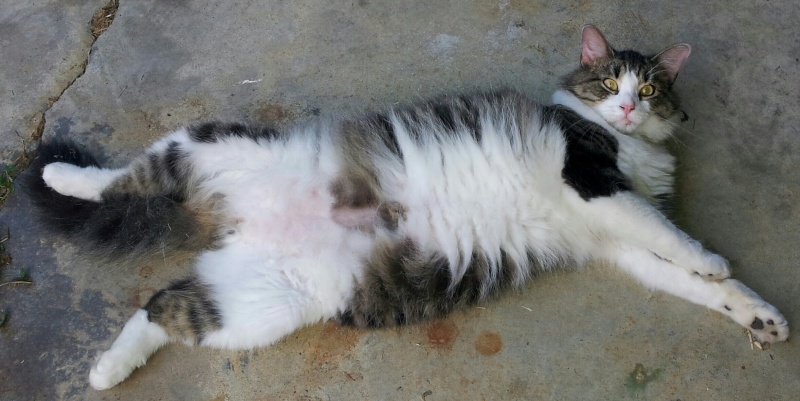 Haha, they do look a lot alike, Chester lays in this position all of the time as well

OR on shoes, he is our resident shoe warmer.
~Danny

DannyB




Number of posts

: 121


Location

: Nova Scotia, Canada


Registration date :

2013-07-26



My cat likes to sit on top of my (closed) FatMax when I park it near the front door before leaving for parties.

I always find him there.



JJJJJ




Number of posts

: 1053


Registration date :

2011-08-26




---
Permissions in this forum:
You
cannot
reply to topics in this forum