so, i suck at painting my own face, my hand just doesn't wanna work the same towards my own face the way it does on painting others'.   Gotta practice somewhere, so i keep trying.   This morning i tried the tiger half face i keep seeing everywhere, and this was the results.  a little rough, and critique and constructive criticism are appreciated.  (keeping in mind i'm still pretty darn new to face painting, with only a few gigs under my belt.)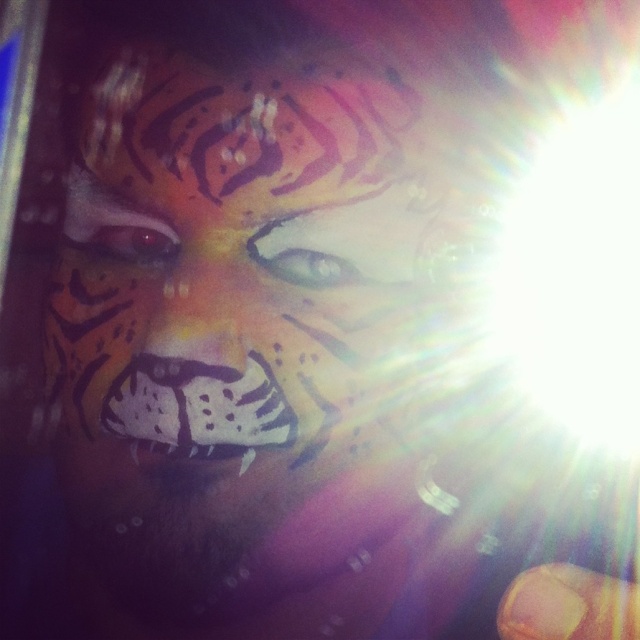 a_better_man_now




Number of posts

: 123


Registration date :

2013-10-01



Don't be too hard on yourself..it takes pratice. I think the line work is the hardest to get down. My lines are always thicker on my own face. You did a good job blending the yellow and orange and it looks like you have your lines strategically placed...all in all...I think Success

thanks, veelux. yeah, i need to practice my brush work a little more for sure. and you're right, i did notice my lines are always thicker when i paint my own face...its hard to gauge the pressure when your painting in the mirror.

a_better_man_now




Number of posts

: 123


Registration date :

2013-10-01



That's not too bad! Like it!
DENISE! Can you post your tiger what-to-do-and-what-not in this topic?!
It's so helpfull!!
I think you did a pretty good job! I can't paint on my own face worth anything!
I like the little teeth you did on your lip...I never saw that done before (but I'm pretty new myself) I think it adds a cute touch.

Valerie A




Number of posts

: 1035


Location

: Near Eugene Oregon


Registration date :

2012-07-18



I think it looks great, btw

I'm sorry I didn't realize I posted my pic in the wrong section, that's what I get for trying to use the Internet on my phone... I just learned (by being able to do a version side by side) that it really brings the face together by making the white eyes go all the way above the eye brows, so it would make for a few less lines in the forehead area (about the 2nd or third line in). I really like the quality and would make some little kid extremely happy!

Similar topics
---
Permissions in this forum:
You
cannot
reply to topics in this forum