Hi all,
I am starting up my face painting business officially and i just bought my first set of good paints. I bought the Wolfe Brothers 12 essentials 6 essentials 6 matallix and 6 neon...
I got the 6 essentials with the intention of splitting them since i saw such wonderful split cake designs on-line, but I cant afford split cakes right now too. Then after i bought them I thought to split most of my pallets. I was thinking to split the metallix half and half and swap around colours and for the 12 and 6 essentials I did out a plan to split them like when I finally get them, but I don't know if i should do it... here is the rough plan i did up.
I planned to keep some mostly one colour so i can still use solid colours...
advice please!!
Thanks!

KrissyJay




Number of posts

: 41


Location

: Barbados


Registration date :

2013-10-29



do it if that's your style.

personally, my only uses for splits is my girl designs, and snakes or Dragon and flames.

I also use prisma cakes for both splits and bases.

My bases are usually combos of solid colors....I found that I usually dab the same two colors for base work, so I did split those colors.....but my solids I need most are white, black, red, yellow and green.




as for my Wolfe essentials....I keep them in solid blocks because they feel wicked tight on my skin if I use as splits....
I love it for line work and detail work, like drawing a unicorn or flower, or making scars and angry faces or tear drops and swirls....not for base colors.


when I want to use more than one color of Wolfe, I double load my brush, or I'll mix and customize in the cake as I work.




do what works for you. the palette will split nicely, I just personally found it to dry too tight.

nikkili26




Number of posts

: 1032


Age

: 32


Location

: Manchester, CT


Registration date :

2013-05-19



I don't know.  It's tempting to go all crazy cutting up paint when you first discover how much fun cutting up paint is, but unless you have clear ideas of what designs you will use the splits for you can end up with a heap of splits that are not being used.  

I would suggest doing just a couple in colour combinations you can think of multiple uses for to start with.  Then as you're painting (as Nikkili has mentioned above) if you find yourself loading up particular colour combos out of your solid colours quite often you might decide it'd be worth making a split of that combo.  

If you make them just as you find you have need for particular combinations you'll end up with a more useful selection IMO.

Coral3




Number of posts

: 570


Location

: Australia


Registration date :

2012-01-01



Thanks for the tips guys, I am gonna stick to my first plan and just split the 6 cake

if anything I can split more in the future.

KrissyJay




Number of posts

: 41


Location

: Barbados


Registration date :

2013-10-29



I would go slow at it. My working kit is made up of pretty much a box that contains regular colors (matte and metallics) and another box of split cakes. I split my regular/single color pots not for the purpose of a particular design treatment, but rather because I'm a color hoarder and want as many colors with me as possible...I call it space saving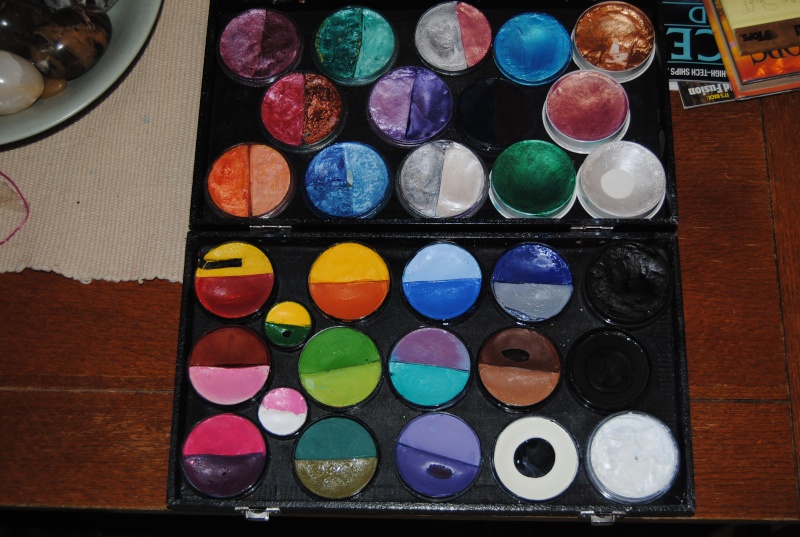 KrissyJay




Number of posts

: 41


Location

: Barbados


Registration date :

2013-10-29





Similar topics
---
Permissions in this forum:
You
cannot
reply to topics in this forum