I have used a variety of brands over the years: wolfe, dfx, tag, snaz, paradise and star blends. I didn't buy FAB, cuz it was a bit higher. After taking a Marcela class, I thought, why not.
I have fallen in love with the shimmer magenta and night sky (London sky, whatever). The colors are soooo pretty, BUT the containers....BLOW! Considering the price is higher than other brands, the plastic of the container is terribly thin. In no time, my lids had multiple cracks. What made it worse, the paint is also very soft. Depending how the lid was sitting on the bottom, I was getting squishes of paint seeping though. VERY messy.
I have purchased other colors since, but those containers irritated me. I decided to put all my FAB makeup in empty, TAG, Wolfe, and Chameleon containers. What is wrong with that picture.
The FAB paints also seem to hold less makeup, which just makes it more expensive. So last week, I sent a comment to Silly Farm. I mentioned for the price they charge, the containers need to be thicker. I shouldn't have to purchase other containers, because theirs are inferior.
Haven't heard back from them yet. Wondering if I ever will.

Last edited by Party Picassos on Wed Jan 22, 2014 12:59 am; edited 2 times in total (Reason for editing : misspelling)
I have the same problem with the 18m snaz lids. At least the paint isn't as expensive. I just leave the lids off in my case and cover the whole tray with a thin piece of plastic before I shut it

Use palettes. Containers don't matter then.

Can you say - Made in China!

Make it cheap - sell to a niche market at a markup. God bless capitalism.
What happened to "made to last?" Pride in your product? I took them out and repotted them in some wolfe, dvx or tag containers. Sorta sad, if you ask me. If the prices were lower than other brands maybe I would understand it better. But when you pay MORE, I expect a better quality item.
I'm ready to switch to palettes... I use the jumbo snazaroo rainbow palette, which I keep in a mehron laptop with prisma cakes, no lids.


never had an issue with them not covered-but someone pointed out to me that may change come summer time.

I wanted to order the FAB, so I guess i'll begin checking around for a good palette.

nikkili26




Number of posts

: 1032


Age

: 32


Location

: Manchester, CT


Registration date :

2013-05-19



When I first used Snaz, I bought the blue palettes. Those cracked to quickly. Am I hard on my supplies? I moved onto the black palettes for tag. It's much nicer!
It takes a little while but I transfer all my paints to a craft storage box with a plastic lid.  I cut the lid off at the hinges and only put it back on when I pack my paints up.  I get a full range of colors in a smaller space and I like that the 'slots' are rectangular instead of circles.  This way I can use what ever colors in any brand  (that I like) and it all fits in my kit nice and easy.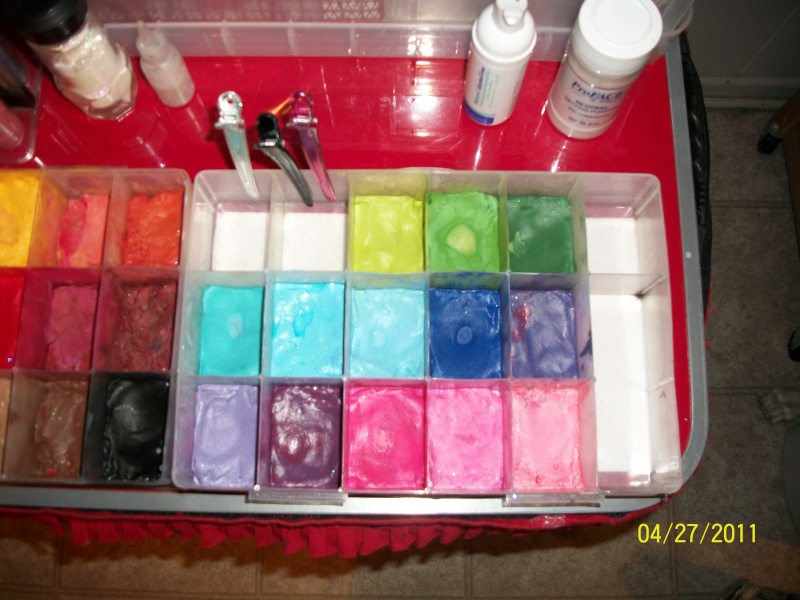 " />
There is no pride in product when made in a society that still is a world leader in human rights violations. The made in China paints support this.

Not saying I do not have some Made in Tiawan paint in my kit..........but I am waiting with baited breath as Mehron Made in the USA catches on to competing with these brands. And they will be.
I also purchased two at 8.00 each thinking they were a regular size like Wolfe and tag only to see I paid two dollars more for half the size. The colors are amazing but dang.... I can't afford to be buying these tiny things all the time. But yes I'm counting the hours till I cut myself on the broken containers.


Similar topics
---
Permissions in this forum:
You
cannot
reply to topics in this forum