I have several items that I don't use and want to trade some how for other items I will use.
I am going to try and attach the photos I don't know if it will work.
Snazaroo all used somewhat, Red, Orange and Pink.
Fab Glitter Gold used small 16 gram little less than half used plenty for more than 50 areas of a face like in the eye area with a one stroke on the outside to line it.
Mixing liquid with Mehron gold and silver. The gold is like 3/4 full. When I bought it it was apparantly used because the silver was full to the top but the gold was like 3/4 full. I thought I would use it and the lady demoed it for me and it looked nice but I have yet to use it after like year.
White thick cut glitter. I bought from silly farm thinking it was the fine glitter but when i got it it was thicker. I like the really fine glitters. I did use it a few times and it looked nice I just prefer the finer kind.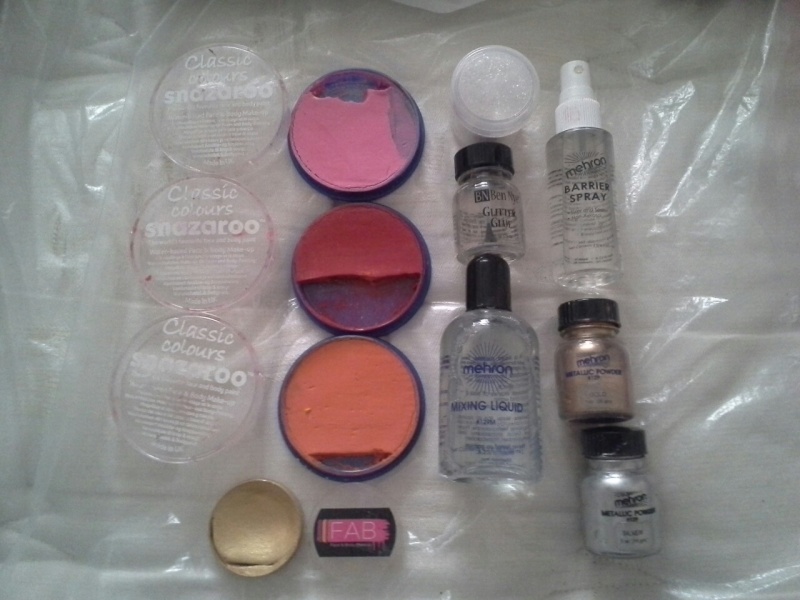 Mark Reid Cats book I am finished reading it and demoing some designs.
I really want powders, Starblend Orange, White, Brown and Grey. Any neon powders would be great. Of course some fine iridescent glitter. Another would be the Pro Air hybrid airbrush paint in red, yellow and blue. but neon colors preferably. Dips are also a try that I want. one stroke neons or even one kryolan made neon rainbow cake.
These are items I am wanting so not all of course my stuff is not really worth all I figure for all in priceing of mine would be a $35 value. Not much but I want it all to be sold together not seperately because once you do and then ad shipping its not worth it. The price includes the book. So an equal trade would be like 2 Dips, or @ Hybrid colors. or one of each. Starblends are here at this shop I believe $8 or $9 so like 4 colors. I would like so much the kryolan neon powder 5 color pallette that I seen on the search engines under shopping for like $30 plus shipping.
I have tried to upload, copy and paste url for image and not happening so I can always email it to who ever wants to see it.


Similar topics
---
Permissions in this forum:
You
cannot
reply to topics in this forum