These are nice one-strokes that you can use. They were all commercially made and still have a lot of life in them.
I prefer to sell them as a lot and I'm offering a small discount if they are sold as a lot. I would like to use USPS Flat rate boxes which will be $5.80 for a small box (8-5/8" x 5-3/8" x 1-5/8"), $12.35 for medium (13-5/8" x 11-7/8" x 3-3/8" & 11" x 8-1/2" x 5-1/2") & $17.45 for a large (23-11/16" x 11-3/4" x 3" &
12" x 12" x 5-1/2") To figure out your best shipping options go to http://postcalc.usps.com/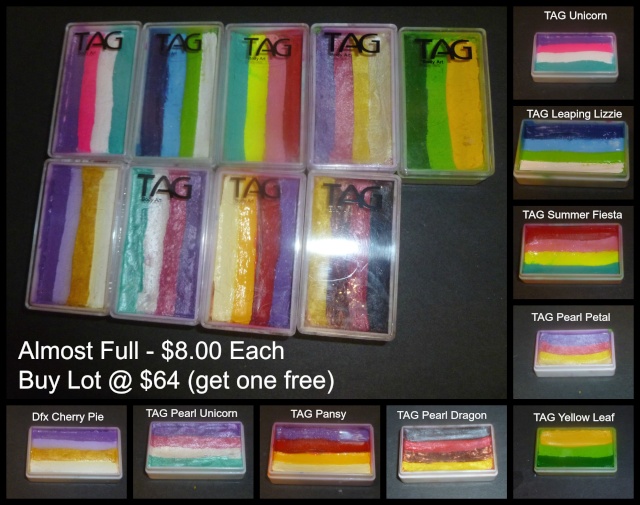 Last edited by Denise Cold on Fri Aug 08, 2014 2:53 pm; edited 1 time in total
Denise,

I will take these.

Laurie

Okay. Send me your address.
if 
Laskowski911
 changes her mind, or it doesn't work out, I call 2nds.

thefacepaintingfairy




Number of posts

: 18


Registration date :

2014-07-04



Laurie sent me her address and has first dibs but I'll keep you updated.
I got the package today, Denise! Thank you, they are
great!
Good! So glad they made it!

---
Permissions in this forum:
You
cannot
reply to topics in this forum