Hello ALL!!

I am a little late cause I went out of town suddenly -- no problems just for fun!

SO challenge #3 is a little late--but here it is!

This week lets work on dots and lines.

I know that doesn't seem very fun, but it is ESSENTIAL in our business to do those well cause you do them OFTEN/EVERY FACE!

So you can incorporate them into a face design or just show us your practice without any specific face design.

-if you haven't learned the top of your thigh is a great place to practice--

Can't wait to see people do big, small, and medium dots, and lots of different line shape and types!!



amylady222




Number of posts

: 1176


Age

: 38


Location

: San Luis Valley, Colorado


Registration date :

2012-08-04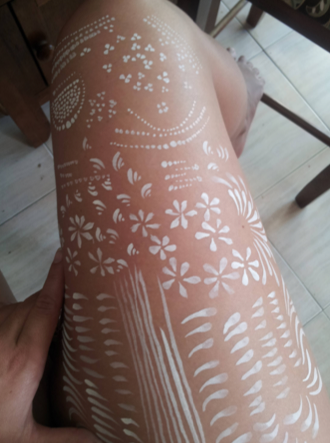 Please excuse my thigh- I haven't been hitting the elliptical or bike as often as I should be. XD
Started with dots at the top, trying to keep them all the same size and distance from each other. Also tried lining them up from big to small- realized that it would look awesome across the top of princess crowns if I can do it without my dots overlapping.
The lines are divided by sides- on the left side the lines were drawn thick to thin, the right side thin to thick. I learned that I can paint smaller tear drops (great for petals) more consistently and accurately by painting them thin to thick, but paint longer strokes do better thick to thin. I just don't have the same control over width and placement yet otherwise. :/ The middle is lines drawn as straight, even, and close as I could without overlapping. (I failed lol)
This was good practice, can't wait to do more!
Snickel, I want to print out your leg and use it as a line practice template!
This was fun and frustrating! I started with the three thick thin thick lines trying to layer the then I did the outside strait lines trying to make them the same even width. I added the dots under trying to keep them uniform(they only look like dots from a distance), and the ones inside the band going at large to small to large intervals. The triangles were supposed to go from thigh to thin lines inside some worked some didn't. After that I just had some fun cuz I was a bit frustrated so there was no intent in the lines and dots.
Other than practice doing the lines over and over I also have to find the right water to paint ratio. I think I still have it too thick. I'll try again later.

Morninglory




Number of posts

: 88


Age

: 37


Location

: Hudson valley, New York


Registration date :

2014-06-25



Morning glory, that's actually not a bad idea! lol
I wonder if I could whip something up in Photoshop with lines of different lengths, thicknesses, dot placements, then print it out and lay something translucent on top (saran wrap or maybe parchment paper?) and practice on that...?
...maybe I just have too much time on my hands.  

Use those sheet protectors you can get at the office supply store, they work great

Ladies--

I now have a camera and maybe a little more time so I will be joining in the challenges for sure!!

These are good lines--nice!!

amylady222




Number of posts

: 1176


Age

: 38


Location

: San Luis Valley, Colorado


Registration date :

2012-08-04





Similar topics
---
Permissions in this forum:
You
cannot
reply to topics in this forum