I have 2 festivals coming up one weekend after the other. I have never done a festival. How much paint do you need on hand? I know it depends on the designs but I need to know a rough idea how many faces I can paint with one 32g paint. I also need to know how much I need of black and white. Since I have these 2 festivals one after the other I need to order a head of time. I don't want to run out of paint! So please someone help! Also what about how many sponges? Brushes? I have no assistant so how do I control the line? I have some many questions and there may be things I haven't even thought of. Any help is greatly appreciated.

ShaSha Cash




Number of posts

: 4


Registration date :

2013-02-05



I've just finished a three day convention, painted about 200 designs and I only had to top off my black and white and two tiny 10 gm pots of paradise white & TAG pearl teal and I'll have to add some white and red starblend powder to my pots.
I'm really loving my set up right now because I have 30 different favorite colors that are great for bases or touches of color and then I have rainbows, one-stroke cakes, repotted black and whites for line work and bases and then repotted Starblends. I can do a LOT of people before I even get close to running out.
Think about how many you can paint, not the actual crowd expected.
D.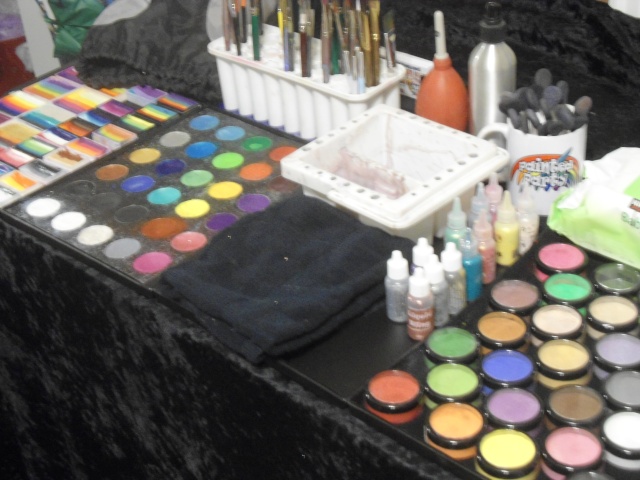 1. It's unlikely that you are going to run out of paint.
Trust me on this one, these paints go really far. You'll see.

2. Black and white will be the first colors you run out of, starting with white. Buy extra white.

3. I keep about 100 or so half sponges on hand each day. Wash at the end of each day.

4. Have a good selection of brushes and sanitize them as you go.

5. Don't worry about the line, you don't NEED a line manager, but one does help. That being said I almost always never have a line manager and I do just fine at festivals. Just have a BIG sign that says "LINE STARTS HERE" and make sure you have another sign saying you don't paint sick kids or kids who are left alone.
Check your watch 1 hr before you have to pack up, and judge on where to cut your line. Trust me you don't want to have to pack up with a line of angry people who have been waiting for nothing. Get a sign or something for the last person to hold saying "closed" or something so no one else lines up. If you can paint about 10 faces an hour, you should have no more then 10 faces in line 1hr before pack up. If you end up having more then that, then declare 'small art time' and only paint really fast things on the remaining people, like flowers, rainbows etc, so everyone gets something.

6. Stuff you might not have thought of.
-Pack extra water and a dump bucket
-lights and or power
-schedule in a lunch break, and don't forget to eat.
-have lots of business cards on your table

That's off the top of my head. Good luck!
Any questions just ask.
Sounds like good advise from both of you. Looks like I will take the advise and jump in head first. Thanks for the information.

ShaSha Cash




Number of posts

: 4


Registration date :

2013-02-05



we all learn a bit as we go along. Good to have a head start but you'll never know until you experience it. Best of luck. Take lots of notes!


Similar topics
---
Permissions in this forum:
You
cannot
reply to topics in this forum