Just got approval to set up my face painting tent at our local HS Football home games! Showed up last Fri to be rained out - but since everyone was in the cafeteria waiting to see what the weather would do, I discounted my faces and painted there so I could get the word out that I'd be painting at the games - I stayed busy and the kids definitely spread the word.
Now... I'm ordering stencils of the team logos to make things for painting go quicker, and glitter tats of the logos as well and here comes my questions...
1 - Does anyone do glitter tats at HS football games? How many might I use in one night? (We're a small town and football is pretty big around here.)
2 - One of their logos is a hawk... I've found an eagle tat that is very similar but def not exactly the same. I'm leaning toward having their logo cut for paint stencil as well as tats because I figure if they are allowing me to be at the game, it's important that my tats look as close as possible to their mascot. Am I over analyzing this? Is it really worth the extra $$ to be that detailed? (Side note, I'm also painting at the local festivals where I would offer these as they are heavily attended by the HS families.)
OK - so excited!! Thanks!!!

Jillian
I am interested to see how this pans out. I've been contemplating setting up at football games. Who did you have to get in contact with to do this? Where was your setup in relation to the main gate, field, etc.?

Kal




Number of posts

: 433


Age

: 34


Location

: WV


Registration date :

2014-06-29



I'm just inside the gates on the main walkway - everyone will have to pass me. I have a canopy and banners I use at other events, and am going to make some boards specific to the school (designs, giving 10% to the boosters, next game highlights Vets so I'll be discounting patriotic faces, etc). I spoke with the athletic director and he thought it would be great as they promote a family environment and TONS of the elementary kids attend the games.
Wow, Jillian, how exciting for you!  In my opinion, Glitter Tattoos are great to have for times when weather is an issue (like you said with the rain or for pool parties).  
But because of the expense, I keep them down to a minimum.  Face paint is so much cheaper and goes so much farther... and it washes off, which sounds better to me.  I think if I were you, I would learn a quick face paint and run with that.  
Some ideas are: swiping the school colors under their eyes (similar to the black under the player's eyes), a simple football helmet, Painting half the face one school color and the other half the other school color, using the school colors for girl's eyeshadow or eye art, and a simple black silhouette of a hawk.  
The stencil idea is a good one.  You could even do the stencil in black and poof it with glitter, it would look similar to a glitter tattoo but much cheaper.  I do some work with the Denver Broncos, and I've attached a picture to give you an idea.  
It sounds like you will have a lot of kids to paint, so quick would be my motto.  Even making a split cake with the team colors.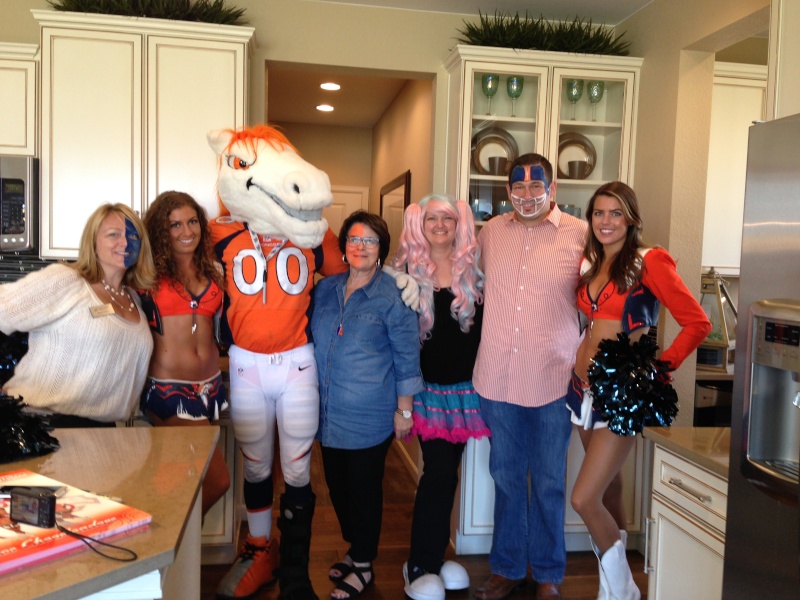 " />
I know people keep saying the glitter tats are so much more expensive, but unless I'm figuring wrong I see the logo tat as costing me $1 and going rate in my area for glitter tats are $5 - so that's a pretty good profit margin in my book.

At the rained out game, there were some cheerleaders who wanted to get the logo but were talked out of it because "it will just wash off tonight" so ultimately I think there's a market for both. I decided to skip the glitter hawk tat and go for a paint stencil instead - but use the custom one. I can glitter it up for the same look and embellish around it as needed. I also ended up going for a higher volume that allowed me to get my artwork setup fee back.

Worst case scenario, I end up with a ton of the logo leftover and I tat the kids at our school for free and write it off on my taxes as a donation.

I am keeping tabs on this one as I was just asked to try facepainting at a local HS football homecoming game to fund raise for the band. Were do you get custom glitter tattoo stencils? The school I will be at is the eagles and their logo looks like the Philadelphia Eagles logo but I haven't found a face paint stencil for it yet either. I have heard others say that they didn't stay busy enough at HS sports because it wasn't geared for kids but I figured if the designs were kept fairly simple and the prices cheaper than a fair (where parents are expecting to pay for facepainting for their kids) it could work out OK and be fun to boot.

Good luck!

Staley




Number of posts

: 117


Location

: Missouri


Registration date :

2014-05-06



I used Sparkletattoo.com - they used to be a part of Snazaroo but are now Ruby Red Paint. Matthew was GREAT to deal with, gave me good advice, and immediately got to work on my custom order. I talked with him yesterday, and as of close of business it had been completed, packaged and was shipped - I expect it to arrive on Thursday! I was very pleased with him and their staff and will definitely use them again.


Similar topics
---
Permissions in this forum:
You
cannot
reply to topics in this forum