My husband's band wants me to paint them like Kiss on Halloween for a gig. They sweat so I was thinking of using the Pro-air and Dips but the bass player wants to do the fire-breathing thing so I'm worried the alcohol in the makeup will ignite if he does. Should I use clown grease instead? Any suggestions for brands would be great too. Not sure if they'll have black lights but they are lit up with stage lights so maybe a glow in the dark might be fun ... but again, they sweat a lot.

I went to the KISS concert here in Houston, hot,sweaty, humid weather, I was in the paint for 16 hrs. I used proair with a brush and it was a bit streaky in the white, I used starblends on my eye lids and had black lipstick. I got so many compliments and got my picture taken a 100 times ( or so it felt)
Dips is also by same brand as ProAir - a brushable waterproof option but says not to be sponged so it's just meant for line work. I was thinking of ProAir for base and Dips for linework but both are alcohol based.

Has anyone tried these? Are they waterproof? Sweat Proof? Do you think they'd be flameable after they dry on the skin? It looks like ProAir will withstand water on it but once you wipe with hand, it's all over ... is that what it does?

Thanks Shandi, So it worked for you and didn't smear off ... that's great. Maybe I'll try that then.

The alcohol that is in the proaiir, just like perfume or even using alcohol to clean a patch of skin, would no longer be flammable. The alcohol would have evaporated leaving the paint behind. grease paint would be more flammable and even that is neglible. You should be fine. The flames never touch the face, they spit out kerosene or other flamables. Any fire would be because they backwashed. I loved the proaiir stencils for this! Made life easy before the kiss concert here last year!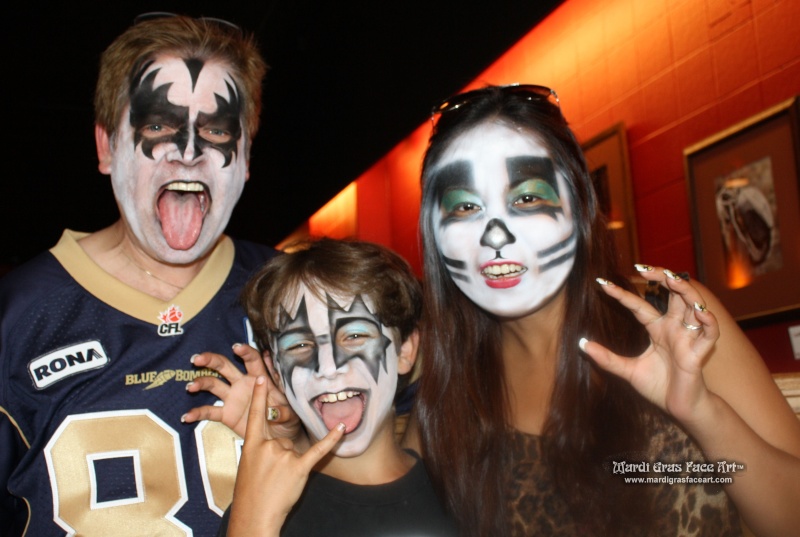 Similar topics
---
Permissions in this forum:
You
cannot
reply to topics in this forum