I'm thinking of purchasing some of these. The ones that I'm looking at at the deep green, purple, and red.
I heard that the red is blue based instead of orange based in theory this prevents the orange batch of red problem that I have had with both dfx and tag reds.
They also claim not to stain - even the dark colours.
If you have these paints, either in the fun strokes or the round cakes what do you think?
- Do they preform to the claims they make?
- Is the red really red, could someone swatch this if they have it?
- Do the darks stain?
- Overall thoughts on the paint?
- Thoughts on the fun strokes?
Thanks everyone

I have the bavaria fun stroke and also got some of the "strong black" for linework. IMO, it holds up to what they claim. There is absolutely NO staining with the strong black and it glides on and covers and performs just as well as my wolfe black! I will likely replace wolfe black with the strong black from global because of the non staining issue.
The fun stroke is visibly brighter than a one stroke I made using almost identical colors with TAG paints, so I can use a lot LESS paint and there is NO staining with any of those colors either that I have noticed. Overall I really like the global paints I have (though I only have 2 lol). I plan on replacing my tag one strokes with global ones as soon as I use them up.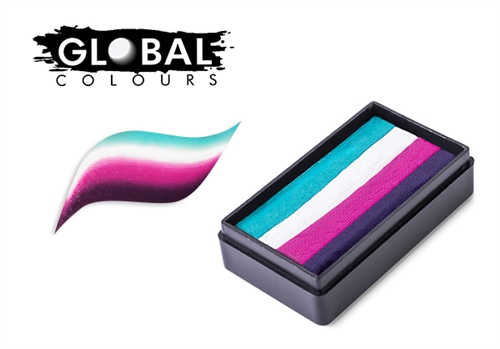 Just got one, but haven't used it yet---I will let you know.


amylady222




Number of posts

: 1176


Age

: 38


Location

: San Luis Valley, Colorado


Registration date :

2012-08-04



I was given the dark green and purple as a gift today, they don't stain much on my arm (I am very pale, everything except white usually stains me) but I'm not sure if I like the consistency yet.

The stains are nowhere near that of TAG or dfx, they are very faint, I'm sure on most people's skin they wouldn't stain at all. My skin tends to be very dry and is very pale, so it tends to stain more... unfortunately.

I used the black/dark green/light green/yellow split cake today, it's not one that I own but my boyfriend's mother does. It has much deeper colour than the tag or dfx versions and doesn't stain very much on my skin, and not at all on hers.

I currently use dfx cucumber rage, and I like the gold in it for when I do full sized leaves, it also gives snakes and dragons a nice look and makes it look good overlaid with a scale stencil in gold. Small details but I like it and the cake I have is still quite full and I can't see replacing it just yet.
https://onedrive.live.com/redir?resid=EE3F16F7E7A890B1!1492&authkey=!AHxaFAWnya8mG9s&v=3&ithint=photo%2cjpg

Swatches of the green and purple
I also used the white today (sorry for not mentioning this all in one post, I forgot about the white) also one I don't own, it's part of the palette that my boyfriend's mother has open right now.

I really don't like the opacity of their white. I find I couldn't get a nice line easily, things like sharp starbursts were challenging to achieve. I prefer my dfx white over the global. Keep in mind this is just my impression after painting with it for about an hour, it's okay, it gets the job done, but I rather use the dfx, it gives me sharper lines easier and has way better opacity .
the ingredients are similar to the softer brands, no paraffin like the brands that are good for line work (wolfe, tag, dfx).

this is copied from the msds, you can google global colours msds to find it..

Chemical  CAS Number
Water  7732-18-5
Calcium Carbonate  471-34-1
Acacia Senegal Gum  9000-01-5
Glycerin  56-81-5
Methyl Paraben  99-- 76 3

May contain: Iron Oxides CI77491, Titanium Dioxide CI77891, FD&C Yellow 5 CI19140, FD&C Red 40 CI16035, FD&C Blue 1 CI42090 , CI77007, Mica CI77019. Manufactured with FDA Ultramarines approved pigments .

Conforms to ASTM D4236, USP 61 Microbial limits tests, US California Prop 65 and CE part 3: 1994. All ingredients in this preparation are listed in the Australian Inventory of Chemical Substances (AICS). SECTION 4.  FIRST AID MEASURES

jlirie




Number of posts

: 1812


Location

: us


Registration date :

2014-07-31



My favorite potted ones that have made it to my palette are: Green Deep (really more of a teal deep, great for double dip flowers and outlines), Dark Blue, Purple (dark purple), Teal (doesn't stain...none of them do with regular washing), Magenta (great for lips...no numbs)
The warm neons are nice and opaque. I actually use them in my palette too because they are brushable for accents. Green is great for mixing with other green in my palette to punch up the color.
The metallics are good for rainbows but aren't soft enough to make it into my palette yet.
The Funstrokes I love are: Iceland (Frozen Crowns), Mexico (Flames), Taupo (leaves & eye designs), Paris (rose buds, eye designs), Venice (like Unicorn), Borneo (leaves)...there are a lot of others I LIKE but these are my must haves.
Roses & Leaves with Paris & Taupo and that dark purple on the tiger stripes: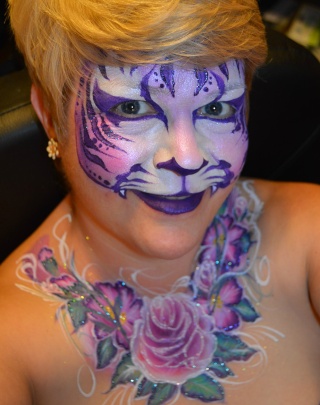 Here's a rainbow I made with Globals and used Green Deep for the outlines.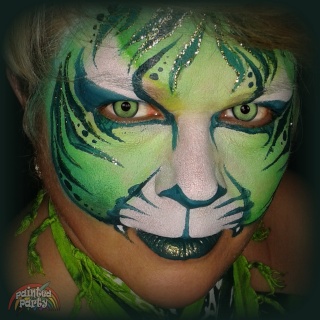 One more decollatage. I think it has all the Funstrokes I mentioned except maybe Venice. I hadn't bought that one yet but Bavaria is a beautiful alternative that doesn't have neon.
the fun strokes in the last photo look like beadwork or needlework, very pretty!

jlirie




Number of posts

: 1812


Location

: us


Registration date :

2014-07-31





Similar topics
---
Permissions in this forum:
You
cannot
reply to topics in this forum