Hey everyone!
So somehow in the Halloween holiday rush and confusion I ended up purchasing 3 different compressors. I really only need 2 (one for beauty/light bodypainting and a big industrial for airbrush tattoos/big bodypainting) So it looks like one has to go.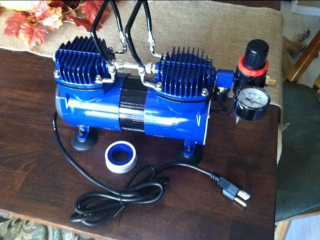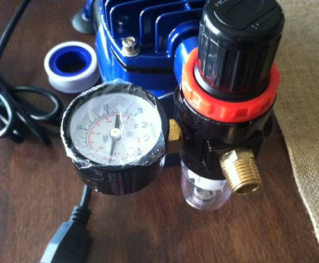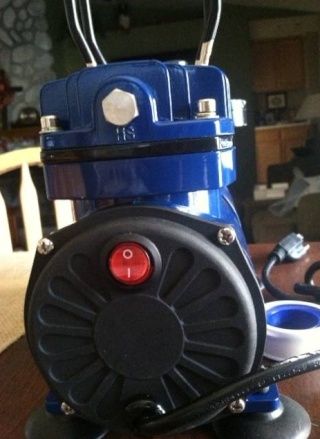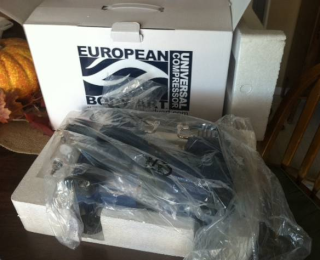 European Body Art Universal Compressor
+ Compact size, 11"x5.5"x7.1" inches
+ Double piston 1/6th HP motor for extended hours of operation
+ Recommended for medium traffic locations
+ Auto shutoff
+ Oil-less, maintenance free operation with attached moisture trap
+ 10 lbs
This is a great little compressor with a surprising amount of umph to it. It was actually the first compressor I got (which got stolen and subsequently replaced by an Iwata Smart Jet- this one is BRAND NEW IN BOX) and I was exceedingly impressed. The double piston provides more power (1/6th vs 1/8th HP) and a higher working pressure, making it ideal for use in large scale body painting or airbrush tattooing for longer hours. It is also surprisingly quiet (only a little louder than the Smart Jet) but has very stable feet and doesn't 'crawl away' from its position like other compressors. The pressure is adjustable on a knob on the machine (does not effect the auto shut-off feature like the Smart Jet) and comes with a moisture trap already attached to prevent water in your lines or being fed into the brush. The on/off switch turns the compressor automatically off when not in use to extend life and reduce wear and tear on the machine.
I'm looking to sell it for $220 (Price on website has it listed for $299) I'm pretty sure shipping would be about $30. Someone please buy this thing so I can fund my new Sillouette Cameo purchase!!!

I'll be using it to make my own airbrush tattoo stencils- buy the compressor and I'll make and send you some custom stencils! If you have any questions, please feel free to ask!


Similar topics
---
Permissions in this forum:
You
cannot
reply to topics in this forum