What are you favourite go-to stencils? What are your least favorite?

If you could only use one stencil, what would it be?

Bonus points for pics and links


Frubbles




Number of posts

: 8


Age

: 27


Location

: Melbourne, Australia


Registration date :

2014-12-16



I use the whimsy HAS pack, it has two stencils for snowflakes and a couple for stars, it has perfect princess crown stars, and the rest are decorative small scale patterns I use to add texture. Despite having this I am still considering buying a BAM snowflake stencil to have more size variety in my frozen crown designs. (The whimsy snowflakes are smaller - but the perfect size for the sides of crowns and adding to holiday cheek art!)

I currently only have two BAM stencils in my kit, I use them quite frequently. The ones I have are:
- BAM 1004 (reptile skin, but I would like to replace/add #1005 as well)
- 1035, I use this to add texture to fantasy cats and such. I've used it to add texture to masquerade masks too, when I need to do them quickly or want to spend more time on other details in the mask.

Ones I would like to get:
- 2031 or 2035, 2035 has smaller dots than 2031. What I would really like is a half tone stencil in a HAS size and BAMS size, however, it doesn't exist. I could get the Lea Selley graffiti eyes stencils but I would rather round or oval shaped single pattern stencils. For this reason, I am currently in the progress of creating a series of vector images to have laser cut into mylar to make some of my own stencils.
- 2004 or 2027, I've been debating between these two, I would use them for masks and princess crowns to add interest. Olga Meleca has an owl mask on her Facebook page that uses one of these.
- 1006, Because it looks cool! I would use this similar to how I currently use 1035, to create a different type of texture.
- A dragon scale, similar to the TAP stencil of it. The only place I can get these stencils from is from the website that sells Kryvaline, shipping is $15 to get to me, chances are I won't be buying it. This is another texture I would make myself into a stencil bigger than the TAP stencils and then get laser cut.

I haven't bought more stencils because I find I don't have a dire need for them. The ones I have I get plenty of use out of. After I buy some snowflake jewels off Oriental Trading to put on my frozen crowns I might not need or use the BAM stencil, may as well save myself $5 and see if I still want it after buying the gems. There are a few other stencils I can see getting but aren't exactly what I want, so I haven't bought them, but I have considered making some myself. Stencil 1006 I'm saving for a rainy day, I don't need it, it's the sort of thing I'll likely buy on impulse or through a gift card.
http://www.facepaintworld.com.au/products/halfass/has5002/
BAM 1004 reptile
BAM 1005 snake skin
BAM 1035 Swirly
BAM 2031
BAM 2035
http://sillyfarm.com/shop/stencil-collection/graffiti-stencils/lea-selleys-ultimate-graffiti-eyes-stencil-kit
BAM 2004
BAM 2027
BAM 1006
http://www.jestpaint.com/productdetails_popup.asp?productcode=JPTAP017

Frubbles




Number of posts

: 8


Age

: 27


Location

: Melbourne, Australia


Registration date :

2014-12-16



Only One Stencil!

Small Scales from Trendy Tribals.

Period. Hands Down. No Discussion. My and all my crew this is our #1 go to stencil for airbrush and sponge and brush face painting. My own is 6 or 7 years old looks and works like new.

From THE original face and body art texture stencils and stencil maker
http://trendytribals.com/html/body_painting_stencils_textures.html
Last edited by Sweet Loretta on Thu Feb 05, 2015 8:04 pm; edited 1 time in total
I am a fan of the BAMS for sure.
I'll start with my least favorite the BAM 1042 Hearts
I can't make this look good. The design is made to fit the maximum amount of hearts on it, and therefore they are all over the place, and no mater how you turn it, many will be upsidedown. That drives me nuts, and i don't think they look good upside down (ever notice how an upsidedown heart kinda looks like scrotu-) Any Way! I really don't like this one.
Favorite stencil aesthetically would have to be the BAM 1035 Swirly.
I find the pattern works for many many things from princess's to butterflies, to just adding 'pretty' filler to dead area's quickly. Unlike some other of the pretty filler stencils this one doesn't have a lot of area's where the stencil get's caught and lifts up and bends in the pattern. So that's good too.
For boys the BAM 1004 reptile is my most used.
Works for monsters, dragons, snakes, pretty much any reptile. Recommend it over the Large Scale BAM stencil for sure. I can even use it for a bit of filler for mermaids!
But given all their perks, I can still do that scaly look and that pretty pretty filler, free hand rather quickly. The stencil just makes it faster, and more crisp.
The stencils I would REALLY have trouble parting from are the 1039 Stars and the 1036 Snowflakes.
OMG I love these guys. Before Disney's 'Frozen' that snow flake stencil rarely got used. Now my partner and I are fighting over it lol. It's the only one I have 2 of because it's gets used THAT much. Sure I can paint snow flakes, but this makes everything
stupid fast and easy
. 
I HATE painting stars, they are never even, they are always crooked, or you can see brush strokes, or SOMETHING. But with this stencil they are PERFECT every time. I LOVE this stencil, and it's the only one I can truly say I can't replicate and have the result be something I think is good. What can I say, I love having perfect little stars. I freaking love this stencil for that.
"Yes. I just made the image just now for this post. That's how much I'm obsessed with having perfect stars."
But even after ALL that, if you sat me down and said I could only have ONE stencil in my kit.......
I'd go with the snow flakes. Because of this
"Frozen man...... it's just too popular."
I'm no longer a face painter, my sole job is to foster little girls requests for 'Elsa', 'Snow Queen', 'Frozen', and 'Let it Go', (not kidding i've have 3 kids ask for 'Let it Go' when wanting to be a snow queen) while trying to retain my sanity by coming up with a million variations on this theme.
If it wasn't for that movie being so popular, I would pick the star stencil. But since that's not the world we currently live in, that Snowflake stencil has saved my butt!
Everyone pledge fealty to your new ruler.
"Does this mean the white walkers won?"
Yes to all the ones forest fairy loves and the one she doesn't. I covered the large hearts on the un-useful heart stencil, hoping it would be somewhat more useful. Haven't tried it yet.
Stars and snowflakes are must haves. the bigger snowflake works better for me.  
I bought the "mechanical" Half naughty word stencil set and rarely use it. Not sure what most of the images even are.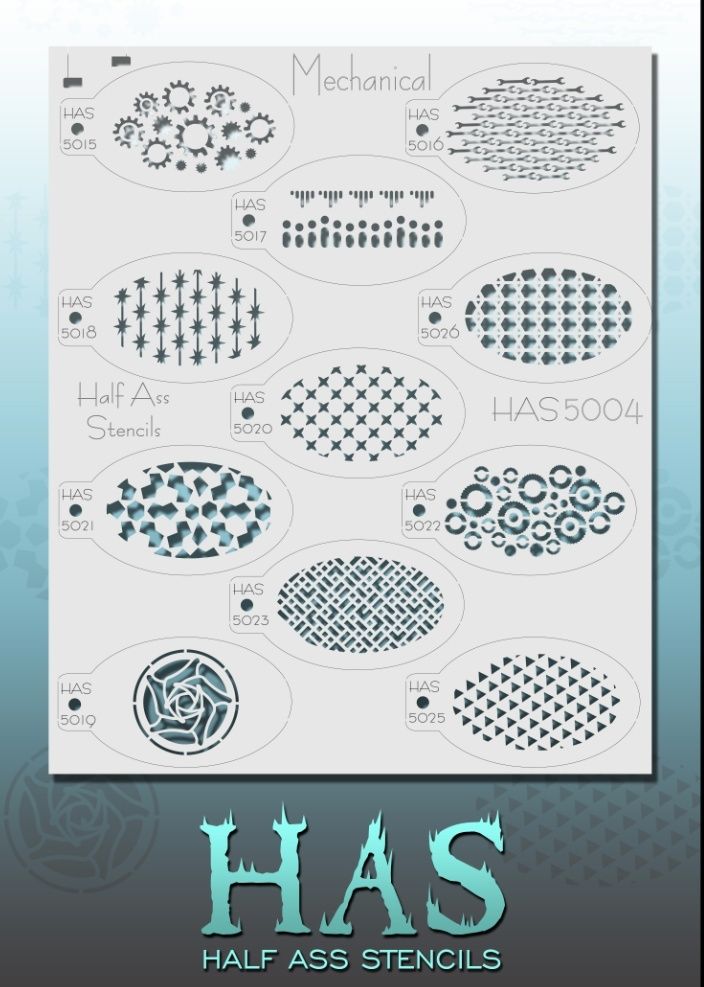 The mini stars are soo nice (#2016). They don't show up well in the photo of them--but I did a stars themed party recently &
have been using them regularly ever since--great for the 4th of July too!!
http://www.facepaintforumshop.com/ProductDetails.asp?ProductCode=756

I use that one for a big snowflake in the middle. Girls love it.

---
Permissions in this forum:
You
cannot
reply to topics in this forum