I live in a small town that is mostly made up of low income people. I have a few towns around me that are more medium income that are about 30-50 miles away. Should I charge a flat birthday party rate (Somewhere between $50 and $75) and gas ($0.50 round trip?) What about events?
I do not have any face painters/clowns/balloon twisters in the area (for about 50+ miles out). Here are some examples of my work.
(Please be nice, I just made my split cakes and practicing 5 min. butterflies. The brown is because I don't want to use up all my black and white) (Still figuring out my camera, oy)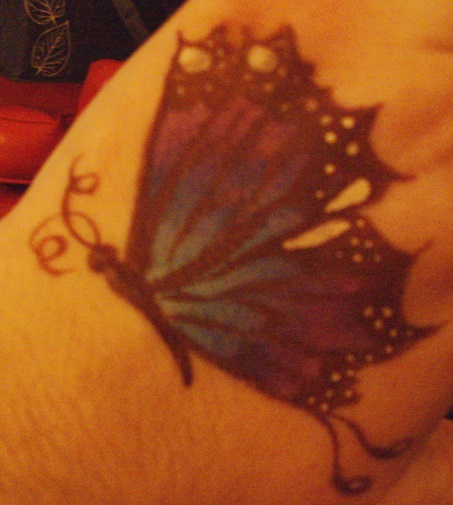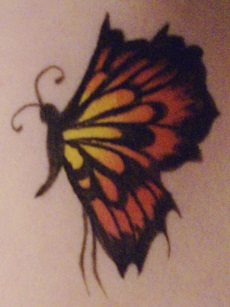 SweetnArtsy




Number of posts

: 38


Age

: 36


Location

: Virginia


Registration date :

2015-01-09



Gorgeous work, SweetnArtsy!
Beautiful colour gradation, nice line work.
I live in Canada, so I do not know the pricing/costs in Virginia.

Happy Painting!
Structure and color looks good, I'd say that's a fair price to start for your general area's income bracket. (I'm also in Canada though so...)

I try to have a flat fee based on travel - anything that takes 45min or more to get to (based on google maps) I charge a flat of $35. After that there are area's I simply won't travel to as they are too far away.
I think your butterflies are beautiful!
Thank you so much! It really means a lot coming from you guys!


SweetnArtsy




Number of posts

: 38


Age

: 36


Location

: Virginia


Registration date :

2015-01-09



SweetnArtsy... I live in West Virginia and know exactly what you're going through. It's very hard to book birthday parties in areas such as ours. Your saving grace will be Fairs and Festivals and you will probably get "carnie fever".

You need to set your prices at what people are comfortable paying. I charge $5 ppf. My rate for face painting is $65 per hour (knocked down from $75) to try and gain more interest. Some of our fellow forumers are probably thinking "OMG"

It takes a long time to catch on in areas where Face Painting hasn't caught on. (And if you've read any of my stuff lately you know I'm ready to slit an Ice Queen's throat, but it's not her fault). Your main focus has to be marketing yourself and patience. Get yourself out there as much as you can. You'll make no money at craft/vendor shows but do them anyway because people see you. They talk to you and they get to know you. At some point they're gonna start talking about you. That's how your business builds. Get in their face and keep your expectations low. In areas like ours birthday parties are not the bread and butter, PPF events are.

I hope this helps!

Kal




Number of posts

: 433


Age

: 34


Location

: WV


Registration date :

2014-06-29



The rate formula is very specific and is geared to where you live. Only you know what the going rate in your area will be for your market.
I live in a big city and the cost of living is high. I have really spent a lot of money the last two years in education and insurance. I had to charge more to try to recoup some of my expenses.
It was very hard in the beginning. People were not just dropping by my living room to be painted and then paying me a lot of money. I had to get out there and market myself. I still work on marketing. It is not my favourite thing to do. I really have to work... to get more work.
Happy Painting!
Thanks for understanding Kal! I really was originally using for the usual prices for around this forum but people thought I was insane. I lowered the prices to $50 per 10 kid party (not including mileage) and $60 for events (which is apparently still too high :eyeroll: just to get started) Lots of people around here go for the volunteer acrylic painters for their events. Ugh.

I will be an add on to a guy's corporate event catering thing. He thinks I can get "normal prices" which is about $75 with the mileage included, more towards the city. *fingers crossed*

SweetnArtsy




Number of posts

: 38


Age

: 36


Location

: Virginia


Registration date :

2015-01-09



The best lesson on pricing...listen to those in your own area. Kall gave you good insight. No matter what you charge it can only be based on what the (your own) market can bear.

Many in business hurt themselves and others by charging too little, while some will suffer from charging too much. Know your demographics is the first lesson of business.

Thank you Sweet Loretta for your wise insight


SweetnArtsy




Number of posts

: 38


Age

: 36


Location

: Virginia


Registration date :

2015-01-09





Similar topics
---
Permissions in this forum:
You
cannot
reply to topics in this forum