quite happy with these need to try double wings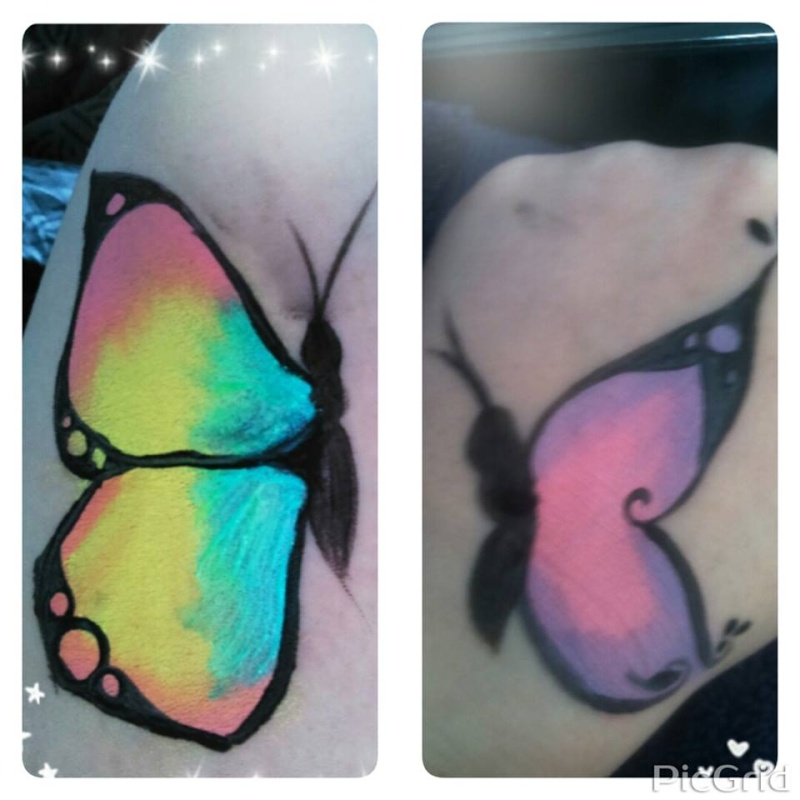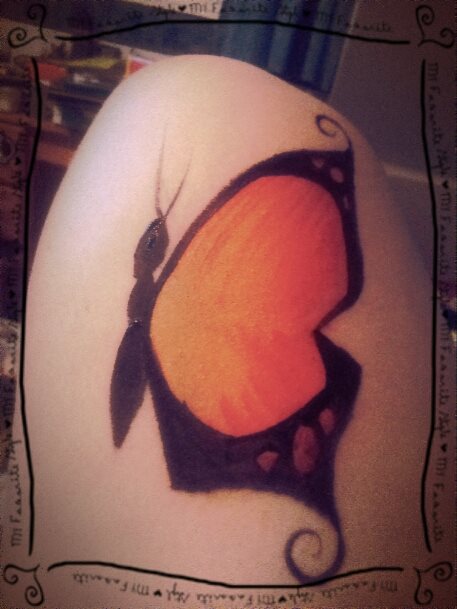 nice colors and shading, and your black lines and edging are nice and clean. i like the uniques shape of #3 (the gold and orange)

i would suggest making the body less realistic and more of a suggestion or stylized, swirly and such. avoids the "eww, bug" look on little girls.
maybe a few white accents, dots?

jlirie




Number of posts

: 1812


Location

: us


Registration date :

2014-07-31



I think you have fantastic base colors and love the basic shape--They aren't the "norm" for butterflies, but still beautiful.
Here are some things that helped me!
https://www.youtube.com/watch?v=JVQW7ZNXaWw
https://www.youtube.com/watch?v=vVQNq6uiNUk
https://www.youtube.com/watch?v=scNg8qMcgPs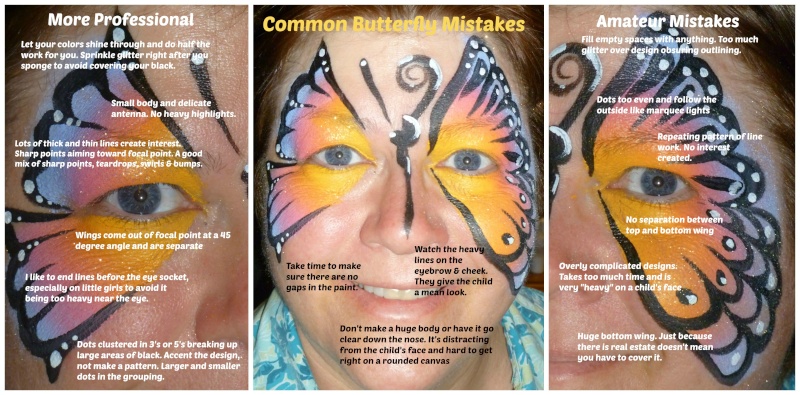 amylady222




Number of posts

: 1176


Age

: 38


Location

: San Luis Valley, Colorado


Registration date :

2012-08-04



Ok. Only because you asked for a critique, and I believe being honest and straight forward serves better then trying to be nice to save feelings. 


More separation between the upper and lower wing


As Jlirie said, try for less realism on the body. Less bulky, and more 'light and dainty'. It's totally ok to not be realistic when part of your job has you painting rainbow cheetah's


The antenna look like an after thought. Try making them longer. (see bottom of comment for notes on this)


While I like your use of circles, I would also add more detail over top of the colored area, right now it feels like a big bare patch.


Try white dots on top of the black part of the edge of the wings. Everything seems to look at least 50% more pretty when you add dots! (This totally works for many things)


The colors you have chosen are nice, but I would consider investing in some one strokes. Saves time and the result is often better.

Ok those are the main things about the overall design. Now lets talk about technique.
I can see you are being very methodical with the brush. I can tell from the hard lines and the strokes that you might have outlined things then filled them in, and also some of the lines and 'fill' you did using a feathering technique.
Allow me to introduce you to "Blobology" (as coined such by Dutch Bihary). I started doing 'blobology' before ever hearing about Dutch and his work, but it's so nice to have a name to call it! lol
Painting this way instead of outlining EVERYTHING saves huge on time, and just makes everything look that much better. I'm sorry I can't find the video of Dutch demonstrating this technique but I'll try to explain it.
It's 'painting with blobs that make shapes' lol. Again, you are not out lining everything, instead you just paint the shape with a big enough brush flat out from the start. Sorry I can't do much better with an explanation. :/
Practice 'tear drops' and going 'thick to thin' with your brush. Just do tons of that on your arm or leg, not making anything in-particular, just practicing the strokes.
Even on mirrors!
Many many other types of strokes to practice too!
Once you got this down, you will be AMAZED how much time you save and how much better and fluid everything looks. Enjoy and practice practice practice!
*Disclaimer* Again I'm being honest because I know this will help you better achieve your goal then trying to be flattering. Good luck! *hugs*
wow--that was awesome! Thank you--learned lots!


amylady222




Number of posts

: 1176


Age

: 38


Location

: San Luis Valley, Colorado


Registration date :

2012-08-04





Similar topics
---
Permissions in this forum:
You
cannot
reply to topics in this forum