Hi everyone,
I was wondering if anyone can recommend a non-staining medium green and lavender/pastel purple? I carry Global in my kit because I really prefer non-staining and easy removal paints, but they don't have a medium green or lavender color. I mix paints for bases, but I would really love these colors to make some split cakes and one strokes. I already know that Paradise Amazon Green is out of the question.

Also, if anyone owns the Teddy Bear one stroke by Tag, does it stain badly?

Thanks in advance!
Kryvaline has both colors I think, and the green that I have tested has not stained me. True to their word, they don't really stain. Maybe like a red I've had to use more soap but that's about it. I have not tried the lavender yet. I do have a DFX lavender and that hasn't left a mark as far as I can remember.

PaintedWingsandWishes




Number of posts

: 105


Age

: 29


Location

: Whittier, California, USA


Registration date :

2014-06-26



I've made up a swatch test from the colours I have that you've requested.
The greens are pulled from a TAG split cake.
I don't have the Teddy Bear cake, but I do have two of the colours that are in it in 32g cakes, and have included those.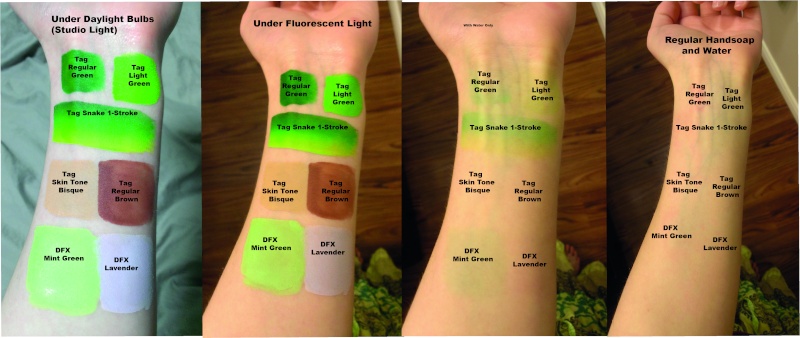 Tag Lavender doesn't really stain, the green is hit and miss tho.
Not sure why the greens look so blown out, and why the text on the last photos went so small my photo doesn't look like that at all.... It says "With Water Only" If you hover and click open image in new tab you'll be able to see the fourth image, of cleaning it off with just soap.

The greens stain, the others don't stain very much at all. All of them came off just fine with regular hand soap and a little bit of scrubbing, but I only had the paint on for 5mins or so.

Lavender is nice for double loaded sponges, the inside of purple kitty cats, and purple flowers double dipped with dark purple.
Thank you so much everyone!
Kookyclowns-those swatches are super helpful, I really appreciate you posting those! I will definitely go for the DFX Lavender and the Teddy Bear split cake.

Forest Fairy-thank you for responding. I know you have experience with Tag. I had a feeling green was going to be a hard one to find, as I think it is a staining color in general.

Painted Wings and Wishes- Thank you for your input. I was thinking about Kryvaline, but wasn't too sure. Are you referring to Kryvaline regular line or the creamy line?
I've bought the creamy line, which actually does work out with some colors to do beautiful lines. I'll check when I get out my kit.

PaintedWingsandWishes




Number of posts

: 105


Age

: 29


Location

: Whittier, California, USA


Registration date :

2014-06-26



I heard the superstar/fab blues and greens don't stain... haven't tested that myself though, if you want I can do swatches tomorrow, I just got all the colours in
Yes Tineke that would be amazing if you can let me know about the staining of the Fab greens!


Similar topics
---
Permissions in this forum:
You
cannot
reply to topics in this forum