Hi, my name is Laura. I used to work for a professional face painter years ago. Now I'm a mom of two kids, a semi-professional illustrator who can never really find enough illustration work, and married to an artist who vends at a lot of festivals. It occurred to me that maybe it would be a good time to get back into face painting.
So, I just got my first set of face paints and tried it out on my daughter. Yes, I realize the rainbow is upside down – force of habit I guess since I started right above her eyebrow and worked up

 I'm curious about how my clouds came out, though... I like the shape, but they look weirdly textured. Any idea how I can make my swoops and flourishes look more clean and professional? Should I not expect to paint white over a rainbow?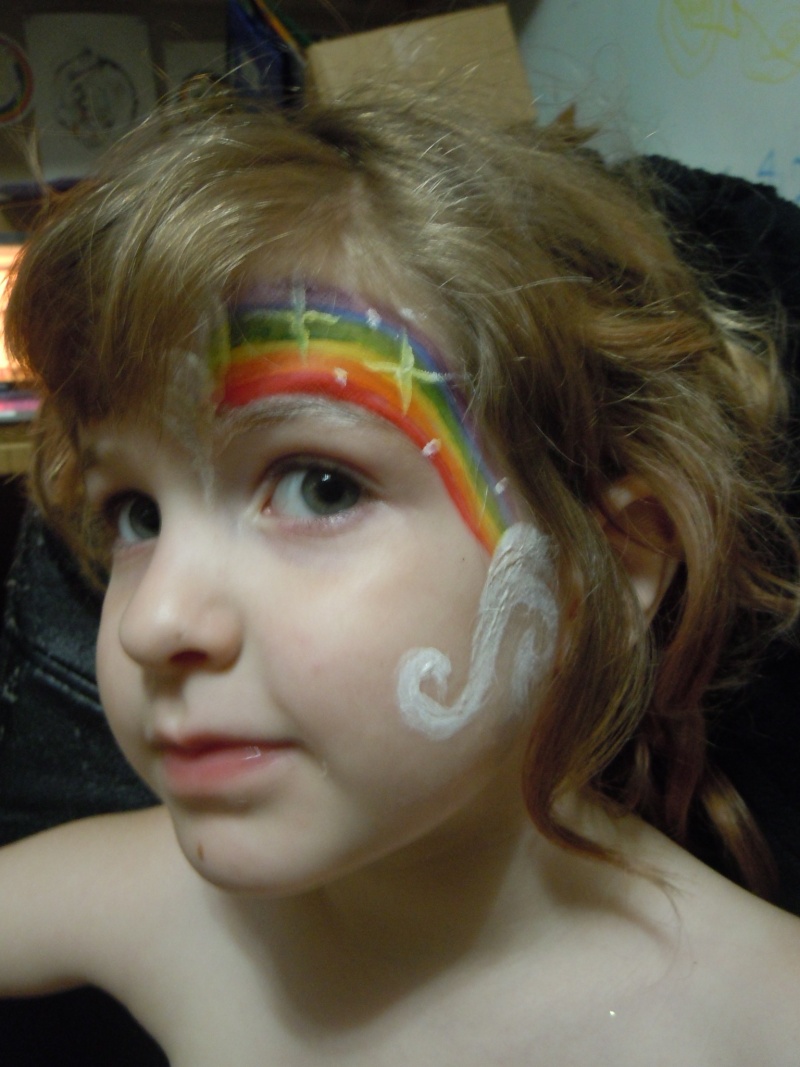 Also, what are some good resources for beginners? I know how to draw, paint, be hygienic and run a business, I guess I'm just wondering how people learn about new techniques, design ideas, etc.
Nice to meet you all, and I look forward to participating more!

lauragee




Number of posts

: 2


Registration date :

2015-06-26



Dear lauragee:
Welcome to The Forum!
If you go into your Profile, above, and type in your general location, you will raise the probability that you will be invited to a local face paint jam, where you can try out different types of paints, brushes, glitters, etc.
Which brand of paint is the white paint?
I leaned a lot from Marcela Murad's YouTube video on teardrops and line work. There are so many artists who have great tutorials: Lisa Joy Young, Denise Cold of the Painted Party, Shawna Del Real, etc.
Happy Painting!
Welcome to the forums!

Definitely would like to know what paint you're using as Fessy asked. The brand makes a big different for whether it is better suited for some base/background color or your detail work - could also explain your textured look in your clouds.
Thank, guys, my paint is Snazaroo. I'm open to investing in something more serious, but probably not until I figure out if I can actually make some money doing this. I tried a similar design today, and it worked a little better being careful to give the other colors time to dry and trying to apply the white with as few strokes as possible. I'm also really curious how people get the nice clean white sparkle designs...I wonder if I need an even tinier brush, or if that's also an issue with my paint (or maybe I just need more practice).

Thanks for the tutorial recommendations, fesspenter, I will definitely check those out!

lauragee




Number of posts

: 2


Registration date :

2015-06-26



*Not an Expert* be warned, lol... but Snazaroo is glycerin based and is best for your base colors of a design as it gives you more time for blending, etc and not your line work.

For your line work (like those white starbursts) you'll want something more waxy like TAG, DFX, Wolfe, and Global seems to be popular.  You can have a look around the Forum Shop for pricing here: http://www.facepaintforumshop.com/

So based on the type of paint you're using, it's not really about the size of the brush you're using for what you're looking for, it's the formula of the paint - but having good solid brushes is a must.
Snazaroo's glycerin base is excellent for blending.
I use wax-based for line work: Cameleon, Global, DF/X, Wolfe, TAG.
Great brushes are a wonderful help for line work. I swear by the Loew and Cornell Yellow Gold Grip 795 in sizes 3 and 4. I also love the Loew and Cornell 7000C series. The acrylic handle does not swell, crack and peel paint like the wooden handles. The facepaintforumshop.com (the colourful rectangle in the header column above) has competitive pricing, and the shipping is FAST!
There are excellent tutorials on line work on YouTube. Marcela Murad has a great tutorial. Line work is our 'alphabet' to express the language of face painting. If I had it to do all over again, I would have purchased less paint, and practiced more. Use the paint you are using on the job to get used to it. Every paint has it's own liquidity/opacity point. Play in the paint. Practice. Practice. Practice.
Happy Painting!


Similar topics
---
Permissions in this forum:
You
cannot
reply to topics in this forum