SO, RECENTLY I'VE HEARD OF PEOPLE USING POWDERS.. NOW UP UNTIL NOW I'VE ONLY USED WOLFE, DFX, & SO ON.. WHAT IS THE PROS OF POWDERS, AND WHEN DO YOU USE THEM...???

HELP, PLEASE (:
My favorite brand:
Starblends by Mehron are pretty dope. You can use them for entire designs, or as great bases.

When to use them:
- They are great for super hot a humid areas because they are super sweat resistant. 

- Some times kids (mostly boys) can't handle the feeling or wet makeup near their eyes. So using a powder starblend is a great alternative, as the sensation of having it applied it a bit easier to handle.

- Great coverage for white based designs (skulls)

- The black is great for making soft shadows and shading

- I love using pink for 'blush' in my princess designs.

Those are just some of the uses they have.
Yep, everything that Forest-Fairy said, and more. In my opinion, Starblends are the best for powder based application since they come in a huge container which last forever, they are very opaque if used correctly, and they are my go to for stencil use since they don't leave a dried and paint covered mess on the stencil. There are other powders like Mehron Intense powders that are pretty for like a small eye design or cheek color, but I don't like them as much.
Example: This design was done with yellow Starblend as the base and then Starblend green for the eye color, then layered with green for the stencil work. Slap on a couple of teeth and outline and voila, a 2 1/2 minute design.
There is a Facebook group called Starblend Creations you can join to see other things done with them and the Starblend master Denise Cold has a few FAQ files where you can read about them.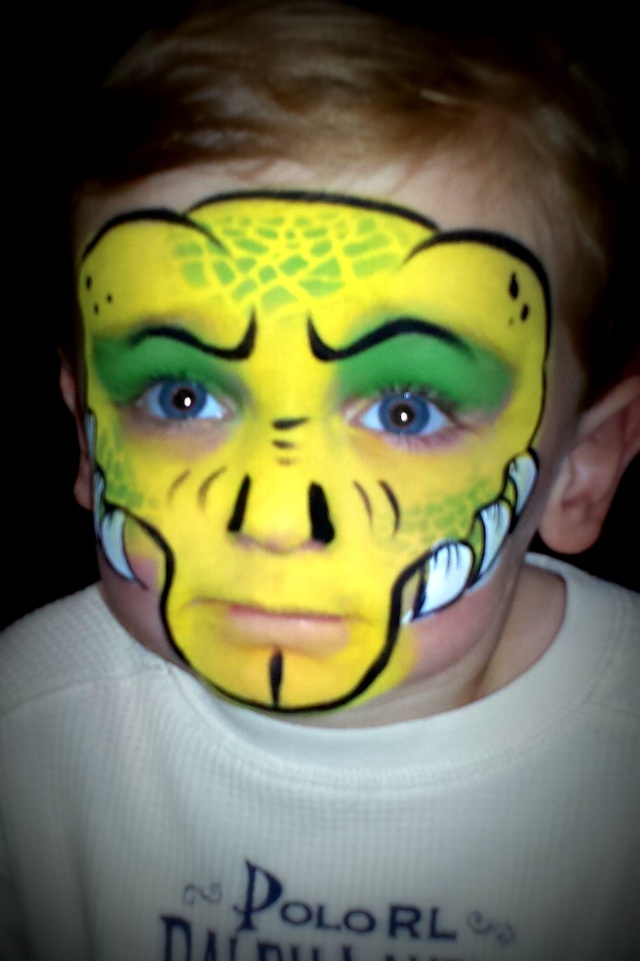 I went to check out the pink....wow, at least on my computer the pink looks really bright like if I used if for blush for darker skinned girls it might look really awful. were you meaning the purple? that looks light

Nope. I meant the pink. The great thing about the powder is that you can control the opacity, so you can make it very faint if need be. I have used it on children with darker skin with much success.

Last month it also came in handy when I was put on the spot to do a Monster High Draculara full face design. The powder worked SO much better then my wet face paint to get that nice soft model/doll look of having pink skin.
I use the pink almost exclusively on my girl T-Rex and girl triceratops (for the Dino show) and as a blush for the designs where I would use a blush, regardless of the color of the skin that I am applying it to. I use it for a Hello Cat bow and Minnie's bow if the child wants a pink bow. It does have a variance in the color but, I have a kit full of colors and not one of them is going to look the same on every complexion that I put it on. It has a brighter pink color on a very light complexion and a more light pink/purple hue on a darker one.

After hearing what Denise said about Starblends I tried them and was surprised how nice they are to work with. To me they just seem to 'glow.'
But I have never tried the Intense powders..
.can someone tell me, what is the difference between Starblends and the Mehron Intense powders? are they just different colours of the same nature? or is there something significantly different?
I'm thinking about trying some and want to know more about them first.
And Debbie B (or anyone else who feels the same) why do you not like them as much as the Starblends?
EDIT: oops....I "googled" the topic in the forum and just didn't look down far enough

 Here's a link where I found the most information if anyone else is looking for it....
http://www.facepaintforum.com/t11259-has-anyone-tried-the-mehron-intense-powder-range-yet?highlight=INtense+Pro+Pressed+Powder+Pigments
Still interested in how people like/use them in relation to the Starblends though

(never saw any information from anyone on that subject in any of the threads)
Last edited by Valerie A on Tue Aug 16, 2016 4:45 pm; edited 2 times in total

Valerie A




Number of posts

: 1035


Location

: Near Eugene Oregon


Registration date :

2012-07-18



I have both, and the only drawback to me is the size. The starblends are huge and the intense powders are a lot smaller in a multi-color pallet. They are both made by Mehron, so they are very similar. Since I use them so much, the smaller sized ones are just a hinderance.
However, if you want something sparkly for eye designs (teens and up), go look at the Ben Nye Lumiere pallete. They are very pretty (but small), but are great for small applications.
Hope this helps

Debbie B
Thank you Debbie, Appreciate the info!
I do remember hearing great things about the Ben Nye Lumiere now that you mention it (I haven't been doing any face painting for awhile and my mind is getting 'fuzzy'

)
Thanks again!




Valerie A




Number of posts

: 1035


Location

: Near Eugene Oregon


Registration date :

2012-07-18





Similar topics
---
Permissions in this forum:
You
cannot
reply to topics in this forum