HI there is eine and bought a co2 tank for a outside gig I'm booked for. I set it's up with twin regulators and the pressure seems to be OK. There seems to be be a few leaks around the seals tho, I need to use plumbers tape. My question is about the frosting on the regulators. Is this super cold because of the leaks or some other reason? Is it dangerous to continuously operate with it frozen or once I fix the leaks will the frost go away? The hose seems to be getting cold as well and I'm concerned about condensed water getting into the hose line Does this set up need a moisture trap? Thanks

airbrush_emma




Number of posts

: 1


Registration date :

2015-10-05



http://www.harrisproductsgroup.com/en/Expert-Advice/Articles/CO2-Freeze-Up.aspx


CO2 is a gas, when in a cylinder it is in liquid form(This is also why it maintains pressure right up until you are out of gas). As you use it it evaporates to its gaseous form. when it does this it takes the heat with it. (why when you spray it feels cool), the fittings connected to your hoses will get cold and frost up the quicker you use the CO2 up. CO2 displaces the "Air" in your line. It is also a Dry Gas (no Moisture) which is why it is not necessary to use a moisture trap on your CO2 system.
Here In Florida whe have a high relative humidity, when using a compressor for alcohol base paints I was getting Consistent clogging in the airbrush. I had 2 moisture traps and a desiccant filter and still getting clogs.... Switched to CO2 and All those problems have gone!
I have a simple, Very portable (walk around) System.
Paintball tank, Mini Regulator, Hose, Quick disconnect, Airbrush.
I get 30-50 (depending on size)Airbrush Tattoos per 20oz fill-up.
The best thing is I can work with NO power, I can Walk around with my setup in a bag, or I can stick the bottle in side pocket attached to my directors chairs.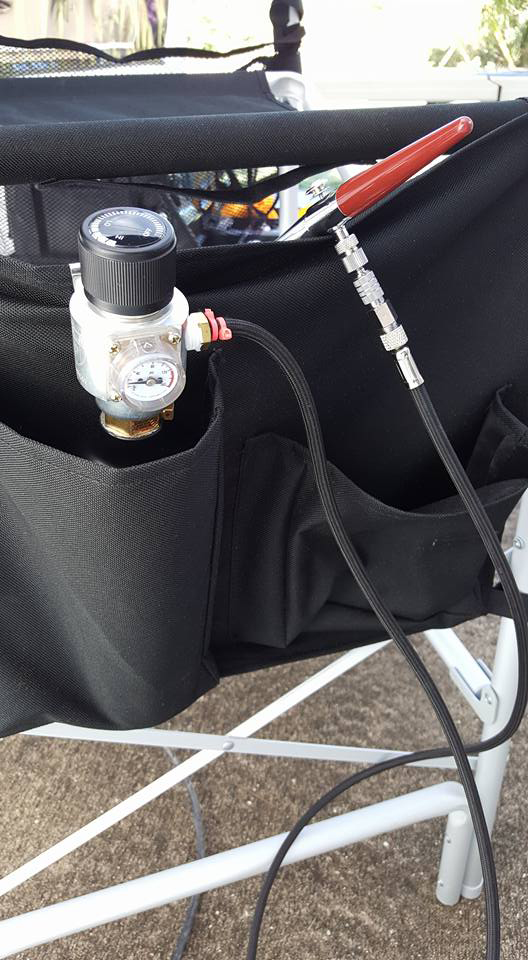 ---
Permissions in this forum:
You
cannot
reply to topics in this forum