I'm in need of liquid metallic body paint. (A photographer has requested it for a shoot, and I'm not sure yet how opaque he's thinking). As far as what I'm thinking, I don't want opaque metal, but not super sheer either.

I've found Kryolan liquid in Gold, Silver, Copper, and Bronze. Before I buy one of each, has anyone seen it in action? Better yet, any pics?
Here's what Pashur taught us in a class in Charlotte.
If you are trying to do something that looks like it's been dipped in liquid metal, use Mehron Metallic powder and their mixing liquid. I caved and bought the sliver. (i'm sure it comes in gold & copper too) It's GORGEOUS. I've only used it so far on eye designs by mixing it in with my silver Wolfe, but the difference is incredible!
You can also mix it w/ baby oil...even more gorgeous, but it won't dry, which doesn't matter if it's just for a photo shoot.
A word of CAUTION....a little goes a LONG way!
....and I tape the top of the container, just in case the top gets a tad loose I don't need my entire kit to become silver.
And girl.....if you get a chance to take a class w/ Pashur at FABAIC.....do it!
He's a GREAT teacher! (and fun too)
Here's a photo of his using the Mehron powder (please correct me guys if I'm wrong)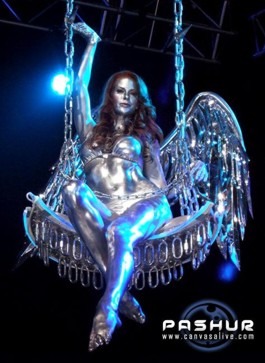 Interesting.... so theoretically: I could buy the paint and maybe some powders and can do a chemistry experiment for intensity by mixing them. I'm picturing a soft metallic sheen.

Thanks, Linda!
DON'T MIX IT IN ADVANCE!!! The bottle can explode!! Really.. mix it as you need it.
yeah....what she said!
and a little goes a L-O-N-G W-A-Y!
Oh my! Thanks for the heads up!



Similar topics
---
Permissions in this forum:
You
cannot
reply to topics in this forum