I am wondering if anyone has these or tried them. They look really pretty but I am wondering what your opinions of these cakes are. What do you like. What do you not like. Any pictures?
Hi Megan,

I have both of them and they are beautiful. Two of my most favorite rainbow cakes. I will swipe them both on my arm and put pics up for you to see later this evening. Taking the kid to the park to play and I get to paint on free models........lololol I love the park.. kids are always willing to let me practice on them.
I do too!!! These colors are fantastic and bold metallic. Will try to post pix soon!
Thank you guys! I would love to see pictures.
here ya go megan.....sorry it took me so long to get them on here for you.
hope this helps your decision. They both are really pretty.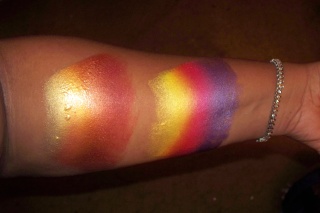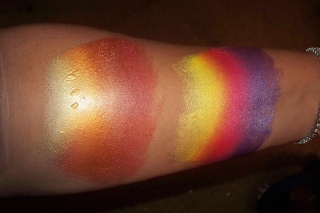 I love them both! I am going to see if I can find them here as well. Especially the left one looks very handy to me.
If it is not sold here,.. maybe I can make it myself. What colors are they? Metallic copper, brown, orange/gold and white? (all metallic of course)
The pic of the cake is on silly farm. I am trying to figure out the cake that is why I am buying it

Thank you for posting pics that helps a lot! I was wondering does the brilliant bling look that good on all skin tones? I have seen it twice but both times it has been on a darker skin tone. (Don't mean to sound rude if it comes across that way) or is there a certain way that you use it?
Last edited by Megan in slc on Mon May 03, 2010 12:41 pm; edited 1 time in total (Reason for editing : forgot a questiong)


Similar topics
---
Permissions in this forum:
You
cannot
reply to topics in this forum