Hi peeps,
I just bought a triangular brush from Mehron, it's the first time I've ever seen it and I bought it completely out of curiosity. The advertisement for it said you can load each side with a different color.
So.... has anyone used one of these by any chance?
And if so what strokes do you find it best for?
Differnet strokes for differnt folks..... just HAD to throw that in....ahhhhh sooo corny.... I have to stop posting here late at night or you will all think I'm bonkers! ( If you don't already

)
I couldn't find what you are talking about... tried google. Maybe a picture or a link?

SuzySparkles




Number of posts

: 2805


Age

: 36


Location

: Wisconsin / Milwaukee


Registration date:

2009-11-09



Have one. Haven't figured out a use for it I can't do with a normal round brush. So would love to hear other peoples uses =)
is this it?
Sorry this took awhile...huge weekend.... made nearly $1000 this week - Yahoo!
Anyway here is the link to where I bought the brush from.
Today I'll try and take some photos of it so you can see it better.

http://www.violetmoonworks.com.au/catalog/product_info.php?cPath=92_81_87&products_id=541
Wow... that IS an interesting looking brush... I would have bought it out of sheer curiosity too! (and because I love LOVE getting new brushes!)

Can't wait for pics!

Tilly - Formerly Punky




Number of posts

: 1186


Age

: 23


Location

: LaPorte, IN


Registration date:

2010-04-03



I have one from Lowel Cornel. They call is a Wedge brush or something.

I was planning to use it either for funky swirls or for princess tiaras.

So far it is a bit too fiddly but I need to keep playing with mine.

~Michelle (Heff)
Have seen it but never tried it....let us know how it works out for you.
ok so I did this a little while ago but forgot to post it.
This was me trying out the triangle brush.
My phoenix eye design.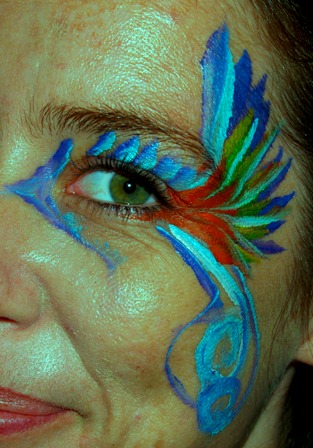 That's got a cool look to it. Did you load each side with a different color liek they say it can be? Were there any difficulties or anything you didn't like about it? (I'm contemplating buying one... can you tell?) lol

Tilly - Formerly Punky




Number of posts

: 1186


Age

: 23


Location

: LaPorte, IN


Registration date:

2010-04-03



It works better just with two colors, close in shade, like light blue and dark blue or green and yellow , red and orange etc. rather then three colors, although the light pink,blue and purple mixed nicely together.
Oh and it makes a mess of your cakes cause your always leaving the last color on the next cake.
I did like the angular edges rather then the rounded teardrop effect... still need to try a few things out with it - might try some flowers next!
I saw one at Michael's and contemplated it... but figured I wouldn't use it because of the habit of grabbing my round.
---
Permissions in this forum:
You
cannot
reply to topics in this forum