I have a Snazaroo 18ml "classic colours" Dark Brown/Light Brown split cake if anyone is interested in trading

I made it and have a photo if necessary. It has never been used.
I would like to trade for any 18ml split.
i just realized Metina has the same split in her shop.... should i take this down?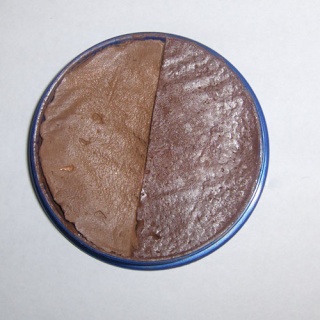 nobody is biting....

makes great brown puppies

you can buy it too, $8 and free shipping


_________________
Face Paint Forum Shop
www.FacePaintForumShop.com
TAG, Diamond FX, Wolfe, Global, Kryvaline, Paradise and other Face Painting Supplies
Shipping from $3.99
Washington DC Metro--But Serving the World!
It shouldn't be a problem. It's not like you are selling 30 of them:-)
I don't have anything worth swapping or I'd go for it. I just spent my monthly quota & have to save the rest for FABAIC.

BTW, Are you going? I've gotten a few calls from people wanting me to face paint that weekend & have been sending them to you.
Has anyone taken this yet Polkadot? I have a chocolate festival coming up soon & need some brown. Can you find out what the postage would be to Tasmania 7310. Thanks

Hi Mandi! I'm sorry I didn't see this until now- I will check on shipping


---
Permissions in this forum:
You
cannot
reply to topics in this forum