Hi all - been watching some "how-to" vids with Starblends. They look so simple. Should I bother or does the same as paint? Love to hear your opinions 1 vs the other....thanks for your experienced input!
Personally, I don't like the Starblends dry. They are pancake make-up - foundations that are water activated. You CAN use them dry as a powder (particularly in the fantasy colours they now have, they used to be in foundation shades only). I've used them wet for theatre (changing white women into black men...

etc.) and there is a technique for working with them. They are NOT good as face paint wet as they do not work with a brush at all.
I have a few foundation shades in my make-up kit, but have no use for them in my face painting kit.
I use starblends as part of my face painting kit as well as paints. I use the star blends with a sponge for full coverage face designs, they blend great. It just really depends on the look that I am after whether I will use the paints or the starblends. They provide a good base for paints to go on top of. In my kit I have all the primary colors and one flesh tone a black and a white.

Perhaps if you have an interest, maybe start with one or two and see how well they work for you. If you find they aren't for you no real big investment wasted.


hope this was helpful
Stablend fantasy colors? What is that? I am so hoping they finally came out with a pressed version of all the shimmer powders out there. I so love the shimmery powders but wish someone would come out with a pressed rather than loose powder.

I would agree to try one or two. Orange and Red are good to try. Some love them, some hate them. I didn't really feel like they covered too well, but that was three years ago. I myself am tempted to try again. I have recently found that products I wrote off years ago, now might be better that my skill has improved. I wouldn't touch Snaz white until about a two months ago. I have now rediscovered it for bases and couldn't be happier!

-Metina

_________________
Face Paint Forum Shop
www.FacePaintForumShop.com
TAG, Diamond FX, Wolfe, Global, Kryvaline, Paradise and other Face Painting Supplies
Shipping from $3.99
Washington DC Metro--But Serving the World!
I love starblend powders for certain situations. I always do my spiderman w/ starblends. It's easier on the boys faces & so quick. I also like to use them when working w/ younger kids or fidgety kids. They don't feel so wet & gloppy & the kids don't even notice they have paint on. I use them as a base & do line work w/ paint. I also just got Ben Nye Lumiere(sp?) kit. It's like the starblends but metallic & shimmery.
I was practicing shading with my starblends this evening and decided to post 2 pics I did really quick to show the coverage you can get with the powders and a damp sponge. The line work done with paint.
Disclaimer on the spidey lines........lolol my daughter did those
I don't like mine to be so webby looking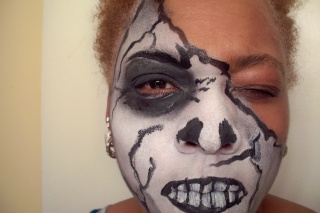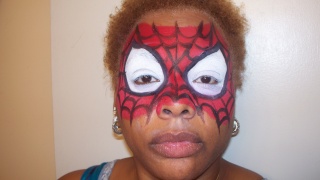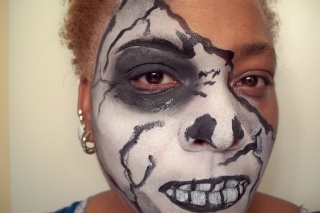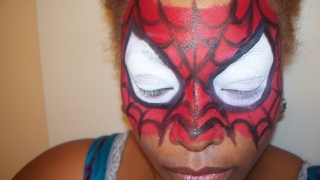 Metina wrote:Stablend fantasy colors?
-Metina
By that I mean the colours OTHER THAN foundation colours. Used to be they only came in flesh, white, etc. for theatrical use. Then they came out with them in red, purple, green... etc. Those used to be referred to as "fantasy colours" in make-up terms as you wouldn't use them on a "normal" character, but on "fantasy" characters... sorry to confuse you!



Similar topics
---
Permissions in this forum:
You
cannot
reply to topics in this forum