Page 2 of 2 •

1, 2

Metina, I'm glad to hear that you do all that. I always remove the cakes from the containers before cutting them. To be safe, I had a jig built to cut the cakes squarely (so that they fit back together with no open pockets) and a press to press them back together solid, again so that there are no open pockets when I'm finished. I buy gloves by the box, because I use so many, and like you I sterilize everything before, during and after. I don't sell my rainbows, although I have shared many, and when I make a batch, it's usually a dozen or more at a given time because any less just isn't worth the effort to set up, prep, cut and press.

Jenny
i make them for my self I use dfx the only color i seam to have trouble with is the yellow.. its very brittle crumbly... and the metallic yellow is to but that seams to be the only color the orange some times... wonder why the yellow is such a problem
I am just getting started and the first paints I purchased were DFX (basic palette and a teeny tiny split cake). The next day I bought the Wolfe appetizer palette. Less than a month later I purchased the Paradise pro palette (only they were out, and I couldn't wait...so I ended up w/ 3 8-cake palettes) and Wolfe met. white, Wolfe met. gold, and larger Paradise black and a white too. Plus toss in an arty cake every so often (they are addicting).
When I bought the DFX, it was at a convention. I didn't question the price of the split cake. But when a friend and I both ordered arty cakes (2 for each of us)...I was a bit appalled to see we spent $40 for that amount of paint.
We split the Wolfe's and each now have a met white/gold cake.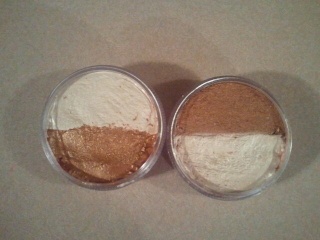 It was very scary to cut into that cake for the first time. I had watched 2 videos on youtube and felt confident. Kinda easypeasy!
A month later I decided to turn my DFX basic palette into more useful splitcakes. I didn't cut the black, because I figured a full pot of black was more useful than the prospective hassle of cutting miniscule black bits for split cakes. There are some gaps, but they paint fine. They are also all one brand but the white seems to go much quicker (or I have been/was using a brush on the white only). But I was dabbling with the red/white/blue cake yesterday and even though there is a big dip in the white...it worked great with a brush.
Here's the DFX splits
So in my 2 month opinion

The most economical starting out, is to cut the small cakes and make split cakes. I think I even saw a picture of someone's Wolfe appetizer palette and they cut that into split cakes. I may go do that now too! I wish I remembered who's setup had them, but I have looked at so many threads and images that I have forgotten.
I would have no problem at all purchasing homemade rainbow cakes. Realistically, there's just no way to do away with all "contamination". If it's perfectly pristine when you buy it (not likely), then it certainly won't be as soon as the cover is taken off and air hits it.
I'm all for taking precautions where ever possible, but we've got to keep a level head about it too. In my humble opinion.

first...i started out making and selling splits to my friends.

yes, heather did have a sterile room set up to make arty brush cakes

and...the reason arty cakes are made from several brands is so that they will wear better.

different colors within the same brand may have a different saturation level.

the arty cakes..through trial and error are designed to wear evenly....being that the colors with in each cake are activated with the same amount of water

ttfn

rebecca

www.artybrushstrokes.com


Tash wrote:Hi Melissa,

As far as snazaroo goes I had been led to believe it was the only brand that had antibacterial properties - so if you were going to do it with any paint that would be the most hygienic,
Hey Tash, I know this was back in June and you probably know this by now but just to clear up misinformation...
All professional brands of face painting makeup on the market must contain a preservative (antibacterial agents). Otherwise they would start to mold very quickly from the prolonged exposure to water and contaminants

Snaz is not alone.
Love ya!
~Heff
Page 2 of 2 •

1, 2

---
Permissions in this forum:
You
cannot
reply to topics in this forum