I read in a few posts that some of you offer parents specific instructions on how to wash off certain paints (namely wolfe/dfx). Is there an official method? What specifically do you say?

Thanks.
You don't have to wash off any brand differently than any other.
Albeit the pigment amount in some brands and some colors is stronger - basic washing of is basic washing off.

Our company tells people to remove the face art with a baby wipe, makeup wipe or wet paper towel. Then wash their face as usual. We do offer that - some colors need a two baby wipe/wash method.
This is posted in my booth & will be on the back of my new business cards.

While we use only FDA-compliant, professional, cosmetic-grade, water-based products, please remember that wearing face paint is a bit like wearing regular make-up – while it is not required, it's best to remove the design before bedtime. To remove the makeup, use a dark cloth (washing the face rubs the paint into the cloth and may stain it) and a gentle cleanser. Baby or kids' shampoos work well because of their "tear-free" feature. Lather, wipe, rinse, and repeat – but NO scrubbing; scrubbing can irritate gentle faces. While trace stains may occasionally remain, they can be easily removed by applying a moisturizing lotion, waiting at least 30 minutes, and washing again.

That is really helpful. Thanks for sharing Linda!

MichelleLA




Number of posts

: 418


Location

: Southern California


Registration date :

2010-05-16



I have something similar to Psalmbook but shorter, printed on the back of my business cards. I got that idea from someone on another forum and it has worked out well as an excuse to give out my business information.
I've noticed that if I wipe or even rinse first, then the paints stain much more. I have a shorter version of Linda's on a card and glitter tattoo removal on the other side.

I'm thinking of a Youtube video showing the difference between lathering first and wiping with a baby wipe and then washing. It seems to make a bigger mess, but I feel like it is "lifting" the paint because I rarely have a shadow with the lather method.

D.
I agree with colden, after I saw the youtube video with lathering first, I tried it and found it made a big difference - just the soap alone and then washing off the soap seemed to take the paint right off (if not the first time, then by the second!)
Here is the wording I had printed on the back of my business cards, I am pretty sure that most of the wording was from people here at FPF.

"TO REMOVE: Using a mild soap, face wash or baby shampoo, make a paste with the facepaint and let sit for 30 seconds. Rinse or wipe away gently with a dark wash cloth, but do not scrub! If a faint residue of colour remains, simply apply some moisturizer, mineral oil or baby oil, wait 30 minutes then gently wash with soap and warm water again."

This is my version- Very near to Fabtastic- and also very heavily influenced by older posts on this forum. It is the back of my buisness card. Psalm, how do you get all of that to fit on your card and still be able to read it? I think my pink text is borderline legible.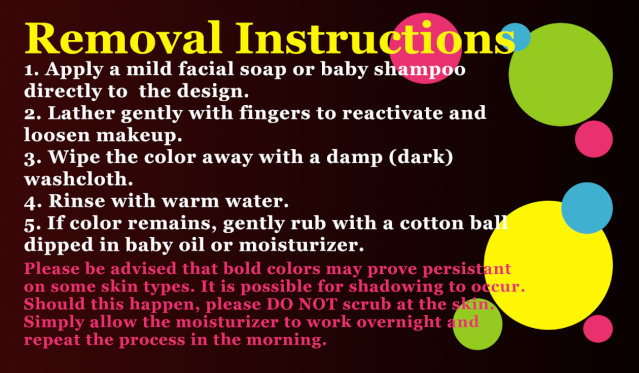 Similar topics
---
Permissions in this forum:
You
cannot
reply to topics in this forum