I've been researching what it looks like to incorporate it into the whole holiday butterfly thing, but have yet to paint one that I like. Anyone have any examples?
I did this one last Christmas and used 'pearl' beads for the berries. It's a bit busier than I'd intended, but it was my first try at it.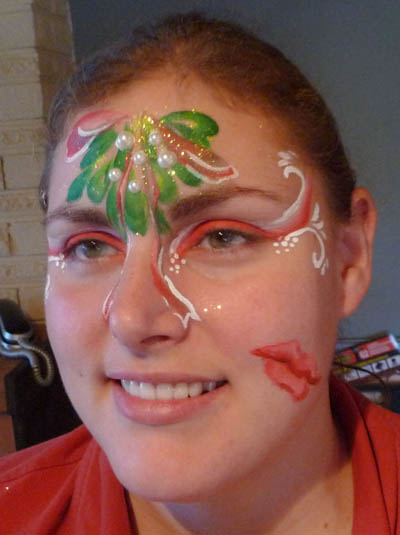 Magna I love this especially the kiss on the cheek

Here is one of mine... I call it a "Mistletoe Princess" I had the flash turned off and didn't realize it when I took the photo.
Thanks guys. The pearls really add to the design. Where did you get those?
I've got self adhesive pearls like that I got them from our cheapie shop called Chickenfeed. They were in the scrapbook/craft section.
I got those at Michaels craft store and used mehron's gem adhesive.

---
Permissions in this forum:
You
cannot
reply to topics in this forum